If you're taking a deep breath as you settle in to choose a landscaping company for your HOA, we get it.
This is a big decision.
You want to find a worthy commercial landscaping service, then relax, knowing your HOA will be appealing to its residents and future buyers — with no hassle.
No nagging phone calls. No hidden costs. No disappointing results.
You don't have time for that nonsense.
How can you choose the best commercial landscaping service in Austin, TX?
We'll share some key questions you should ask.
First, a Tip for You
Take some time to figure out what your HOA really needs.
Does the lawn need a boost? Is your irrigation not functionally properly? Do your common areas need updating to make them more appealing?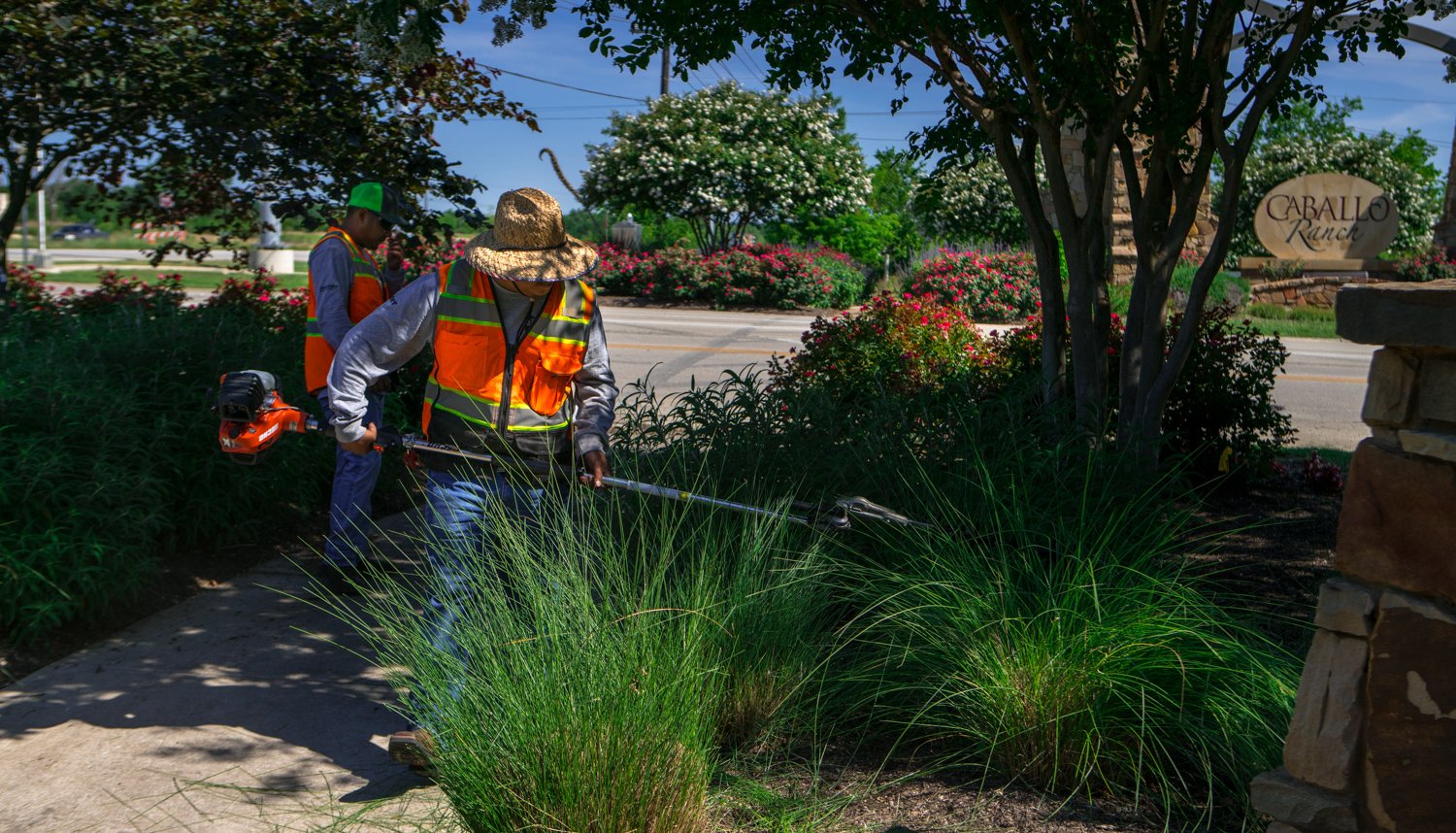 Taking stock of your own needs first will help you hone in on a commercial landscaping service in Austin TX that can meet those needs.
Now, the questions:
Will You Be Proactive?
It's a safe bet that most commercial landscaping services in Austin, TX will mow your grass, edge the sidewalks, maybe even take care of weeds or trim the bushes.
But you may want more than that.
They're the landscaping experts, so they should recommend ways you can improve your property — way beyond mowing and typical maintenance tasks.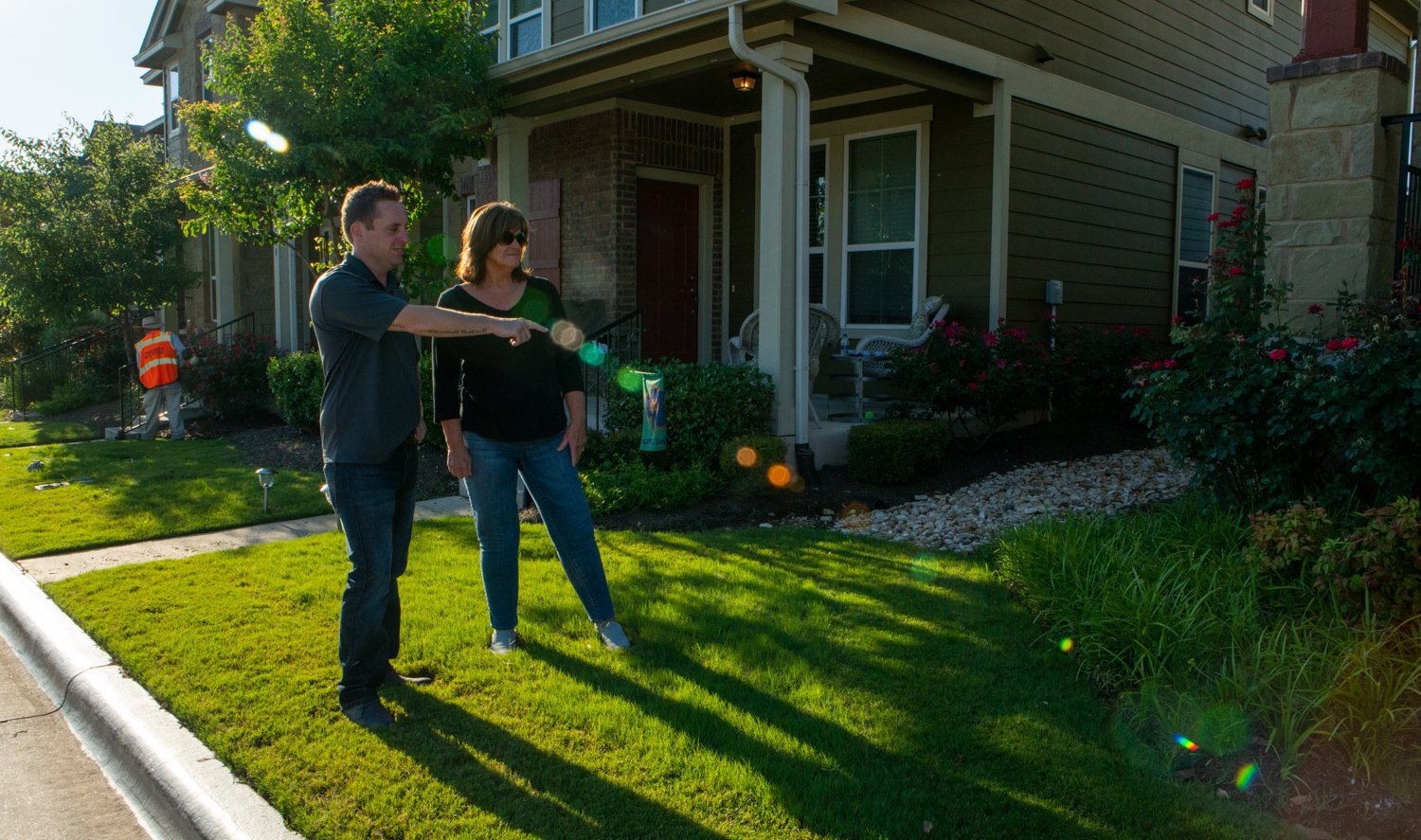 Curb appeal is crucial. Everybody wants to come home at the end of the day proud of the way their community's landscaping looks.
And in today's competitive market, perks matter.
Your commercial landscaping service should be on top of the latest landscaping trends, from walking trails to outdoor grilling stations, and suggest how to boost your property value and make your HOA an even more appealing place to live. Those may be ideas you may want to entertain.
How Do You Communicate?
This is a big one.
Who will be your point person? An account manager or client relations manager?
What access will you and the HOA landscaping committee have to this person? How often will they be in touch with you? How quickly can you expect a response when you reach out to them? How often will they visit with you on site?
How will they keep you up to date on when crews will visit and what they'll be doing?
Yes, this is a lot of questions. But this is about communication, after all.
You shouldn't have to be the one constantly calling, emailing, or texting to find out what they're doing at your HOA or handling issues when they arise.
That's part of their job. Make sure they'll do it.
Will There Be Continuity of Service?
Will the same commercial landscaping team take care of your property over time?
High turnover is disappointing. You don't want to see a different crew show up every week. Will they even know what the plan for your property is?
Continuity means the landscaping crews will really get to know your HOA, notice when something's amiss, and develop ideas on how to make it better.
What Are All the Services You Offer?
The more complete your commercial landscaping service is, the easier your job will be. You won't have to hire a bunch of different vendors to meet all your property's needs.
Of course, they may mow, blow, weed, fertilize, and trim.
But do they offer landscape lighting? Irrigation? Landscape design? Construction? Can they plan for large-scale additions and improvements you might need down the road?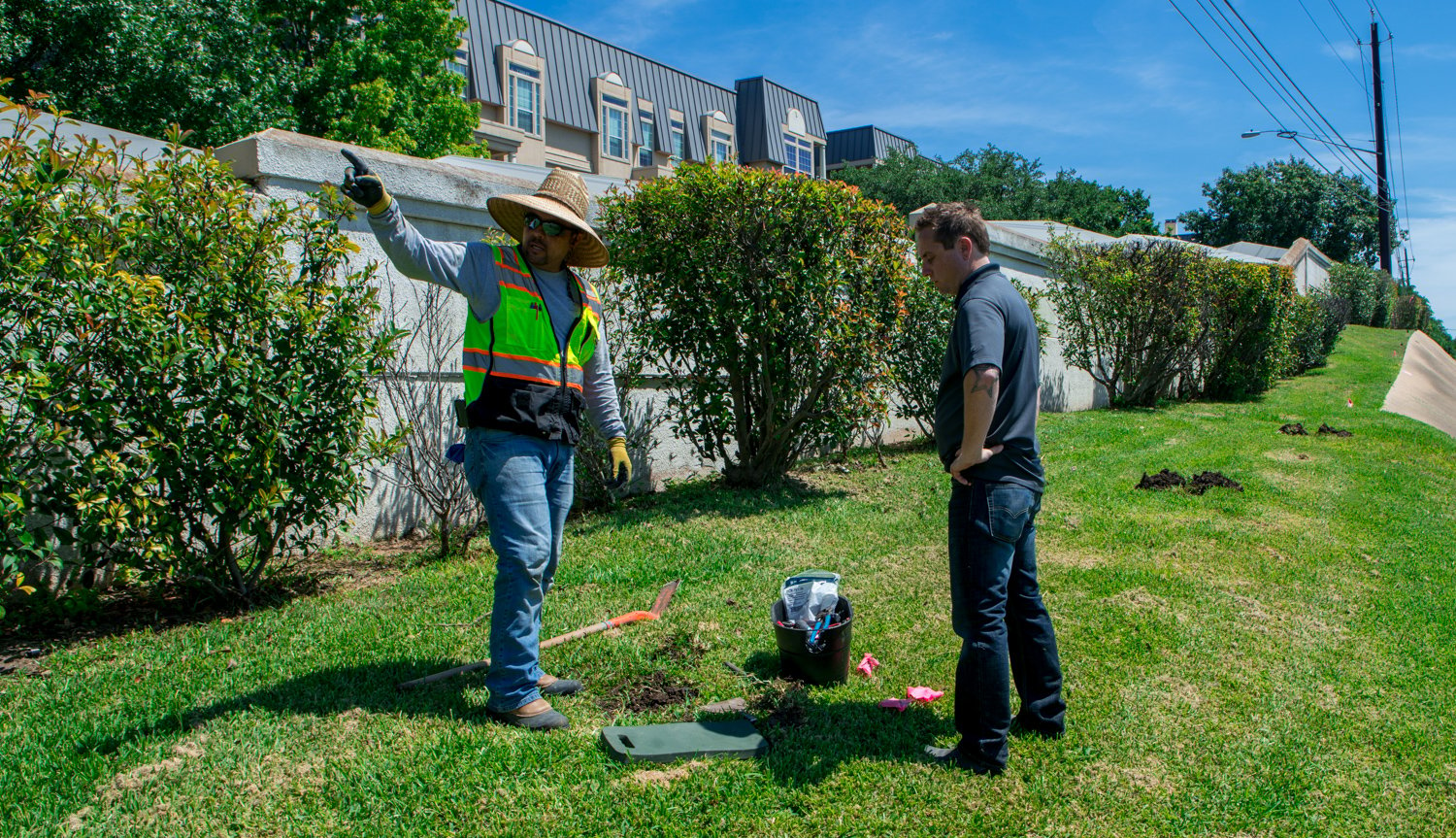 Some commercial landscaping services specialize in lawn care, and that's really their main focus.
You should know that up front. Chances are, you need more than that.
Hiring several different companies to handle all your outdoor needs isn't just a hassle — it will likely cost you more.
Do You Use Subcontractors?
If the answer is yes, don't panic. Many reputable commercial landscaping services in Austin, TX use subcontractors. It's not necessarily a strike against them.
Lots of companies know that they can't do every task perfectly, and hire expert specialists for services like concrete repair, large tree removal or irrigation.
But it's worth asking about their relationship with these subcontractors.
Have they partnered with them for a long time? How trusted are they? Do they communicate well with each other? Will your commercial landscaping service stand behind the subcontractors' work like they stand behind their own?
References, Please
Ask for references, but don't just be satisfied by seeing a list. Call them.
Ideally, the commercial landscaping service can refer you not just to their satisfied customers, but to other HOAs who are happy with their work.
Ask the references about the commercial landscaping service's communication, the quality of their work, and what suggestions they've made that have improved their HOA.
Has anything gone wrong? How did the company resolve it?
How Long Have You Been in Business?
Experience matters. You want a commercial landscaping service on your property that has seen everything and knows how to handle it.
And after a company has been in business for many years, they should have long-term satisfied customers who can recommend them.
Do You Have Proper Licenses and Insurance?
Don't assume they do. Ask.
You need a commercial landscaping service that's properly insured so your HOA isn't liable in case of an accident.
What Sets You Apart from the Competition?
This is a chance to find out where the company really shines.
They should be able to share several reasons why you should choose their company over the other guys. You might hear about things you wouldn't have thought to ask.
Will You Walk Our Property?
The commercial landscaping service you choose should be eager to come over and walk your property with you to get a sense of your needs. They should have lots of questions for you, and take notes.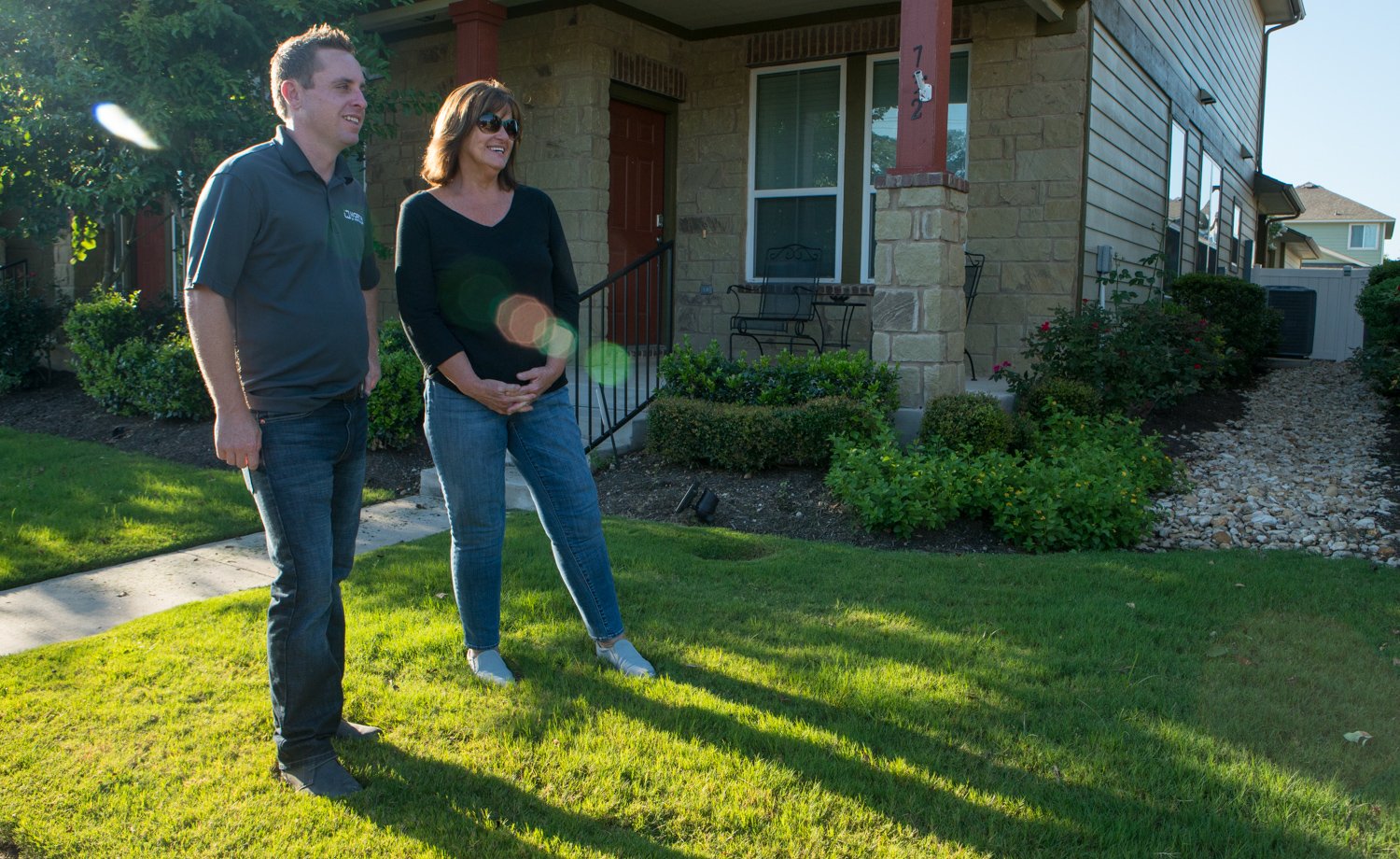 This is also how they'll discover what your property needs so they can suggest ways to make it an even better place to live and enjoy the outdoors and increase your property value.
Another Tip: Don't Choose Based on Price Alone
Of course, you hope to get a fair price. But if one bidder comes in with a bid that's much lower than the other commercial landscaping services in Austin TX, that's a red flag.
A significantly lower bid likely means either the landscaping service cuts corners to save money or they don't have a realistic handle on what it takes to keep your property looking its best.
Resist the temptation to choose based on price alone.
Read the Contract
Really read it. You want to be absolutely sure what services you're paying for and how often they'll be done.
What's included? What costs extra? What are their guarantees?
Take Your Time
Don't rush this decision.
Get bids from at least three commercial landscaping services.
Act too fast, and you might end up with a company that never returns your calls or doesn't follow through on the promises they made.
Partner with North by Northwest for Your HOA Landscape Maintenance
We're proud of the meticulous work we do for our HOA customers and the great relationships we've forged with their HOA boards.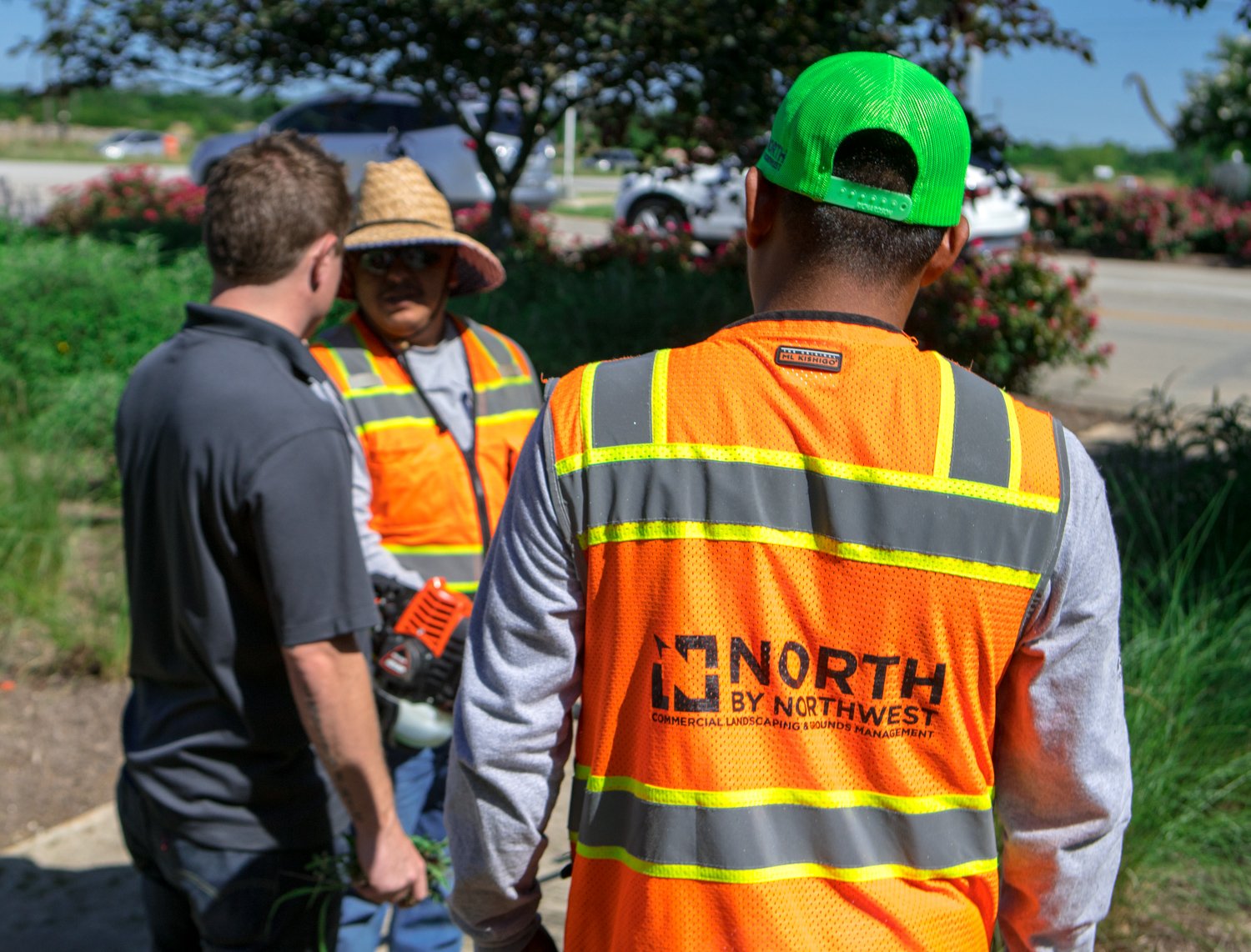 Questions? We love questions. It gives us a chance to show you how important attention to detail is, explain our experience and our commitment to great communication.
Ask us anything.
We'd love to partner with you to make your HOA impressive and your job as a committee member hassle-free.
Are you ready for stress-free lawns and landscaping? Schedule a time to meet with one of our experts today. We'll gather the details, create a customized plan just for you, and you can stop worrying as we improve and beautify your HOA community.