Great landscaping plays a huge part in how a neighborhood looks and feels.
So if you're on your HOA landscape committee, congratulations — your hard work really pays off.
You'll help decide fun stuff like what flowers to spruce up the welcome sign.
You'll also get down and dirty with issues like drainage, weed control, and busted irrigation heads.
New to your HOA landscape committee? Want to make sure you're doing a thorough job?
Stick with us.
Cory Essman, account manager at North By Northwest, works closely with HOA boards and offers some direction — and great advice for keeping everything running smoothly.
Here's a look at some key HOA landscape committee responsibilities and duties:
1. Budget Wrangling
You'll be budgeting for your landscaping company's routine maintenance services, along with other expenses that pop up along the way, from irrigation repairs to new trees to landscape lighting.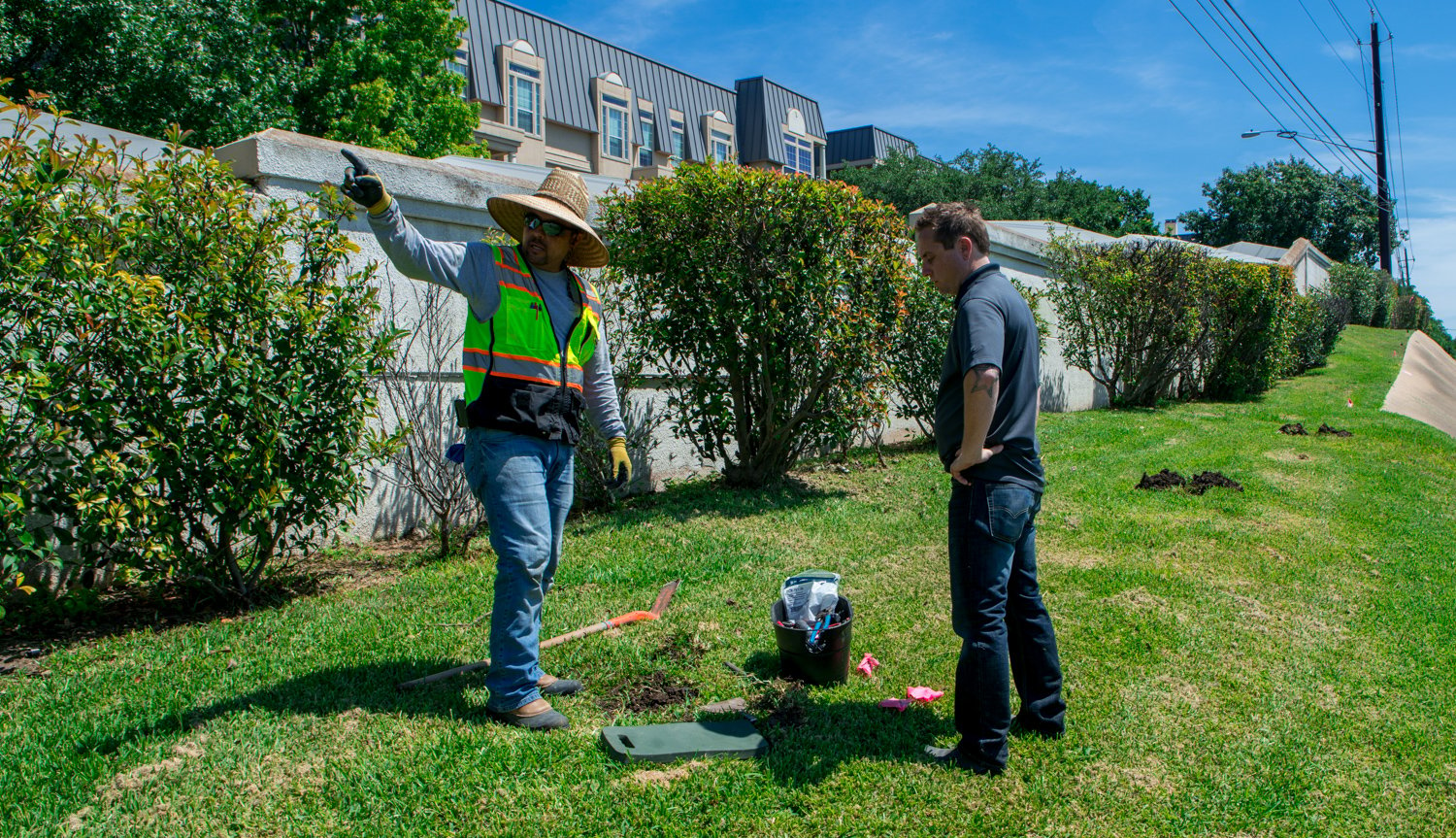 In most cases, landscaping services is the biggest portion of an HOA's yearly budget. So you want to spend wisely.
A great commercial landscaping company in Austin, TX will help you along the way.
"I give my customers options," Essman says. "I give a price for critical irrigation repairs, like a pipe break that's wasting a lot of water and not properly watering landscape plantings. The last thing they need is to face replacement costs later if it could have been prevented by having a system that was operating properly in the first place. Then I'll give a price for non-critical needs, like fixing crooked heads or raising valves."
"Then, even if they can't do the whole shebang, they can at least get the critical things done."
Establish a good relationship with your landscaper and budget discussions will be easy, Essman says.
"It helps when the HOA board is open about their budget needs," he says.
2. Explain All Those Rules
Most HOAs have a lot of rules, and many of them have to do with the landscaping.
Expect a lot of questions from homeowners.
Can we put up a fence?
Can I plant my own flowers?
Will someone mow my lawn?
Why can't I cut down that tree?
Here's where you need to be really familiar with that HOA handbook. In fact, encourage your association's homeowners to read it.
Those books can be daunting — it might be 100 pages long. But most of the questions homeowners have about landscaping are answered in their set of HOA guidelines.
So, can they cut down that tree? It all depends on the HOA.
Rules vary widely from one HOA to another, so homeowners might be frustrated. Why can't they do the same things they could at their last HOA?
Be sure homeowners get a copy of your HOA guidelines before they buy their house, and encourage them to read through them carefully.
Explain that all those regulations are there for a reason — to keep the community tidy, appealing and uniform for the residents.
Rules prevent unsightly scenes like cars rusting in driveways, purple garage doors and half-completed landscaping projects lingering for months.
3. Get Cozy With RFPs
Part of your job is to submit requests for proposals (RFPs) to landscaping companies you're interested in hiring.
A good RFP helps your board hire the best landscaping company to meet your exact needs.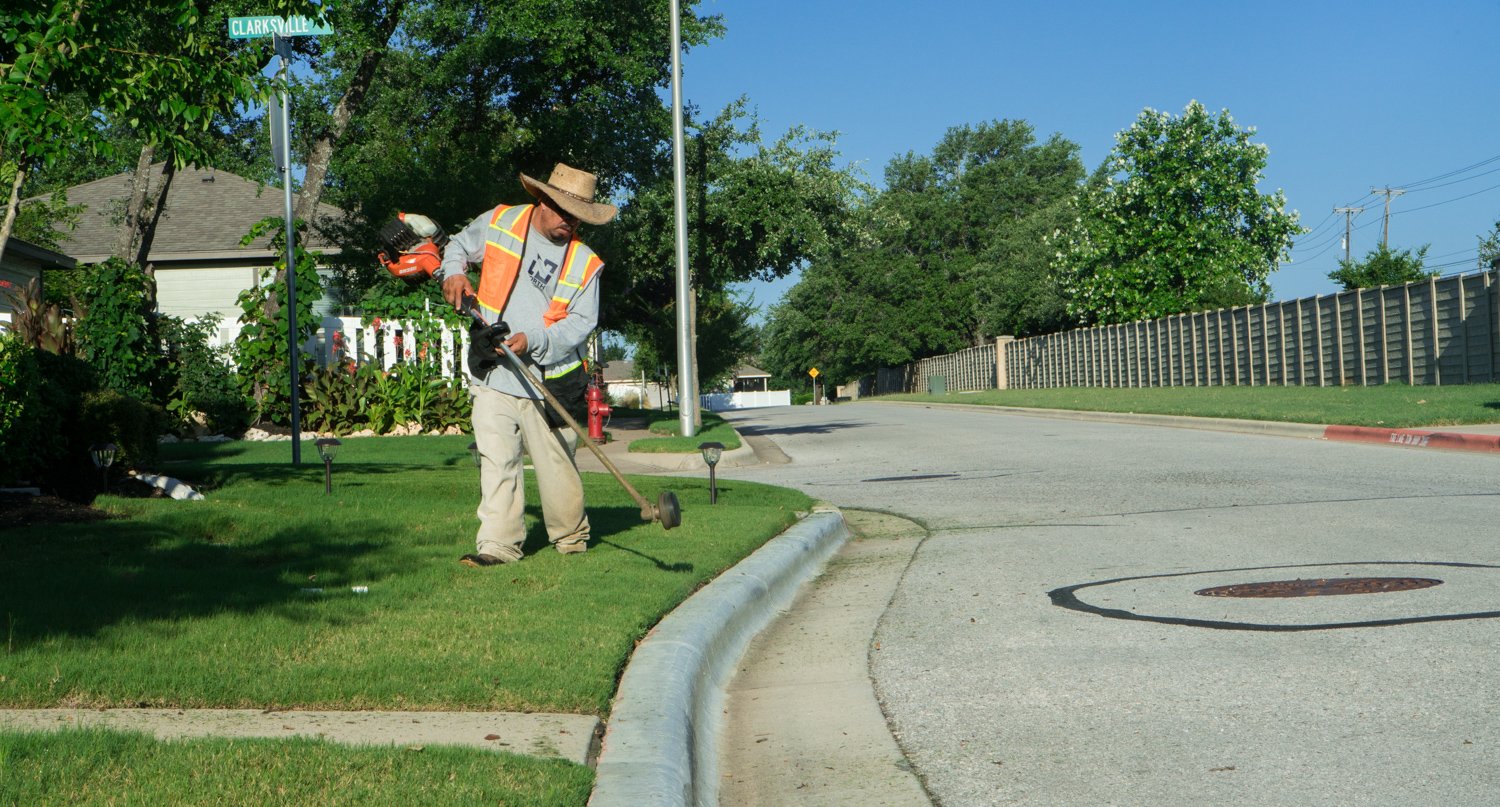 Commercial landscaping involves a lot of different tasks, from mowing and trimming to irrigation to a host of possible enhancements to boost your property's use and appeal.
Your RFP hones in on your needs so companies can give you a thorough and accurate bid.
Give landscapers a detailed listing of what your needs are and your expectations for their work and you'll prevent stress and headaches later on.
Pro tip: Don't forget to ask for references.
4. Battle of the Bids
Hopefully, those great RFPs you sent out will bring in some competitive bids from impressive landscaping companies.
Now your job is to choose one.
A word of advice here: resist that overwhelming urge to hire the company with a much lower bid.
We know — you want to save money. Who doesn't?
But a landscaping company that tells you they can service your property for a much lower cost than all the other guys must be cutting corners somewhere.
Or maybe they don't have a realistic grasp of the amount of work it takes to keep your landscaping healthy, safe and appealing.
Either way, steer clear.
5. Get to Know Your Commercial Landscaping Service
This is a big one. Clear, honest communication between your HOA landscape committee and your commercial landscaping company's account manager will keep things running smoothly and your homeowners happy.
Essman attends every quarterly HOA board meeting for his HOA clients, to report on any issues and answer their questions. Plus, it's a great opportunity to foster a friendly relationship.
The meetings are on Saturdays — a day he doesn't typically work. It's worth the extra effort, he says, to be accessible.
"It's important to show my face, be there to answer any questions," he says.
Beyond that, Essman checks in with the property manager at least once a week and is available by phone, email or text when any issues arise.
6. Recommend Landscaping Improvements
Homeowners will look to their HOA landscape committee to suggest landscaping improvements to make the neighborhood a nicer place to be.
How about a fire pit in your common area?
Maybe replace those aging, outdated shrubs with some contemporary ornamental grasses?
Can anything be done about those messy trees that drop debris everywhere?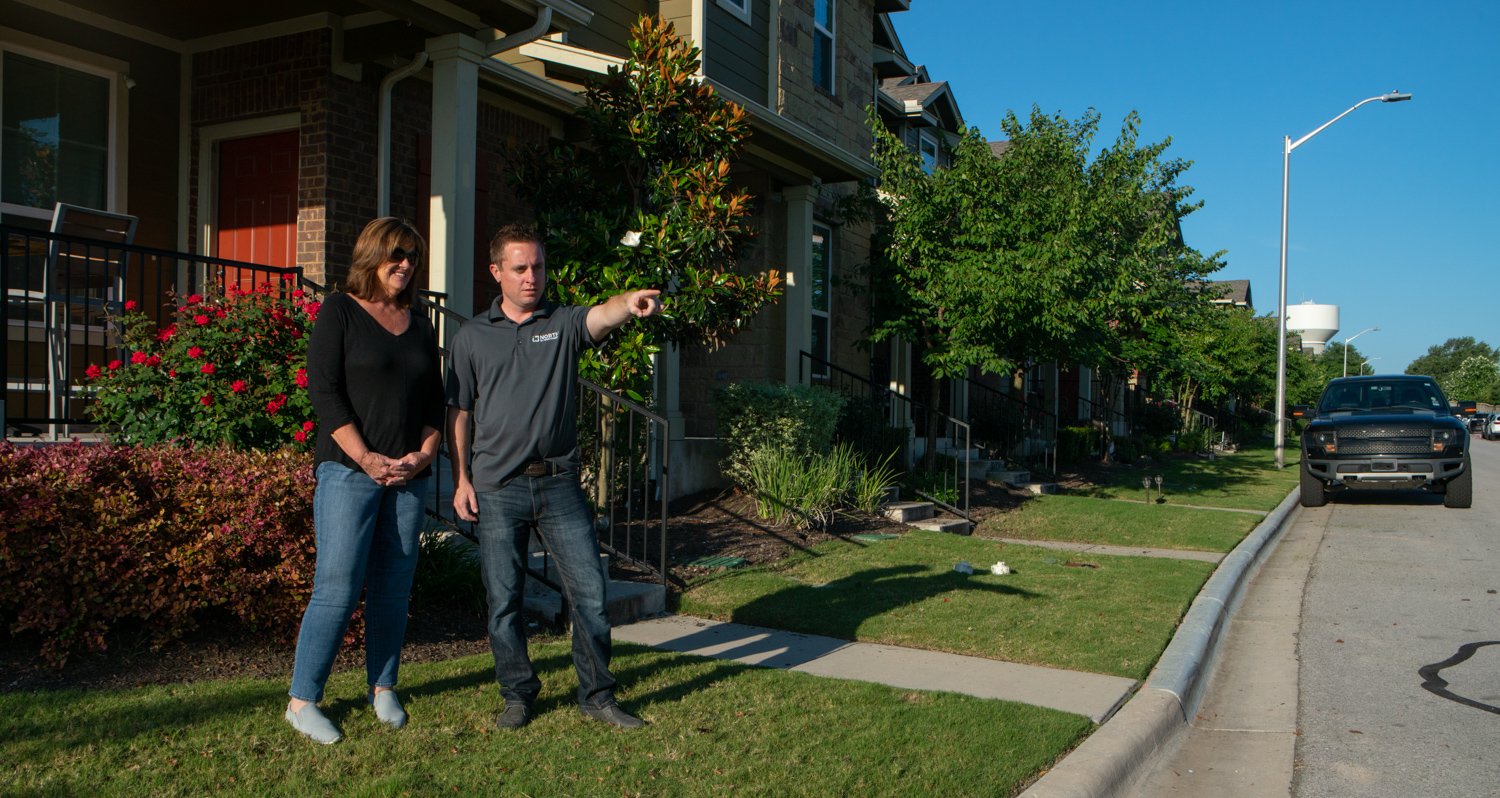 Not sure what you need? Your commercial landscaping company is a big help here. We don't expect you to know everything.
Essman recently pointed out problems with overgrown tree branches to one of his HOA boards.
"A lot of tree limbs were hitting their buildings," he says. "That can cause damage to the buildings. Pollen can stain the stucco. Gutters can easily get clogged. Branches can fall on people or cars, and that's a liability issue. Plus, insects and critters have easier access when trees are touching structures. It's really a necessity to have buildings clear of limbs."
He suggested they do a full canopy trim, and the HOA board happily agreed.
7. Honing in on Hiring the Best Commercial Landscaping Company in the Austin, TX Area
It's your job to pore over those RFP responses, check landscaping company references and interview company representatives to ultimately decide who is the best fit for your HOA.
You don't have to be a landscaping expert, but it does help to have some experience with interviewing or hiring.
Most HOA communities have members who do this type of work for their careers. Those are great people to nab for the landscaping committee.
8. Keep Homeowners Updated
Everybody likes to be in the know.
Will the landscaping company be spraying for weeds? Trimming shrubs? When will the pretty spring flowers go in?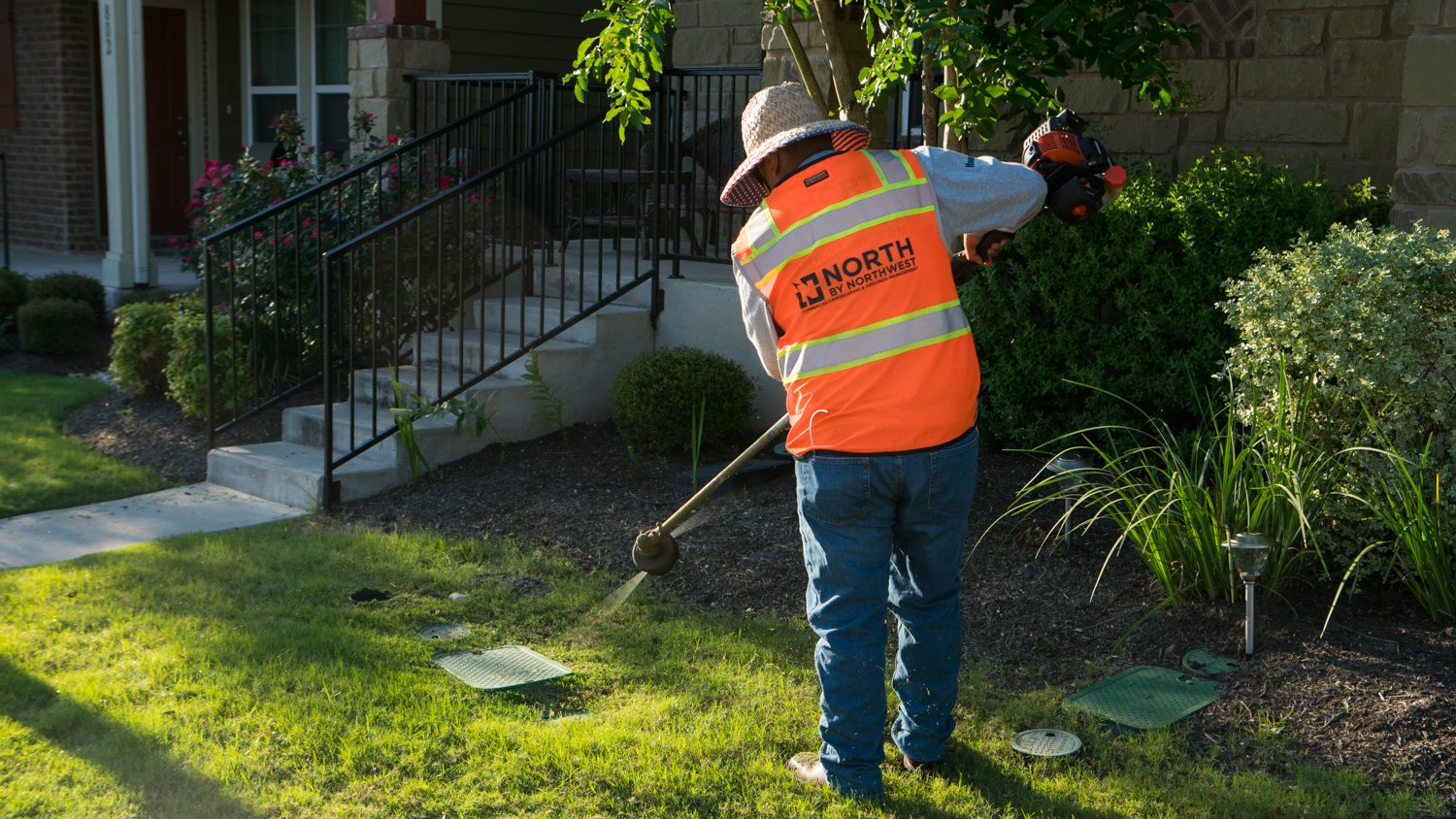 Consider offering your residents seasonal newsletters that give a heads up about the services the landscaping company will be doing in the coming weeks and months.
Dedicate part of your HOA website to Frequently Asked Questions about landscaping issues.
If your commercial landscaping company contact doesn't regularly attend board meetings like Essman does, invite them.
9. The Buck Stops With You
Even though you should have a defined set of HOA landscape committee guidelines, homeowners are still going to come to you for clarification, permission, and probably complaints about the rules.
Why can't I have an outdoor fireplace?
Can I put holiday decorations on my lawn?
My neighbor's new landscape lighting blinds us when we sit on the porch!
You'll need to explain, calm ruffled feathers and enforce the rules.
Next Up: A Few Tips
Choose a Commercial Landscaping Service You Trust
Just because you're on a landscaping committee doesn't mean you're an expert in landscaping. Nobody expects you to be.
Sure, you likely have a set of HOA landscape committee guidelines, but questions and concerns will pop up.
If you choose a commercial landscaping or grounds management company you trust, who communicates well and is willing to work with you and your budget, you can trust them with the landscaping details.
That's their job.
Pick a Point Person
The last thing you want is a bunch of different people from your HOA contacting your landscaping company's account manager. That's overwhelming and inefficient.
Essman typically reports to the HOA property manager, and the HOA boards know to funnel their questions and concerns to him or her. That streamlines communication.
Meanwhile, choose one person on your HOA landscaping committee that homeowners should contact if they have a question or concern.
Is an outdoor light out? A flower bed infested with bugs that are destroying plants?
Tell a committee member.
Then, the committee can relay the information to the landscaping company to make sure the issues are addressed. And if the company has questions, they know who to contact.
Choose a Full-Service Commercial Landscaping Company in Austin, TX
You don't want the hassle of hiring one company for flower installation, another one for landscape lighting and yet another for hardscape.
Partner with a company that does it all: mowing, irrigation, tree trimming, enhancements, lighting, hardscape, retention ponds.
"We do everything," Essman says, "from the ground up."
North By Northwest & HOAs: A Healthy Partnership
We're proud of the friendly and trusted relationships we've developed with HOA boards. And our crews love keeping these communities healthy and beautiful.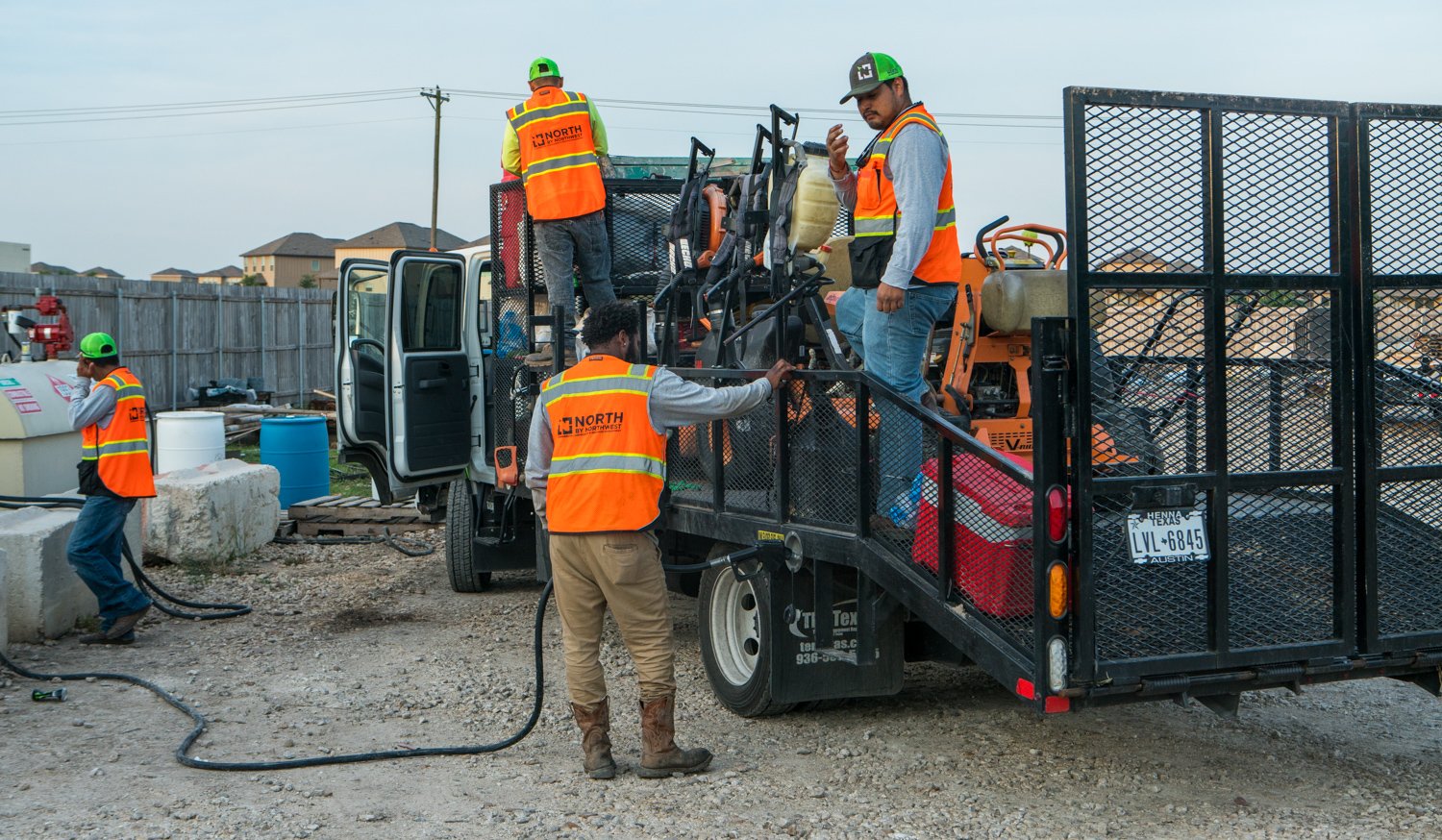 As you dive into your HOA landscape committee responsibilities and duties, we'd love to partner with you to make your landscaping impressive and your job hassle-free.
Are you ready for stress-free landscaping? Schedule a time to meet with one of our experts today. We'll gather the details, create a customized plan just for you, and you can stop stressing as we improve and beautify your HOA community.