A brand-new property is always an enticing blank slate for Austin landscaping companies.

Bare dirt. No trees, shrubs, or flowers. So many possibilities. You can almost hear their hands rubbing together in anticipation.

But from-scratch projects also come with challenges: Tight deadlines. Nabbing the right plants at the right time. Drainage issues.

The new First Citizens Bank at 4101 Marathon Blvd. in Austin was a mix of challenge and opportunity for North by Northwest Commercial Landscaping and Grounds Management.

Here's a look at how this Austin landscaping company transformed the place.
The Needs: Everything
When you start with a brand-new property, it needs everything.

North by Northwest crews installed pavers, sod, plants, trees, boulders, a fence, columns, irrigation, and an innovative underground system to ensure a long life for a valuable tree.

Six to 10 crew members worked on the project every day, with 30 swarming the property on the final day, to make sure every detail was just right.

The entire job took two and a half weeks, led by Cory Essman, maintenance division manager at North by Northwest.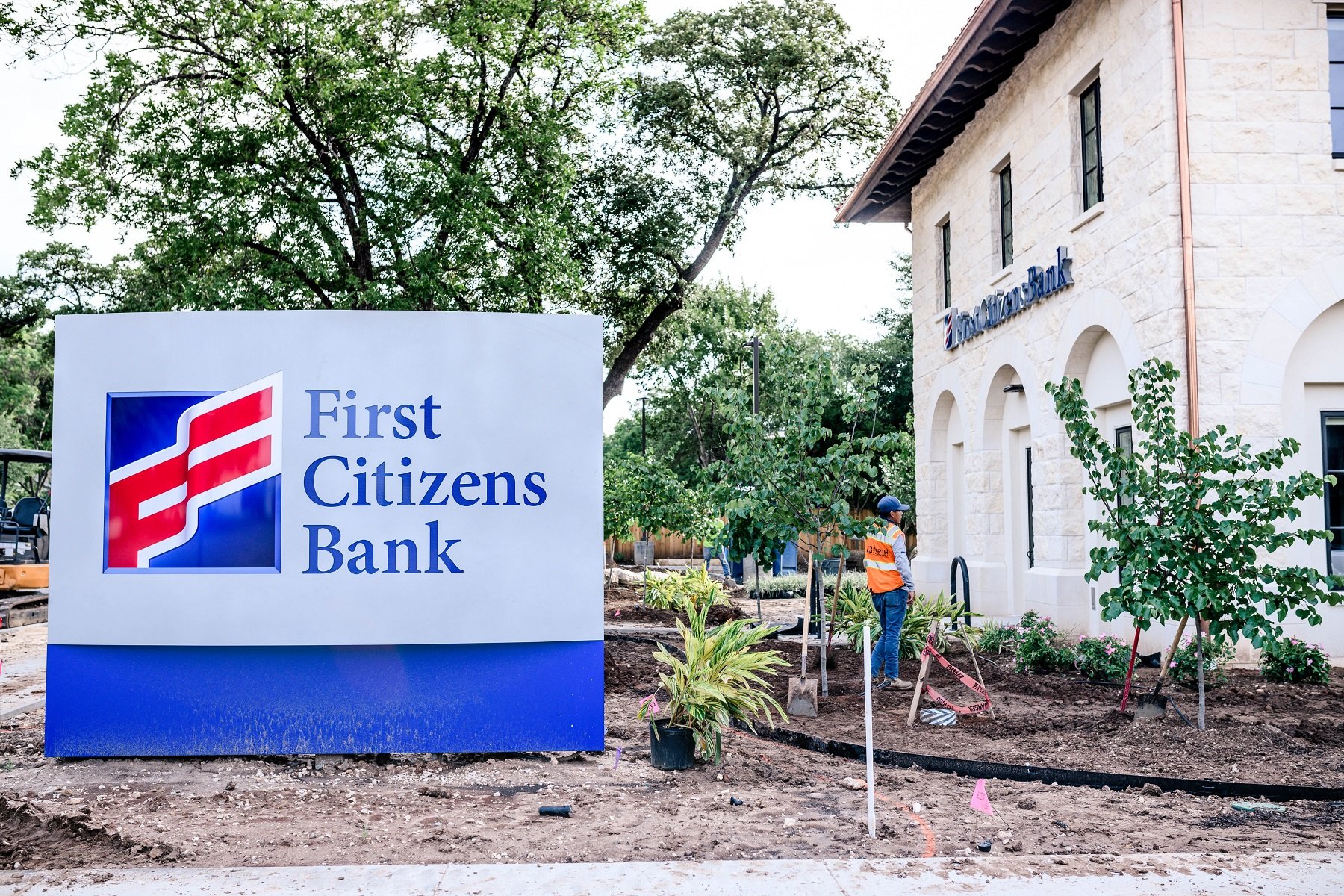 Meet the Silva Cell
The biggest challenge, Essman says, was installing a Silva Cell system around the root ball of a Texas Pistache tree beneath the parking lot pavers.

It was a first for Essman and the crews. Not all commercial landscape contractors in Austin, TX have encountered this system.

The Silva Cell modular suspended pavement system is part stormwater management, part tree preservation.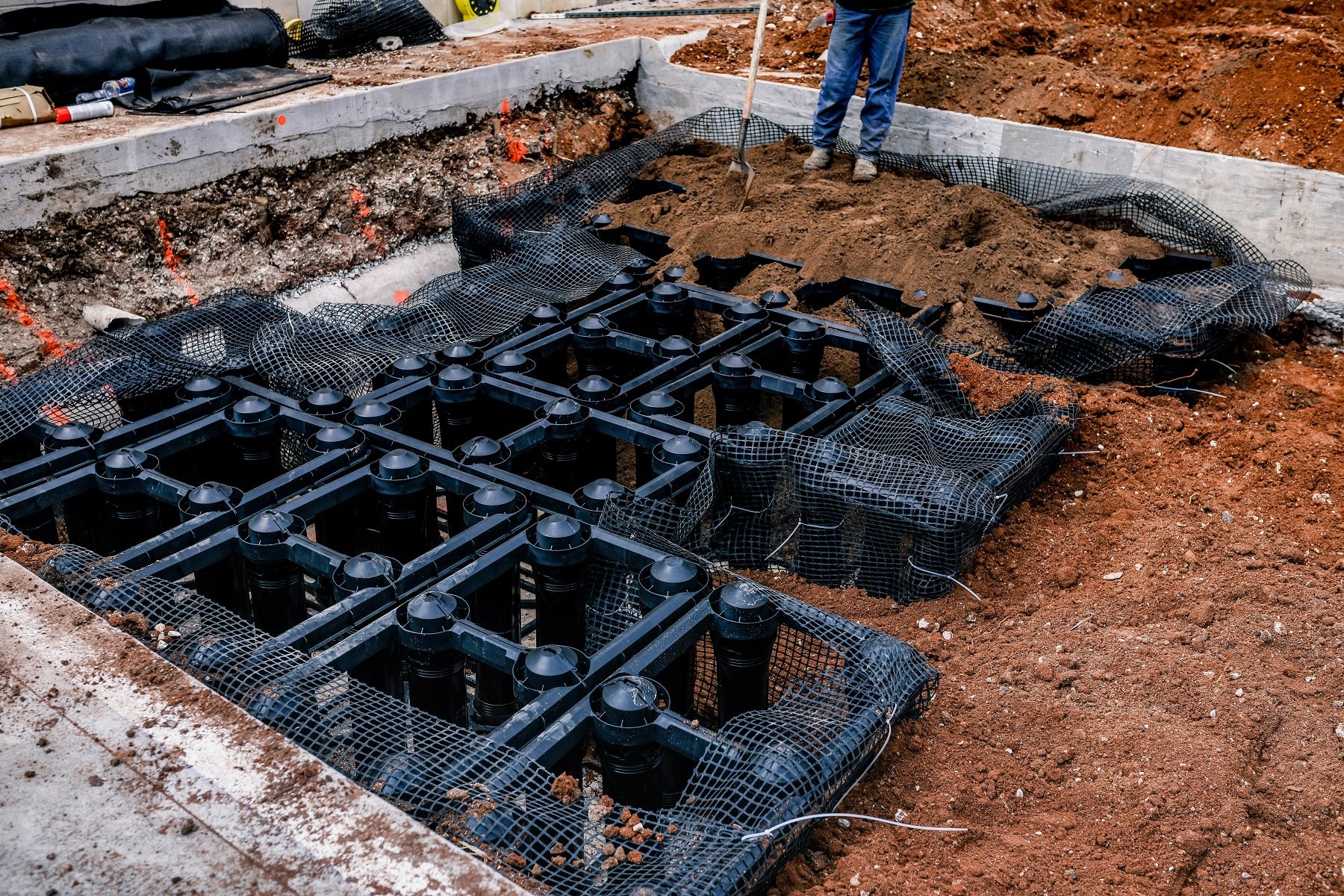 The underground cells prevent soil from getting compacted around tree roots, allowing them to grow freely without buckling sidewalks

The Texas Pistache tree, also known as American Pistachio, can grow to 40 feet tall and 45 feet wide. It's heat, drought, and salt tolerant — a pretty tough tree. But it needs good drainage. And that's not usually available in tight urban spaces.

While urban trees often die after several years, Silva Cells allow the trees to get the soil, oxygen, and nutrients they need to grow larger and live longer.

The Silva Cell framework provides large volumes of uncompacted high-quality soil while maximizing the usable space above ground. It easily supports roads, parking spaces, and paving.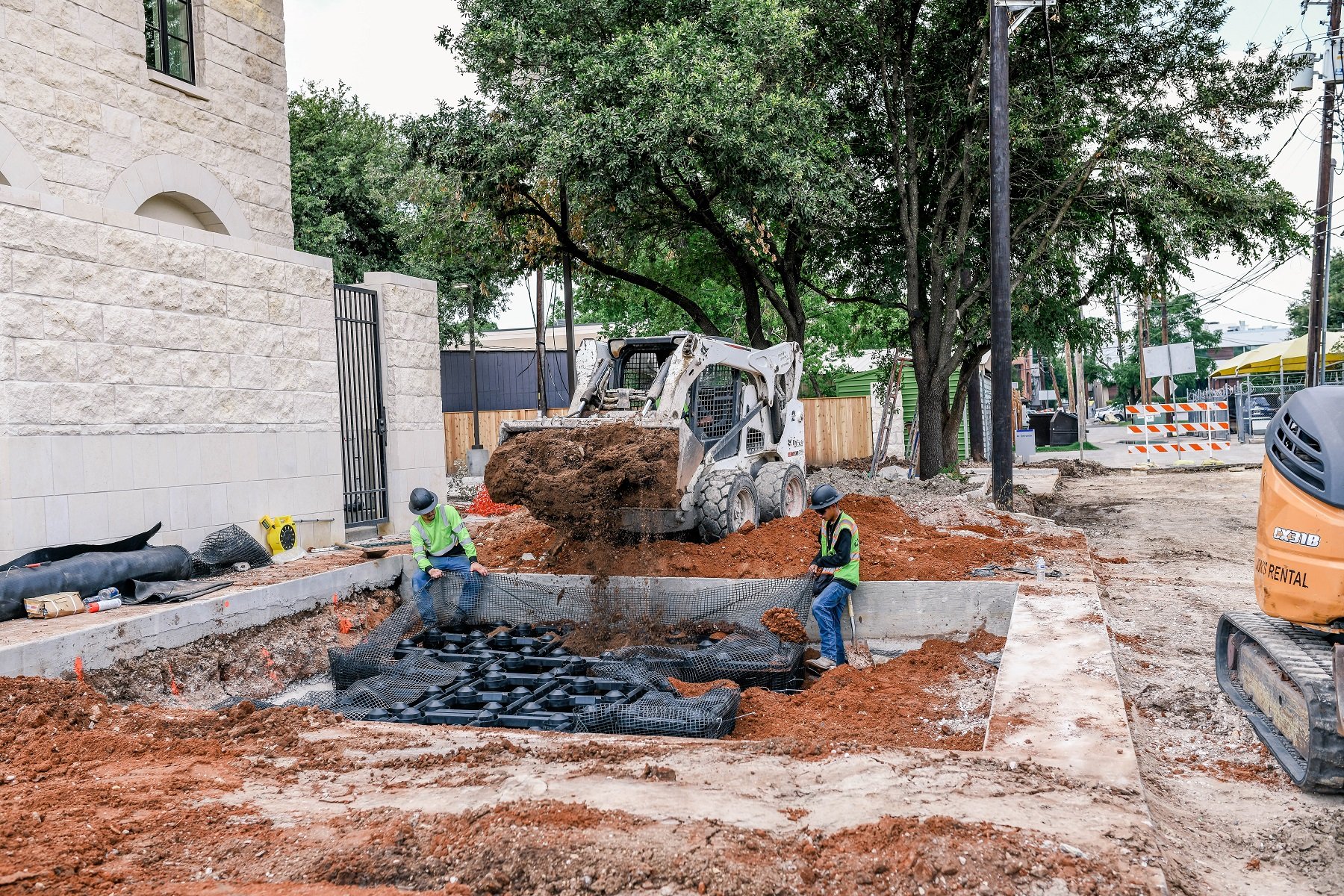 "It allows cars to park on the pavers without sinking," Essman explains, "and it keeps the tree root systems healthy under the parking lot."

Customers can't see it, tucked away under the ground, but will appreciate the healthy tree's shade for years to come.
Plants That Wow
First Citizens Bank might boast the most impressive landscaping plants in the neighborhood.

Striking palm trees, unique shrubs, and unusual plants with intriguing colors and textures combine for a striking pallet of plants.

"Curb appeal is important for a business like a bank," Essman says. "It's what helps bring people in."

Here's a look at a few of the standouts: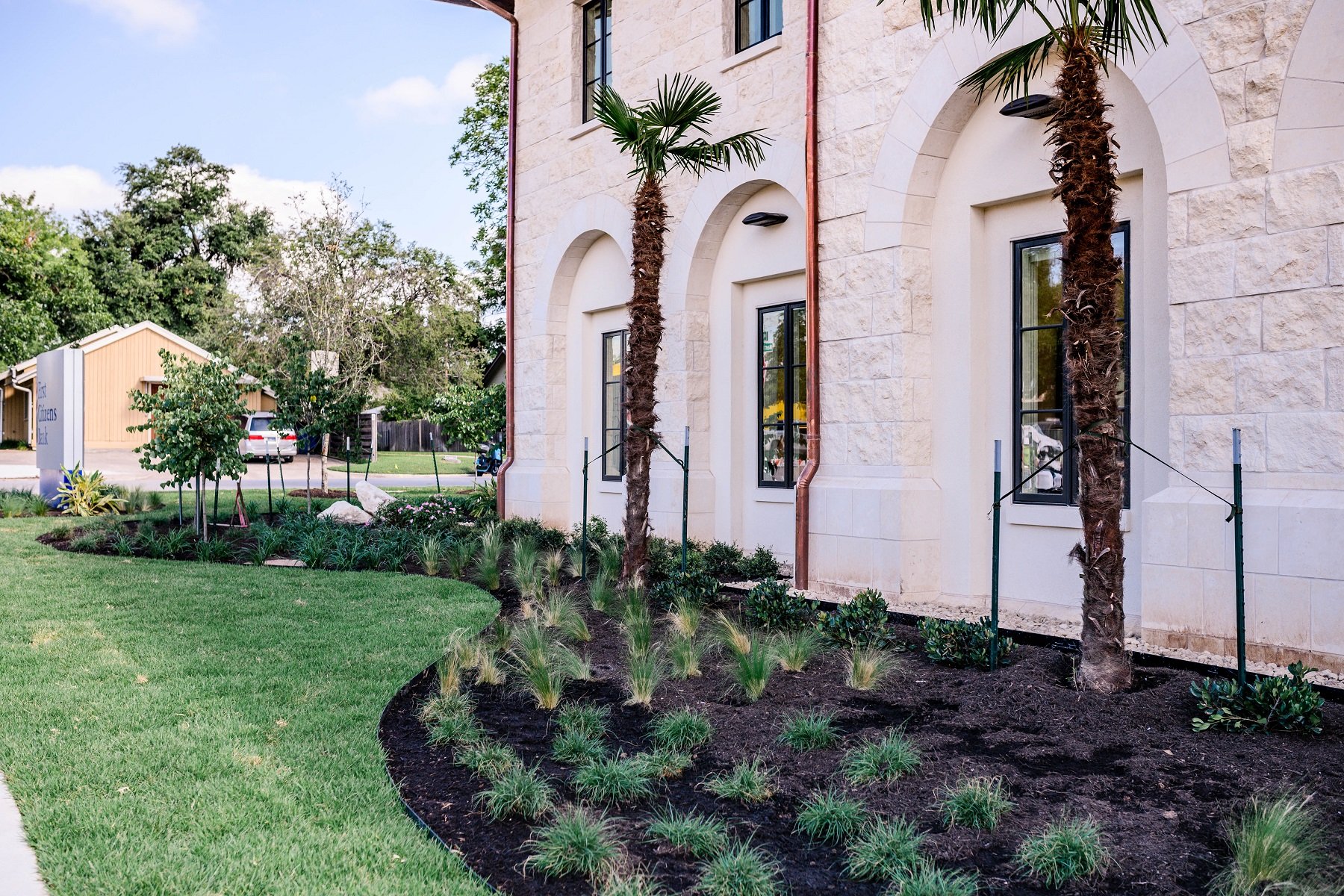 Dwarf Black Mondo Grass
Black grass? You can't help but notice this stunner, with its dense, purple-black leaves.

Bonus: it's resistant to pests and disease and low maintenance. Watch for lavender flowers in summer, followed by purple berries in the fall.
Variegated Ginger
Another landscape knockout, this ginger offers striped green and yellow leaves and is a great spreader.
Texas Sage
The grayish-green, woolly leaves are pretty cool, but the real appeal here is the profusion of purple or magenta flowers.
Nearly Wild Shrub Rose
Dense clusters of pink, 3-inch flowers bloom against glossy, dark green foliage from late spring to early fall. Like other shrub roses, it has good disease resistance, so it's practical as well as pretty.
Adam's Needle Yucca
This yucca with the cool name has long, sword-like foliage with sharp needle-like tips. In late spring, white bell-shaped flowers hang from its tall stalks like lanterns.
Palm Paradise
It wouldn't be Texas landscaping without a few well-placed palms.

Crews installed Windmill Palms, named for the large rounded leaves held above a slender stalk, and Dwarf Palmettos, the fan-shaped palm that's actually a small shrub. It boasts white blooms followed by clusters of black fruit.

Sure, customers show up ready to open an account or apply for a loan. But they'll be impressed by the intriguing plant material they pass along the way.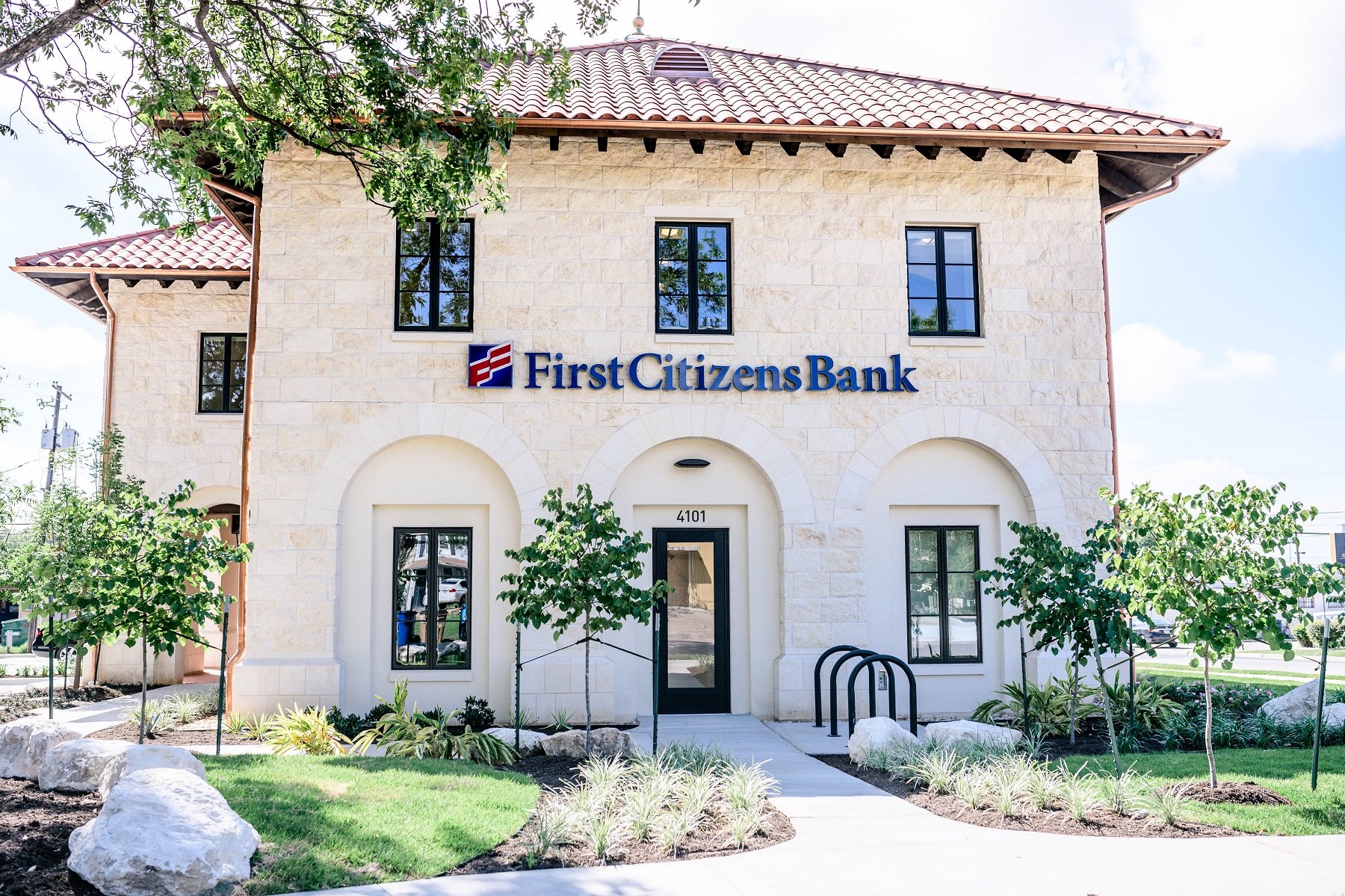 The Search for Stand-out Sod
Not all turf is the same. Here in Texas, where heat and drought often rule, Austin commercial landscape companies know choosing the right turf for the location is the first key to a lawn's success.

North by Northwest settled on Palisades Zoysia sod for the bank's green, grassy carpet.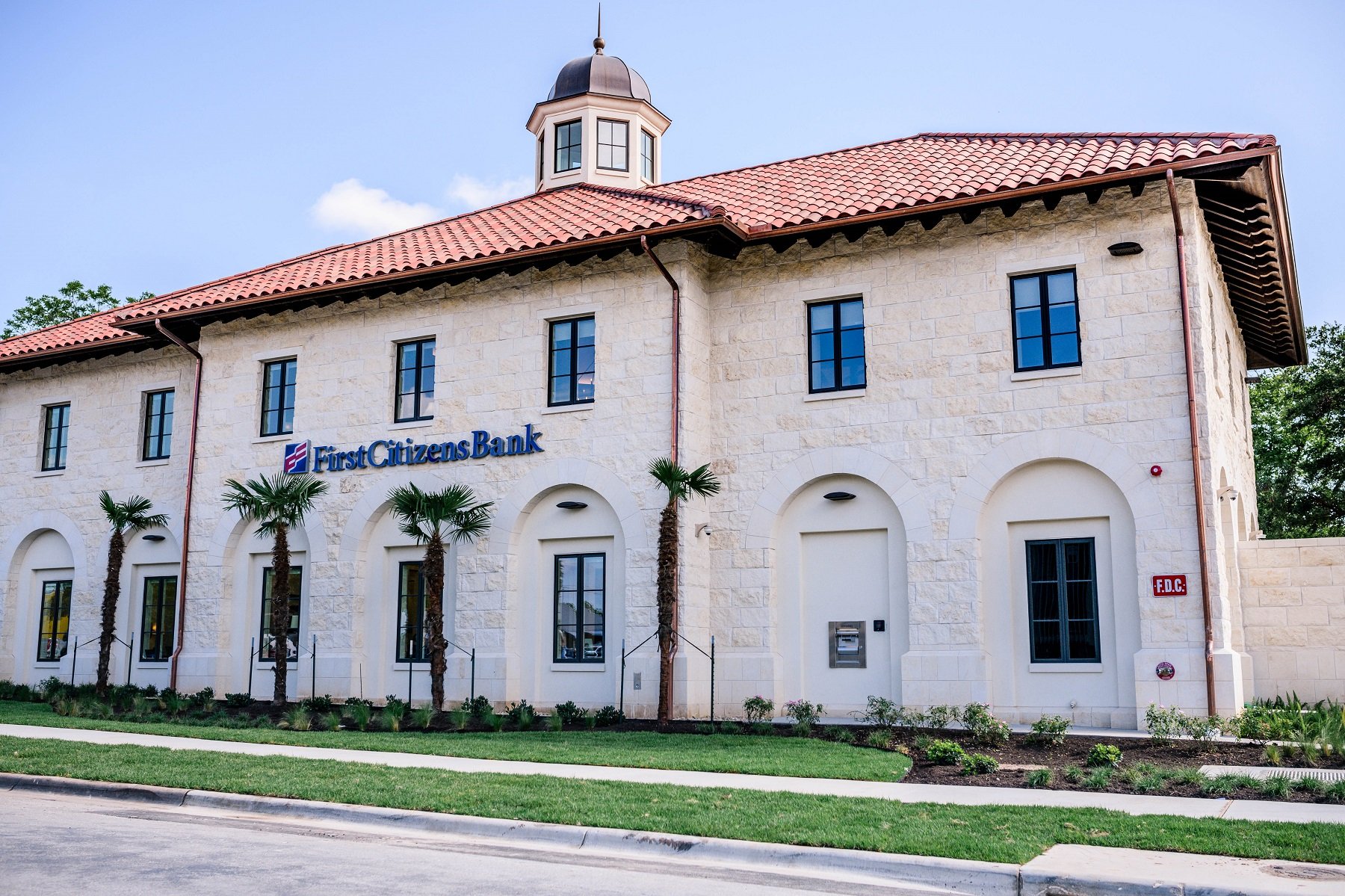 It stands up to foot traffic and needs less water than many other turf varieties.

A nice medium to dark green, with a thick, dense growing habit, it offers a lush, inviting welcome for customers and employees.
Hello, Deadline Pressure
Austin commercial landscape contractors know deadlines are part of the job. When a new bank announces its opening day, it expects to be ready for customers.

But landscaping comes last. Cue the pressure.

"We're the last ones in and out," Essman says. "We have to wait for everyone else to finish."

Meanwhile, plans don't always go perfectly. Growers may or may not have the plants you requested when you need them. Weather can delay work. Essman learned at the last minute a swale was needed for drainage.

Surprises are part of the job.
Next Up: Maintenance
While North by Northwest wrapped up the landscaping installation by deadline, their work isn't finished.

They're in charge of the property's weekly maintenance, too, keeping the lawn healthy and mowed, beds edged and weeded, and looking out for safety and security issues.

"It's important to stay proactive," Essman says. "Trees and bushes all have to stay manicured, so there's no issues with blocked security cameras."
Ongoing Irrigation: Not All Austin Commercial Landscape Contractors Are Equipped
The bank's fresh green sod and impressive array of plants need dependable irrigation.

Installing it is just the beginning. Not all Austin commercial landscape companies are experts in irrigation maintenance. North by Northwest emphasizes on-going maintenance, including monthly walk-throughs by irrigation technicians to stay ahead of any problems.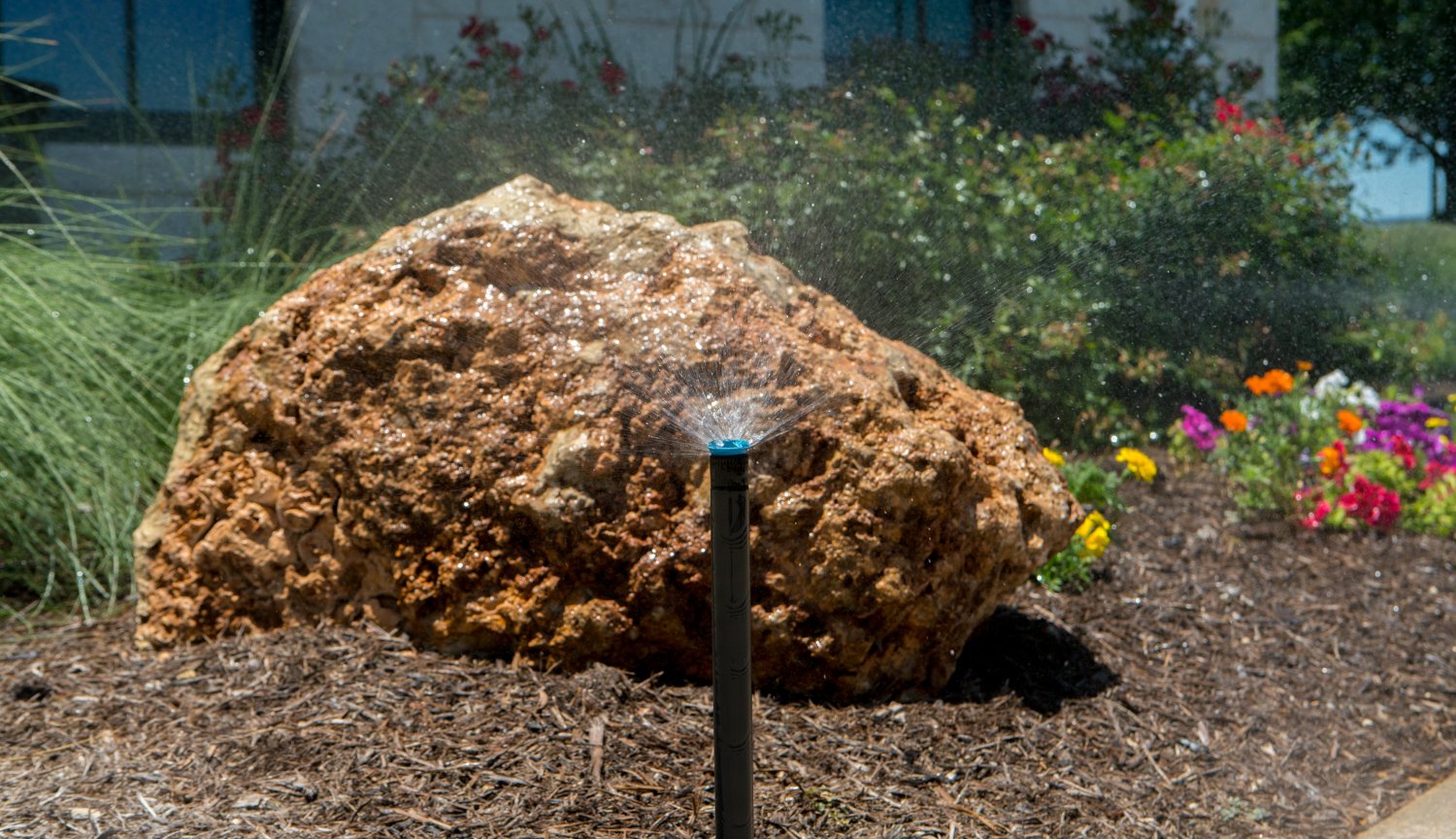 Why so often? Here in the Texas heat, irrigation systems work hard. They need frequent check-ups. An irrigation inspection detects the small issues like broken spray heads and leaky nozzles before they turn into big, costly problems.

An irrigation technician will check all the system's run times to make sure it isn't watering the landscaping too much or too little.

Regular inspections keep everything running smoothly — and keep the client's costs down.
Need an Austin Landscape Company that Handles it All? Trust North by Northwest
Starting new landscaping from scratch is an adventure — and a challenge.

A project like this needs experts in drainage, construction, irrigation, plant material, and the innovative new practices that keep a property's landscape thriving for years to come.

Hire pros with experience at handling all the pieces — and the stress — so you can rest easy.

Our services include landscape maintenance, landscape design, commercial irrigation management and landscape construction in Austin, Cedar Park, Leander and Georgetown, TX.

Are you ready for stress-free landscaping? Schedule a time to meet with one of our experts today. We'll gather the details, create a customized plan just for you, and you can stop stressing as we improve and beautify your Austin, TX property.