Not to be creepy, but we're pretty sure we know your landscaping daydreams.
You want to find a great commercial landscaping company for apartment complexes, then relax, knowing your property will be appealing to its residents and future tenants — with no hassle for you.
No irate phone calls from ticked-off tenants. No wasting time calling, calling, and calling to get the results they promised.
No worrying if the place looks great whenever a prospective new tenant stops by for a look.
That's not too much to ask, right?
Nope.
The trick is to make sure your commercial landscaping company will meet all your needs before you sign that contract.
Here are some key things to consider:
1. Safety and Security
Everybody wants to feel safe at home, no matter where they live.
But apartment complex dwellers often have extra safety concerns.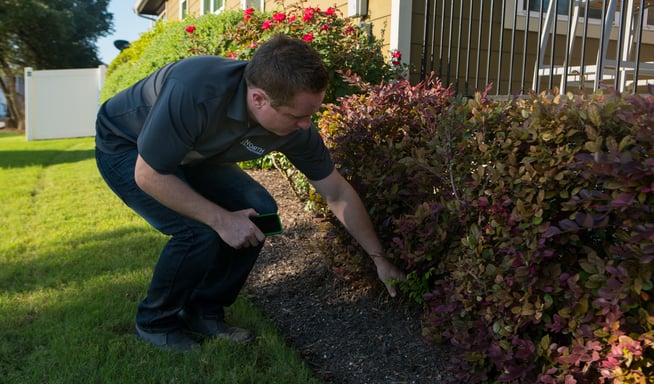 Lots of people are around. They have to walk from a parking lot to their door, often at night. They navigate community spaces.
If you neglect safety and security in your apartment complex landscaping, even the most stunning pots of flowers won't keep your renewal rates up.
Will your commercial landscaping company keep branches trimmed up and out of the way with proactive pruning?
Will they regularly trim shrubs? Will they suggest extra lighting if you need it?
Will crews be on the lookout for potential dangers, from poison ivy to tripping hazards?
A good commercial landscaping company for apartment complexes cares about safety and security, not just appearances.
2. Hollywood Ready
We know Matthew McConaughey won't be stopping by for cocktails. (If he does, please call us. We'll bring the cheese and crackers.)
We call your apartment complex's high-use areas, from entrances to common areas to pools, "Hollywood Areas" because they need to be perfect.
They're top priority because everybody uses them.
Hollywood-ready means tidy beds. Fresh mulch. Colorful flowers. No weeds.
It all takes careful attention to detail.
Make sure your Austin TX commercial landscaping company has it.
You never know who might stop by. Hint: Prospective tenants.
3. Will Your Commercial Landscaping Company Suggest Great New Ideas?
Why should somebody rent an apartment from you instead of from that newer place a mile away?
If you can't think of a few good reasons, you need a commercial landscaping company for apartment buildings that can get you there.
Dog runs. A community garden. Fire pits. A grilling station. Walking trails.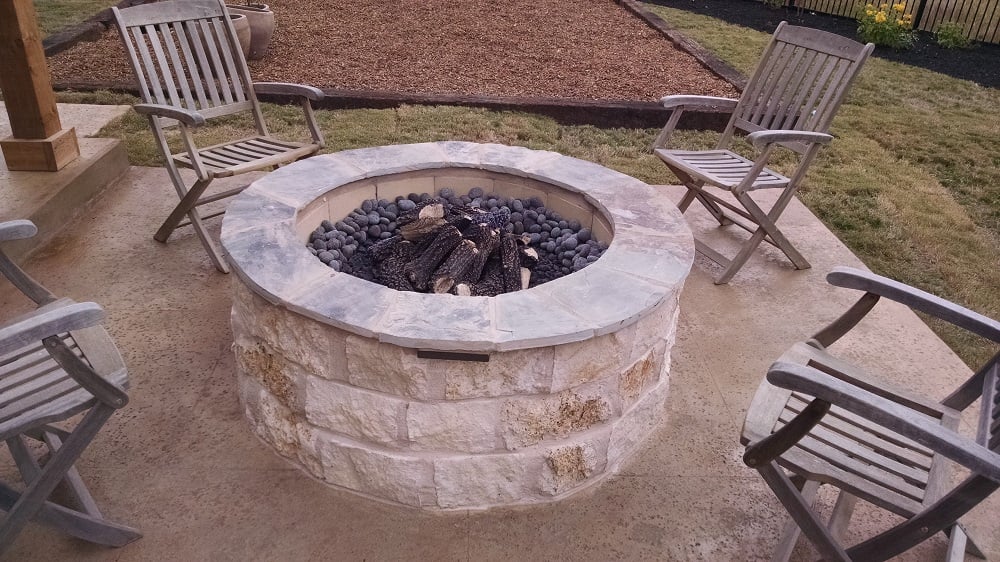 All of this is especially important if your target market is young people.
They want Instagram-worthy perks that make them proud to show off their home.
Your landscaping company should be on top of the latest trends for apartment complexes — and be excited to help you add them.
4. "Those Landscaping Jerks Left A Mess!"
If you've ever fielded a call from an angry tenant upset about landscaping crews being rude, leaving messy clippings behind, nicking cars with wayward rocks, or using noisy equipment way too early, well, so sorry about that. No fun.
Be sure your commercial landscaping company is tenant-friendly. That means employing polite, courteous, conscientious crews who know how to do their job well without irritating tenants.
5. Landscaping to Save Money
There are lots of ways the right landscaping choices can help you save money, and a good commercial landscaping company for apartment complexes should be on top of them.
Xeriscaping. Dry creek beds. Shade gardens. Smart irrigation.
Choose a landscaping company eager to be a partner with you to make your job smarter and easier.
6. Do They Have a Great Year-Round Game?
There's no off-season for apartment complexes.
You have to be new-tenant ready all the time, no matter the season, so you attract new tenants and keep current residents happy enough to stick around.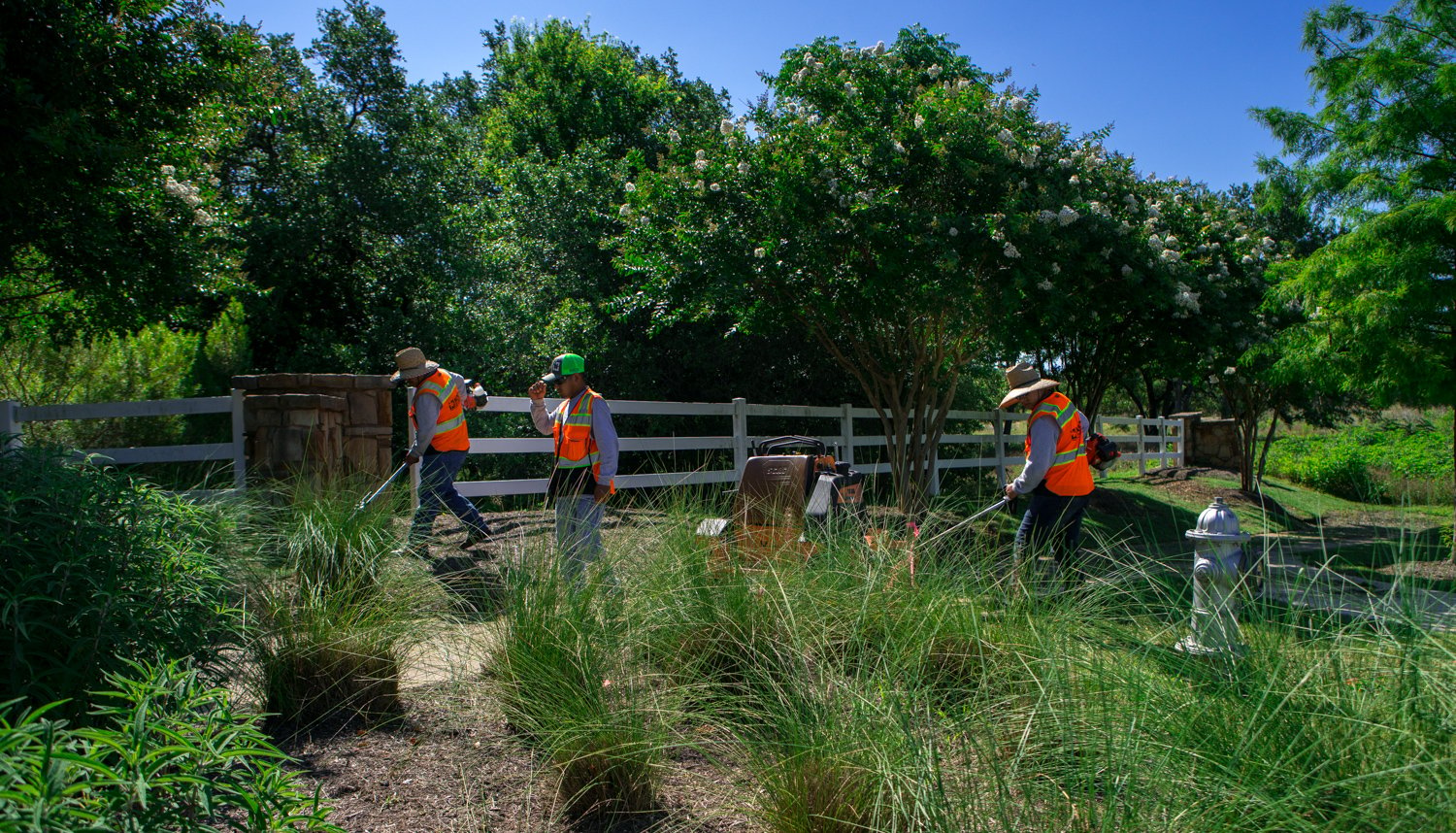 That means seasonal flowers that look great, no matter the month. Fresh mulch. Spring and fall cleanup. A hard-working lawn program that spans the seasons.
Potential tenants show up at any time, right? Not just the day after the landscaping crews visit. Is your landscaping company up to the year-round challenge?
7. Will Your Commercial Landscaping Company Offer All the Services You Need?
An apartment complex has a lot of landscaping needs. We don't have to tell you that, right? You're probably up to your eyebrows in tasks right now. We're actually honored you're taking time to read this.
The more complete your Austin TX commercial landscaping company is, the easier your job will be. You won't have to hire a bunch of different vendors to meet all your apartment complex's needs. That's just a big pain.
Of course, they'll mow, blow, weed, fertilize, and trim. That's the basic stuff.
But do they offer irrigation? Landscape lighting? Construction? Landscape design? Can they plan for large-scale additions and improvements you might need down the road?
Hiring several different companies to handle all your outdoor needs isn't just a hassle — it will likely cost you more.
8. Communication Counts
Did we mention you have a lot on your hands? You shouldn't have to be the one constantly calling, emailing, or texting your commercial landscaping company to find out when they're showing up, what they'll be doing, or bugging them to take care of a task they were supposed to do last month.
That's part of their job. Will they do it?
Who will be your point person? How often will they be in touch with you? How quickly can you expect a response when you reach out to them? How will they keep you up to date on when crews will visit and what they'll be doing?
Find out before you sign on the line.
9. Commercial Landscaping Companies in Austin TX: There's More to it Than Price
Of course, you hope to get a fair price. But if one bidder comes in with a bid that's much lower than the other commercial landscaping companies in Austin TX, that's a red flag.
A significantly lower bid likely means either the landscaping service cuts corners to save money or they don't have a realistic handle on what it takes to keep your property looking its best.
Resist the temptation to choose based on price alone.
Trust Your Apartment Complex Landscaping to North by Northwest
All of this sounds pretty perfect, right?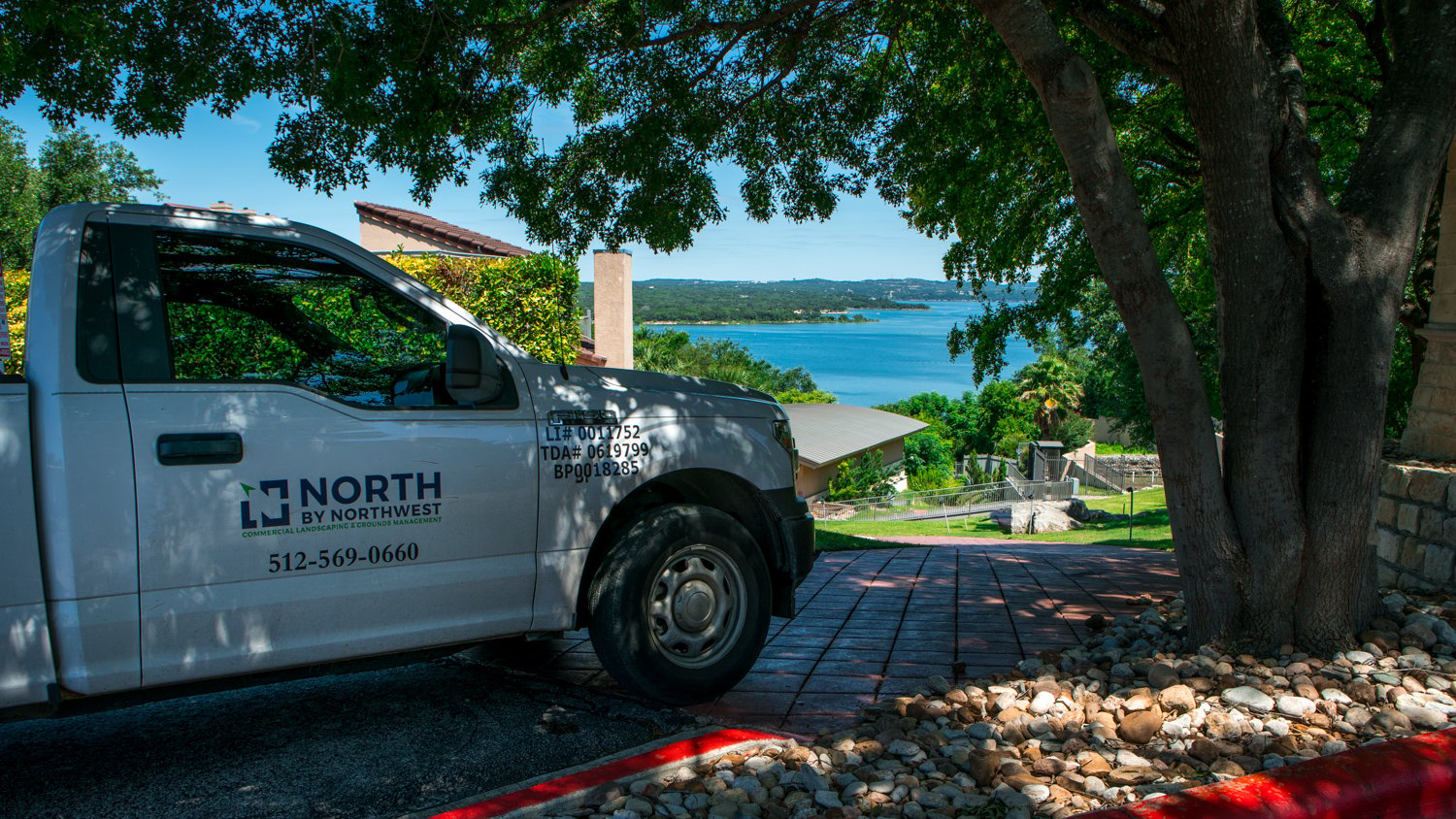 Does your Austin TX commercial landscaping company do all this?
Shouldn't they?
We'd love to partner with you to make your apartment complex impressive and appealing and your job hassle-free.
Are you ready for stress-free apartment complex landscaping? Schedule a time to meet with one of our experts today. We'll gather the details, create a customized plan just for you, and you can stop worrying as we improve and beautify your apartment complex.