Why should somebody rent one of your apartments? Have you pondered that lately?
Maybe the rent is competitive. Or utilities are included. Or you just painted the place a nice shade of beige.
Zzzzzzzzz…..
You have to do better than that — especially if your target market is young people. They have pretty high expectations these days. They're on Pinterest and Instagram, fully aware of the latest lifestyle trends and luxuries.
If you want their business, you better step up your game. If you don't, that apartment complex across town will.
A great way to win them over? Landscaping enhancements impossible to resist.
Not enough time in the day to figure out what will bring tenants to your door?
Relax — we've got you covered.
Here's a look at the best apartment complex landscaping ideas.
Add a Fire Pit
Fire pits are hot.
They're great gathering places. You can plan a party around one. They extend the outdoor season.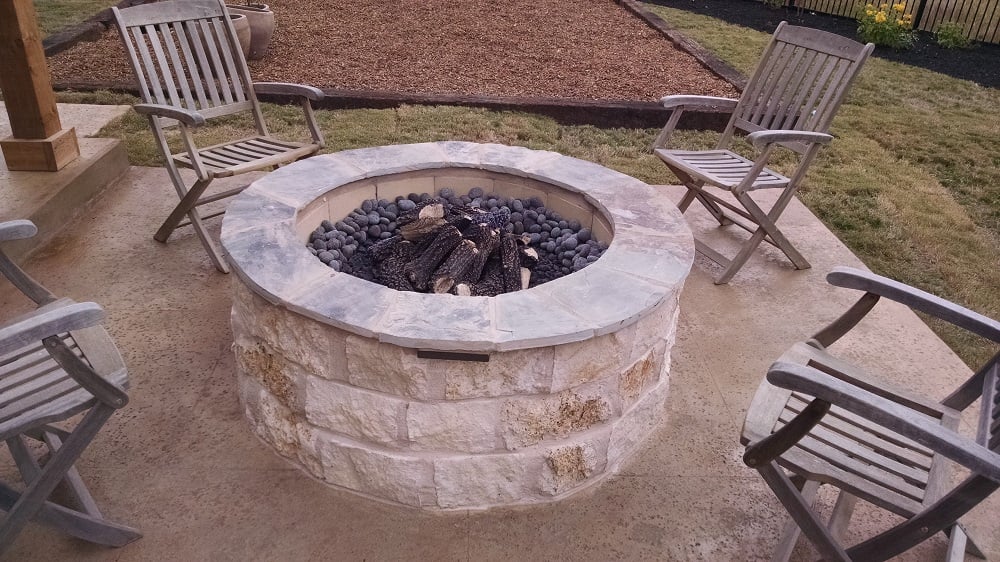 They're a great place to unwind after work with a bottle of wine and ingredients for s'mores. What wine pairs with roasted marshmallows? They can figure that out. You just provide the pit.
There are lots of styles and colors available, or we can custom design a fire pit to perfectly complement your common area.
Built-in seating and landscape lighting make it a go-to area tenants love.
Offer a Dog Run
These days, landscaping apartment complexes should include tenants' furry friends, too. Make them feel welcome.
They'd love a place to romp, sniff, and make new pooch pals right there at home.
Start with artificial turf made especially for dog runs. It's sturdy, drains well, and won't get all mucky the way real grass does.
Add everything Roscoe needs for a fun exercise session — handy water stations and some fun toys.
Worried about maintenance? It's doggone easy. Just hose it off.
Get Their Hands in the Dirt
The farm to table movement is one of the biggest food trends. Make it work for you.
No farm? No problem.
It doesn't take an expansive field to home grow some juicy tomatoes, fragrant herbs, and a crop of tender lettuce.
Install some raised beds or a collection of planters where tenants can happily dig their hands in the dirt and harvest fresh tomatoes and basil for a garden-fresh Margherita pizza.
Prep A Place to Gather
One of the great benefits of apartment living is fun socializing. The place is packed with potential pals.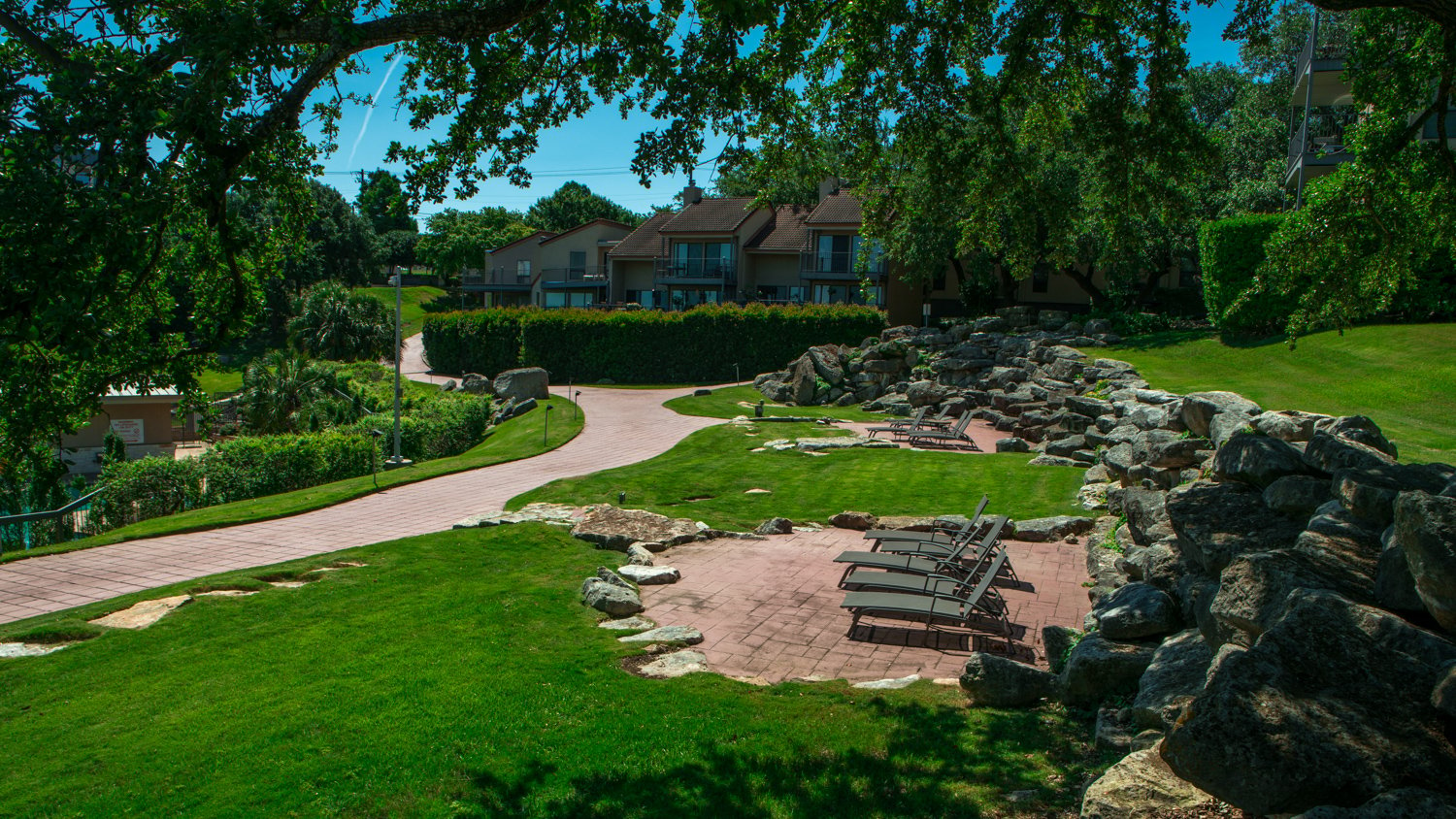 Encourage that gathering spirit by offering a common area with comfortable seating, that fire pit we suggested earlier, comfortable shade, and some colorful, fragrant flowers.
Create an outdoor living room atmosphere where tenants can host parties or kick back after work and meet new friends.
Lighting — It's Not Just for Safety
If you're a good property manager, you probably have your safety lighting covered. Parking lots, pathways, porches: check, check, check.
How about lighting for beauty, intrigue, curb appeal?
Landscaping apartments is about showing off your best features.
Strategic professional lighting can turn your plant material into shadow art, highlight your most interesting trees, and lend a luxurious look to your property tenants will love.
Water feature? Transform it with lighting. That fire pit you're going to install? It'll need great lighting, too, both for safety and to lend an appealing glow.
Potential tenants pass by after dark, too.
Don't waste an opportunity to draw them in with dramatic lighting that highlights your buildings' most impressive architectural features and puts a spotlight on your most dramatic plants.
If you looked at two apartment complexes, one right after the other, and one had appealing, artistic lighting, which one would you choose?
Exactly.
But not just any lighting fits the bill. Be sure you have landscape lighting experts who know the technical aspects to create appealing lighting without glare and distraction.
Fire Up a Grilling Station
People love to gather. And they love to eat.
Just because a millennial lives in a one-bedroom apartment doesn't mean they don't appreciate the comforts of home.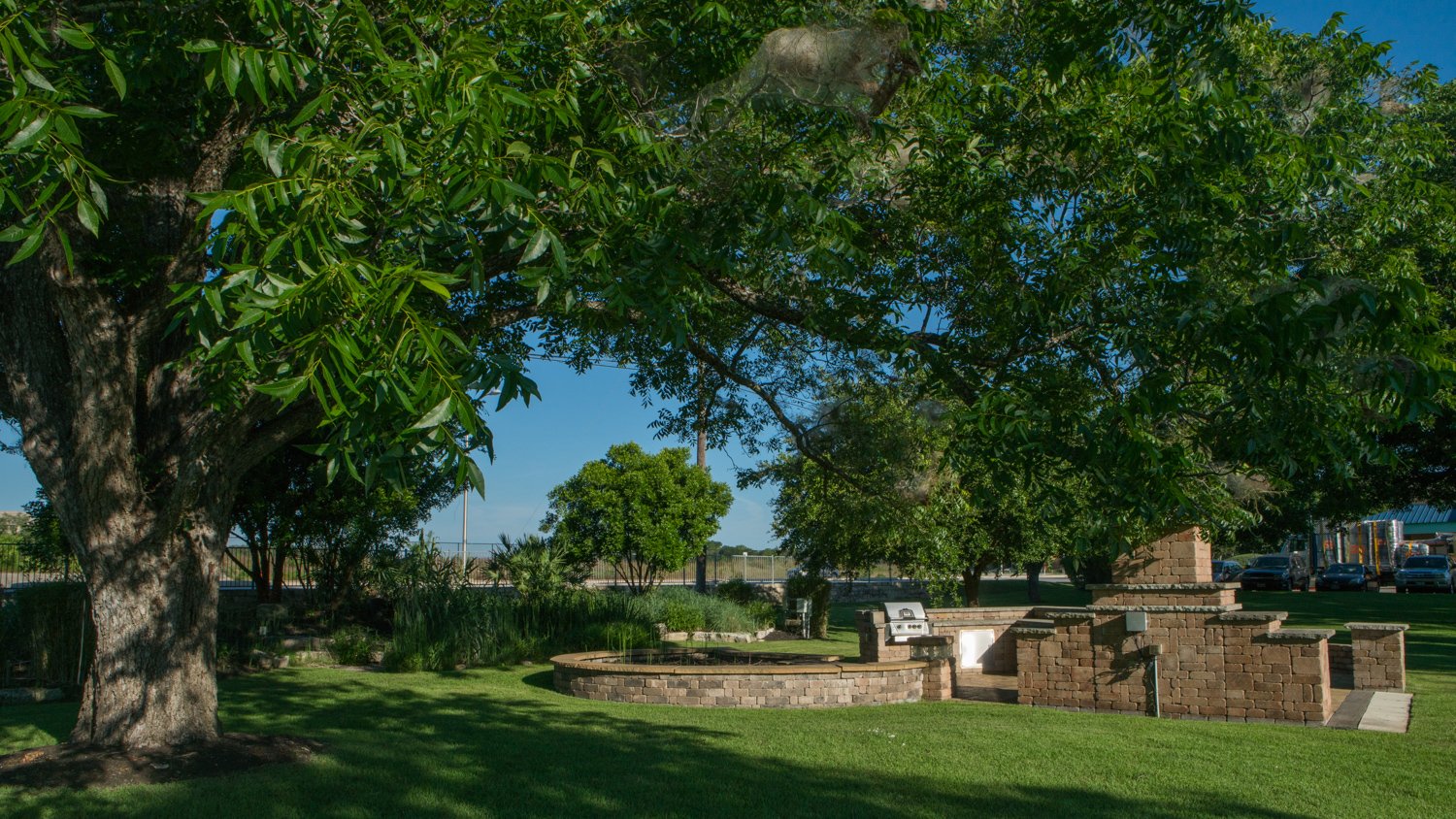 They love not having to mow the grass. But they still love hosting a barbecue.
Enter your patio grilling station.
They can invite their friends over for a fun, cozy gathering. Then, after the kabobs are devoured, the party can move to the fire pit for conversation and s'mores.
Why live anywhere else?
Add A Walking Trail
Gotta get those steps in. Offer a nature-inspired walking trail for Saturday morning strolls with coffee or energetic carb-busting after work.
Pack it with native plants that attract butterflies and birds and fragrant plants that invite sniffing. Think drifts of sunflowers, sages, asters, and columbine.
Who needs the gym?
Fun, Fun, Fun
Cornhole, anyone? Add a designated area for yard games like these.
Consider installing a putting green to attract golfing tenants who'd love to practice in their own backyard.
How about hammocks? They're the latest lounging trend. String some up and wait for the compliments from tenants happy to relax after a stressful day of work.
Landscaping for apartment complexes should include the kinds of perks tenants brag about to their friends.
Plants That Pop
Don't underestimate the power of plants in impressing and attracting prospective tenants. Everybody loves flowers.
Think bright, inviting flowers lining walkways and packing giant pots at your entrances.
Eye-catching flowers and plants are great for attracting attention to your signage. Just make sure they're low growers so they don't obscure the signs.
You don't have time to ponder the perfect flowers for landscaping apartments?
We know. Here are a few of our favorites:
Coleus: There are so many stunning varieties of this fantastic foliage, we dare you to pick a favorite. It comes in bold reds, oranges, and purples, boasting intriguing splashes, streaks, and spots of color and pattern. It's a definite attention grabber.

Angelonia Serena: This beauty offers vibrant purple flowers that keep on coming, but on a nice, compact plant. It thrives in heat and humidity, so it will keep on beautifying your beds, pots, and signage on days when even you're wilting. It's also called summer snapdragon, which is kind of fun to say.

Sweet potato vine: This reliable vine spills beautifully over the sides of planters and cascades like a dream in beds and borders. It loves sun and shade and comes in bright green, purple, and copper foliage. No worry about flowers fading in and out — with sweet potato vine, it's all about the foliage.
Don't let the color fade as summer weather wanes.
People notice color. Impress potential tenants and keep the ones you already have by changing your colorful flowers and plants with the seasons.
Swap in fall stunners like kale, dusty miller, and viola.
Ornamental cabbage and kale perk up beds and planters with interesting frilly leaves in green and purple, cream and pink.


Viola are cheerful, hardy, and often stay in bloom right through the winter.


Dusty miller is prized for its lacy, silvery gray foliage. We love pairing it with viola and kale for striking fall landscaping.
Time to Update?
When you want to create a great first impression for potential tenants, nothing seals the deal like wow-inducing landscaping.
Take a good, hard look at yours. Are there overgrown junipers or azaleas that have been hanging out for 20 years?
Dated landscaping won't cut it.
Consider a more modern look. Opt for a more contemporary mix of perennials, flowering shrubs, and graceful ornamental grasses that lend movement to the landscape.
Plants don't live forever. And landscapes evolve over time.
A planting bed that was in the sun 15 years ago might be shaded by mature trees now, and need more light.
While you're at it, are there cracked sidewalks or sunken pavers that make your place look past its prime?
You might be ready for a much-needed re-do.
The Power of Mulch
Fresh beds of rich, dark mulch make a huge impact, especially from the street, against crisp green lawn and bright beds of flowers.
When's the last time you replaced yours?
Mulch breaks down over time. It fades. It starts looking ratty. When it gets thin, weeds creep in.
Chances are, it's time for a fresh bed of mulch.
It adds instant impact. It retains moisture, keeps weeds at bay, and it makes the rest of your landscaping look crisp, clean, tidy, and inviting.
Crush the Competition
Think all this stuff is high-end luxury? Not necessary? Extras beyond your budget?
Nope. Not anymore. Millennials expect these amenities. If you don't offer high-end apartment landscaping, those valuable tenants will go live someplace that does — a trendy, youth-friendly complex that packs in the perks.
They want to live in a place with high-end appeal. A place with Instagram-worthy features. A place with all the current trends. A place they can't wait to host a party to impress their friends.
Do you have it? If your property is a decade or two old, you probably don't.
You're passing up chance after chance to attract and retain the tenants you need to keep your place vibrant and bustling.
Spruce Up Your Apartment Enhancements with North By Northwest
We know what it takes to bring tenants to your door — and keep the valuable renters you already have.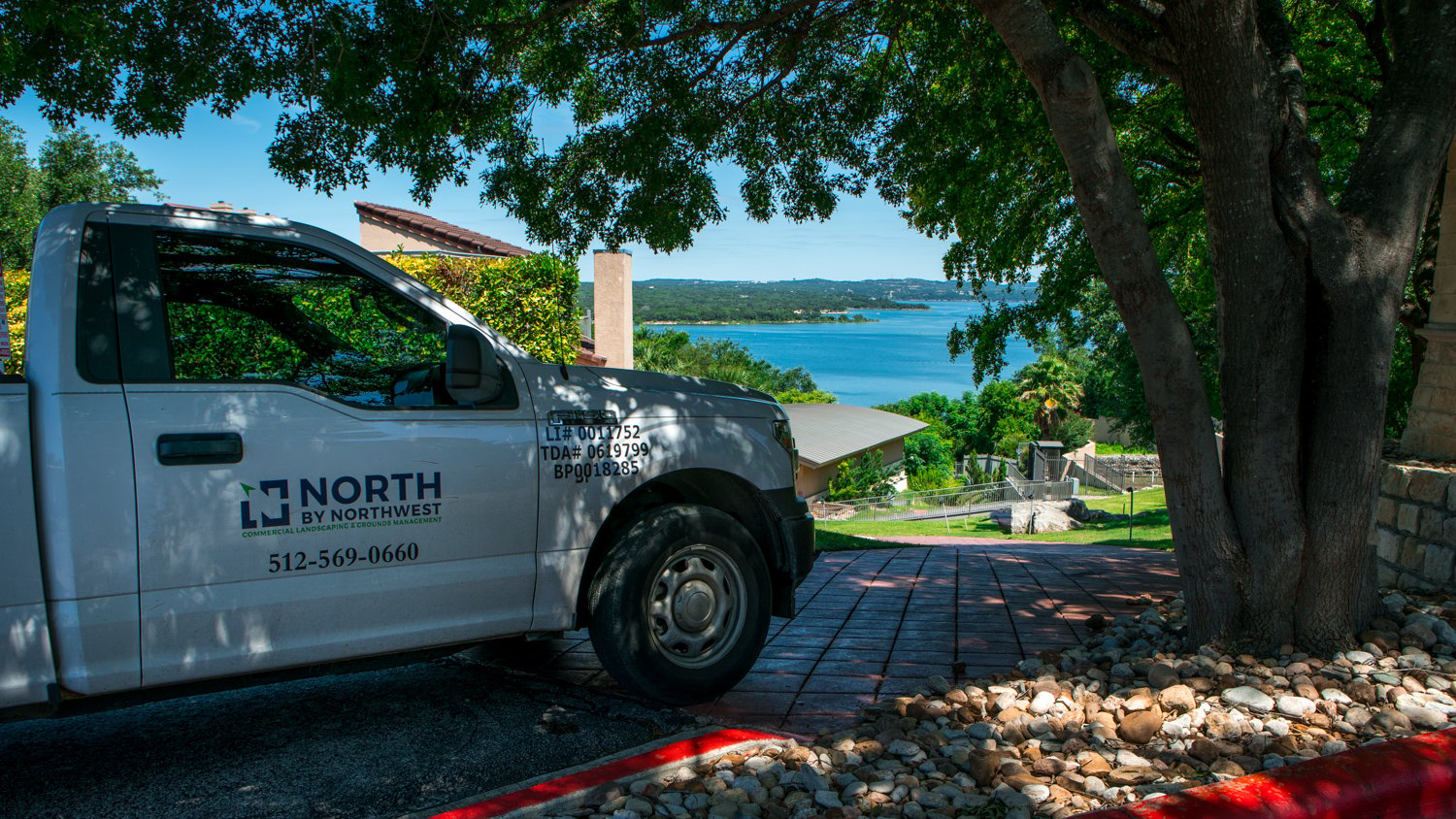 You have a lot on your plate, so leave the enticing apartment complex landscaping ideas to us.
We'd love to partner with you to make your landscaping impressive and your job hassle-free.
Are you ready for stress-free landscaping? Schedule a time to meet with one of our experts today. We'll gather the details, create a customized plan just for you, and you can stop stressing as we improve and beautify your landscaping.
Image sources: coleus, angelonia serena, sweet potato vine