The new Tru and Home2 Suites By Hilton in Pflugerville, outside Austin, has the kind of cool amenities that make guests want to check in, from fire pits to outdoor grills, and an inviting outdoor pool.
It's a great location, too. Located at 18700 Hilltop Commercial Drive, the five-story, 179-room hotel is next to the Stone Hill Town Center shops and eateries, a mile from Typhoon Texas waterpark, and about four miles from Lake Pflugerville Park.
But all the amenities don't matter much if the outside isn't attractive. When it comes to hotels, first impressions mean a lot.
MW Builders, a general contractor in Pflugerville, hired North by Northwest Commercial to install irrigation and landscaping at the new hotel.
Jordan Martin, North by Northwest vice president in charge of the project, offers a look at how they tackled the job.
First Up: Meet Jumping Jack
The crew's first task was installing sleeves underneath the future parking lots and hardscape for irrigation lines.
"We were there at the very beginning, no concrete yet, no building," Martin says. "We were there even before the rebar."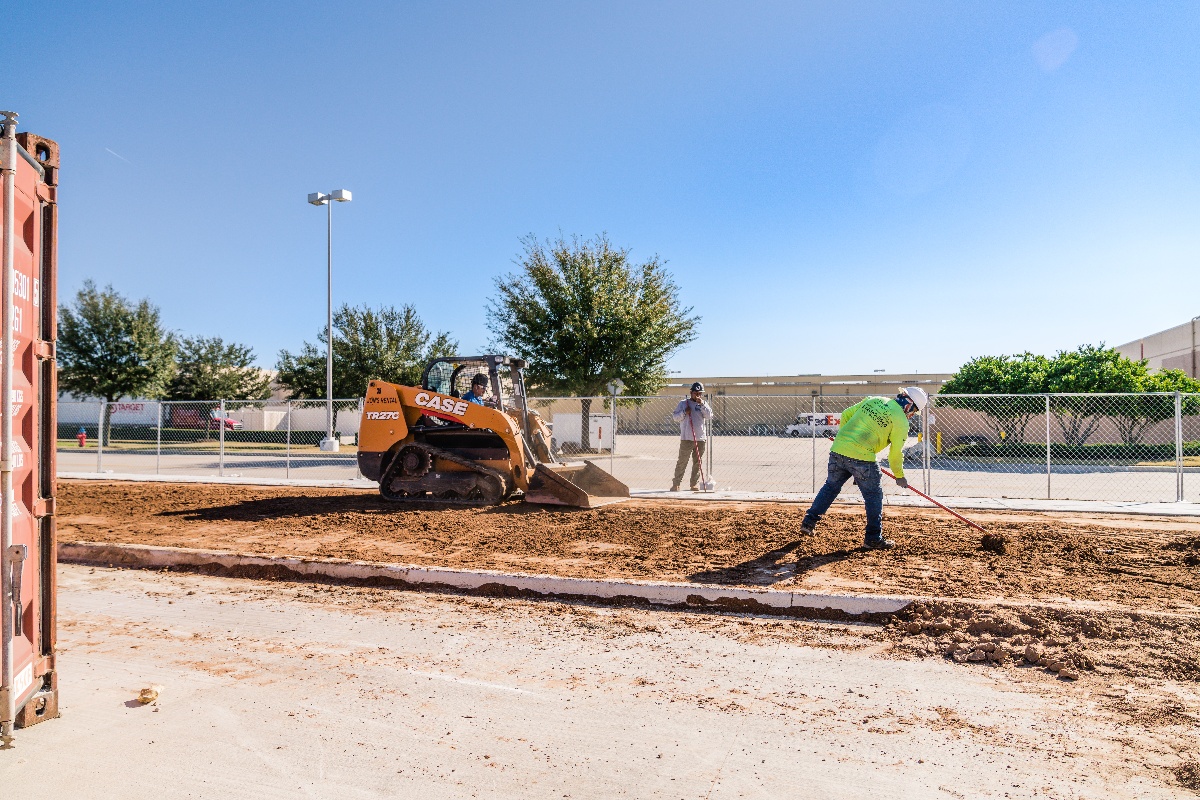 The star of the job was the jumping Jack compacting tool crews used to firmly tamp down the dirt over the trenches, removing air and water from the soil.
"It needs to be nice and compact so there's no cracking of concrete later," Martin says.
"The jumping Jack is like a jackhammer, but it jumps off the ground and slams back down, compacting the trench," he says. "It looks like one of those robots you'd see in Star Wars.
"You could use a roller for the job, but this is a lot better."
Preparing for Planting
Crews returned months later after construction was complete to do the final grading work, adding rich, high quality soil for planting, backfilling to two inches below concrete and hardscape.
Trees, Please
Next up, tree planting, even before the sod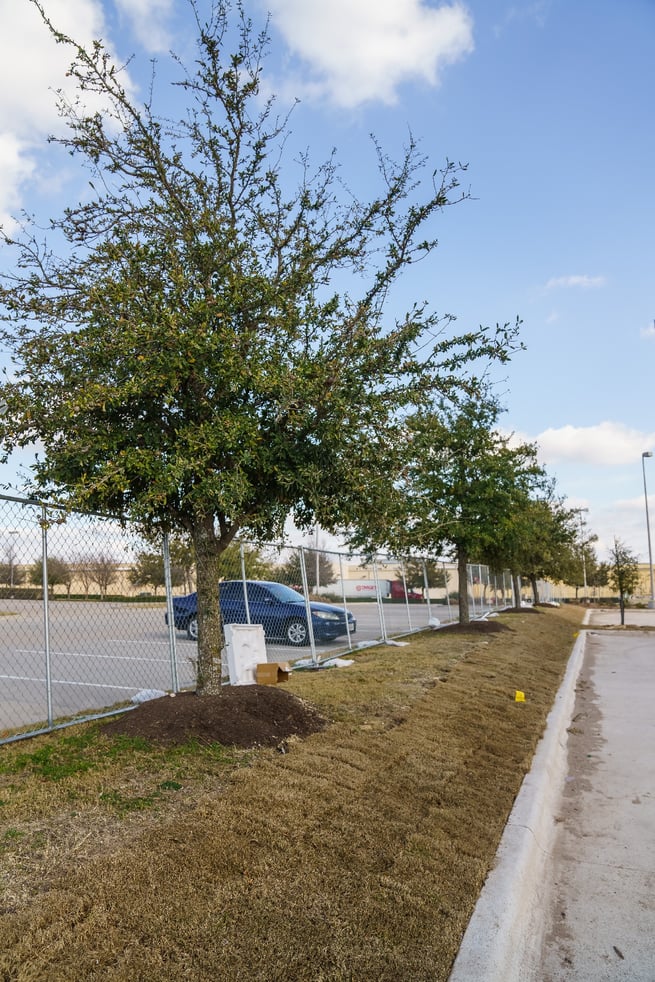 "Installing trees creates a lot of rocky mess," Martin says, "so they go in before grass. You don't want to tear up nice new turf."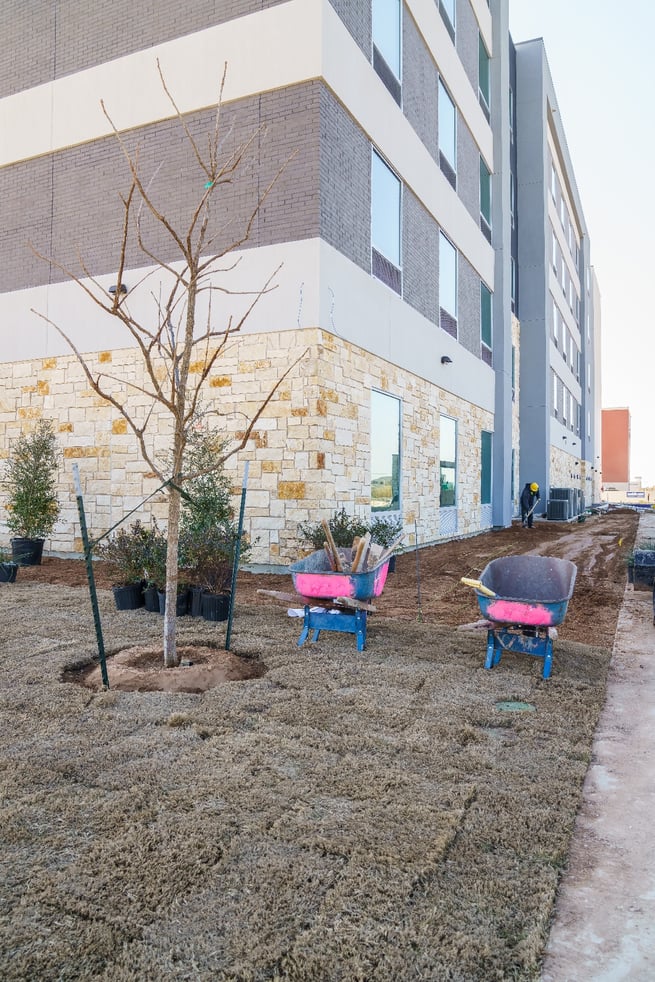 Crews planted 40-60 trees:
Redbud
This Texas native offers an explosion of deep pink flowers in early spring.
Red Oak
This handsome, adaptable tree is known for its deep root system, which makes it useful for planting near urban streets and sidewalks.
Shumard Oak
A stately tree, it boasts beautiful fall color, is drought tolerant and adapts great to urban spaces.
Bur Oak
This sturdy oak tolerates pollution and heat stress, and offers dense shade, keeping cars and hotel guests cool on hot days.
Plenty of Plants
The project architects and designers decided what plant materials should make up the landscaping, then asked North by Northwest to install it, Martin says.
But when he looked over the plant list, Martin saw a juniper he knew wouldn't thrive there.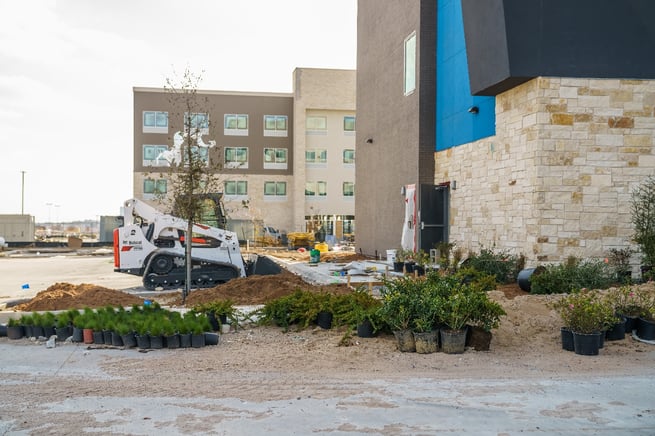 "They chose a juniper that was for zone 6, but we're zone 8," he says. "So I suggested an alternative — Blue Pacific juniper — that's hardy for this area.
"If you get an architect in California or Colorado they do a beautiful design, but they might include plants that don't do well here," Martin says.
Plants for a hotel need to be attractive, but sturdy, Martin says. Here in central Texas, they should be drought-tolerant, too.
Here's what else crews installed:
Bulbine
This sturdy plant blooms repeatedly with cheerful yellow or orange flowers.
Pineapple Guava
An attractive, fragrant shrub with silvery-green foliage and sugary pink petals that showcase showy red stamens with gold tips.
Red Yucca
Its towering, five-foot flower stalk boasts stunning, coral-hued tubular flowers with pink stems. The leaves are a bluish-green, but in winter turn a pretty plum. It's a stunner.
Double 'Knockout' Roses
These hardy, low-maintenance roses appear to have a secondary flower in the center, doubling the flower power.
Texas Sage
Drought and heat tolerant, it has silver-white foliage and dark purple flowers.
"These are all safe, dependable plants for the perimeter of the building and along parking lots," Martin says. "They're very hardy and reliable."
Contemporary Planters for Pizzaz
The project architect called for contemporary custom steel planters crafted in New York to line the sidewalk.
Martin had them shipped in, then crews installed them and ran irrigation to them to make watering easy.
The impressive planters hold seasonal color plants. They're currently filled with a bright summer combination of marguerite sweet potato vine, Angelina, Coraline, and sedum.
Irrigation Design and Installation
Good irrigation design is crucial for any property.
It means no overspray that wastes water. It means the right irrigation heads and nozzles so water gets everywhere it needs to go.
Expert irrigation design has to be followed by skilled installation.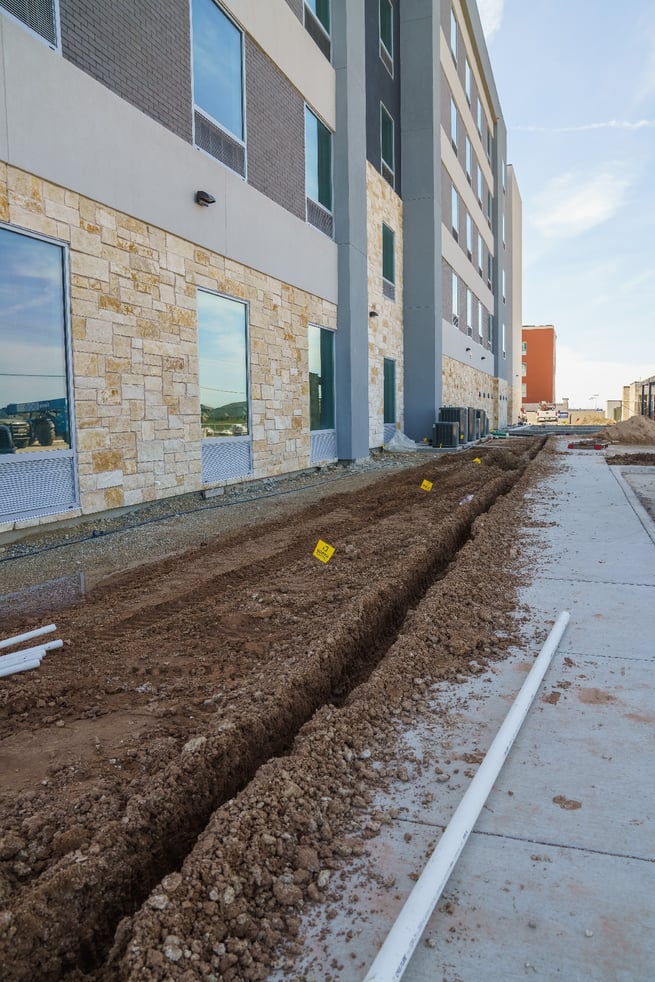 If crews don't install enough wiring to run the system, there'll be grounding issues. If installers use wire and nuts that aren't waterproof, they often corrode, causing expensive electrical problems down the road.
Pipe sizing matters, too. North by Northwest uses a larger pipe size than most of their competitors, to make sure irrigation systems have maximum flow rate.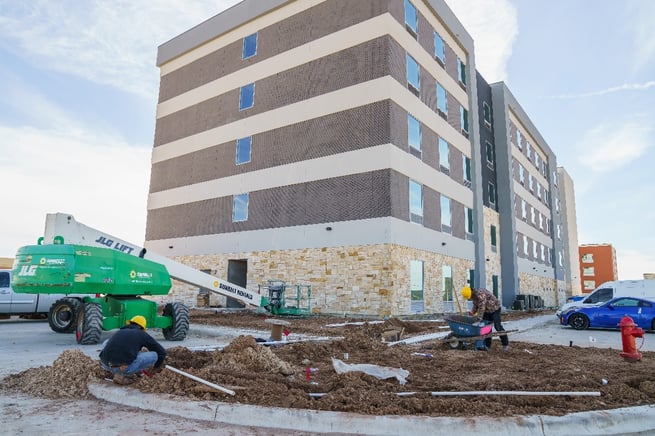 At the Tru Home site, there was one extra irrigation task: they needed a hose bib installed in the dumpster area so hoses can be attached and used to keep the area clean.
Terrific Turf
The building architects called for Latitude 36 Bermudagrass for the hotel property, known for its long-lasting green color and traffic tolerance.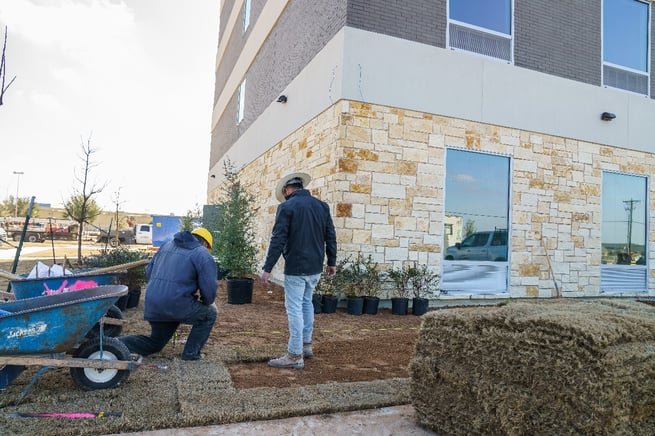 Martin ordered 54 pallets to cover approximately 24,000 square feet.
"This variety is nice and clean looking," Martin says. "When you look at the hotel turf against the grass at the movie theater next door, there's a big contrast in the turf."
Bustling Behind the Scenes
While hotel guests enjoy the contemporary planters brimming with beauty and the green grass that comes from good irrigation, a lot took place behind the scenes to make the landscaping happen.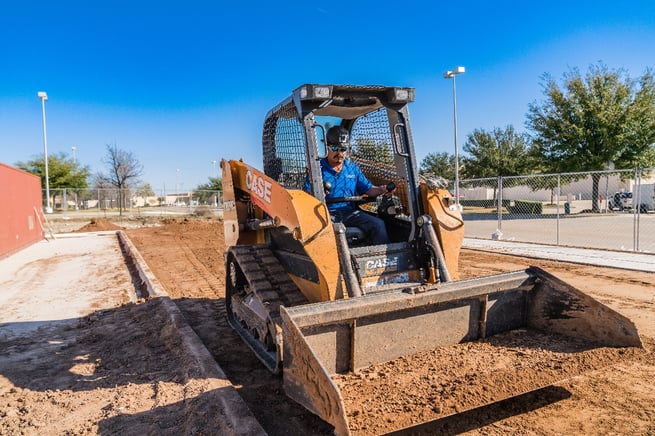 Martin had the painstaking task of putting together a slew of "submittals" for the contractor — detailed information about every plant, the irrigation system, even the mulch they planned to install.
It was a ton of work. Martin had it completed in a week.
"They said they'd never had anyone give them submittals so fast," he says.
Meticulous Maintenance
North by Northwest also won the bid to provide ongoing landscaping maintenance at the property, with 43 visits a year.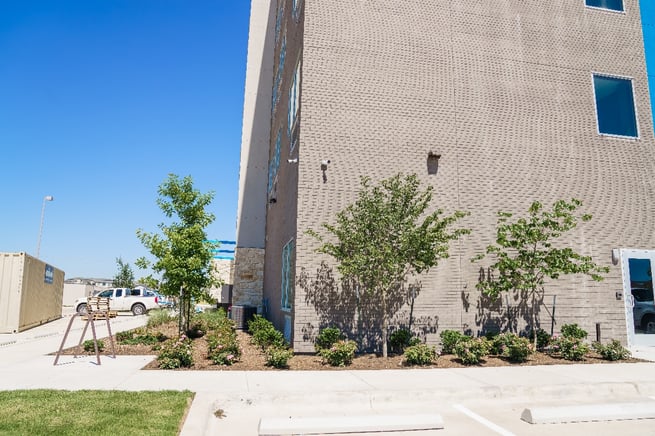 "A lot of times you see landscaping get installed and it looks great, but then it isn't maintained," Martin says. "Why spend $50,000 to $100,000 on landscaping. then let it go? It doesn't make sense.
"Our bid for maintenance was more expensive than the others," he says. "But when I did a walk-through of the property with the hotel owner, he was impressed with us and the quality."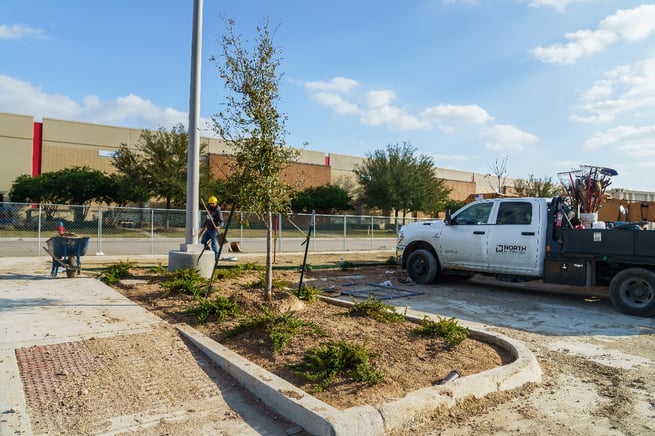 It's an advantage to have the landscaping installers do the maintenance, he says.
"You know everything about the property," Martin says. "You know where all the irrigation is, you know exactly what all the plants are."
Top-notch maintenance is crucial for a hotel property where first and lasting impressions are so important.
Irrigation Maintenance
The hotel's landscape maintenance contract includes monthly irrigation inspections by technicians crucial to keep the system running efficiently.
They check the system for small issues like broken spray heads and leaky nozzles before they turn into big, costly problems.
They'll run each of the zones for a couple minutes to make sure heads are spraying where they should, and no nozzles are clogged with debris.
They check all the system's run times to make sure it isn't watering the landscaping too much or too little.
Regular irrigation inspections keep everything running smoothly — and keep the property's costs down.
The Builder's View: Finding the Right Fit
The success of this project started with finding just the right landscaping company for the job, says Brady Woods, project manager at MW Builders.
"We're always looking for the right relationship," Woods says. "Obviously, the price has to be in the ballpark, and their price point was good.
"Then there was a series of interviews to make sure they were the right partners we could use time and time again," he says. "We don't want to do a one and run."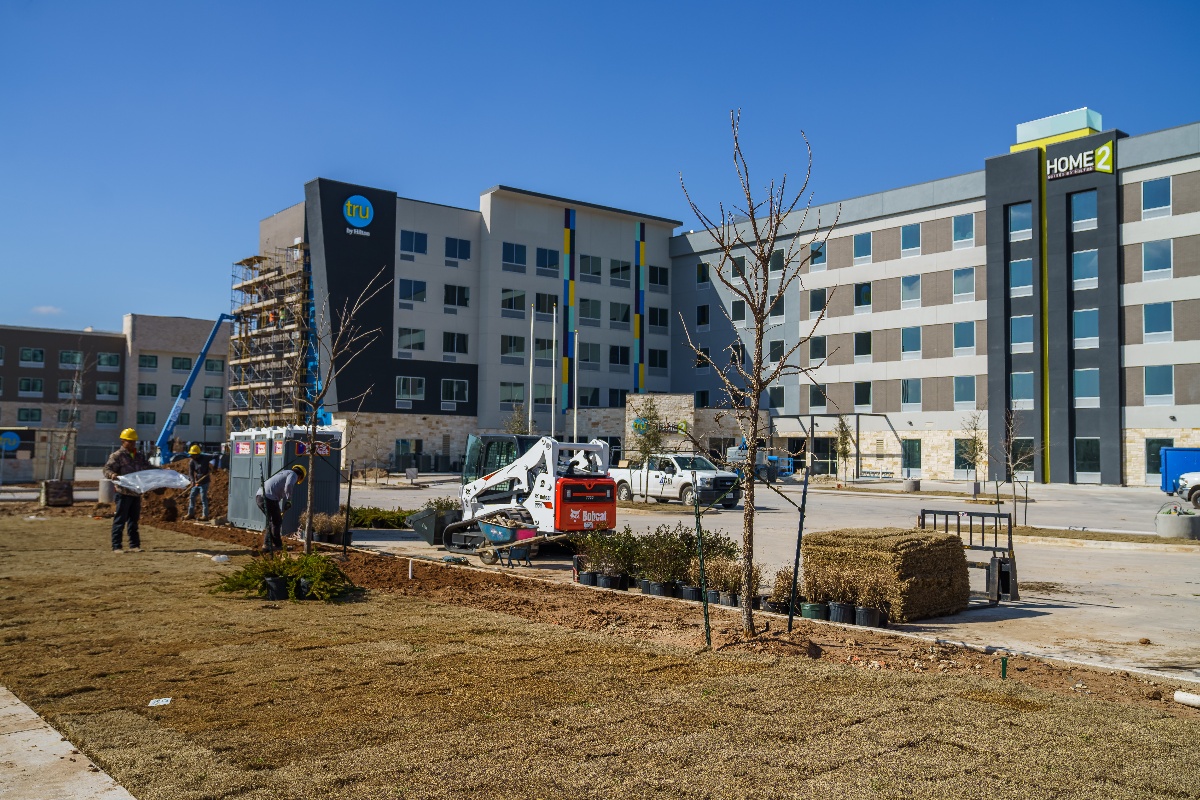 Woods was impressed with Martin's honesty up front.
"He let me know from the beginning they were new to commercial construction," he says. "I appreciated that communication from the get go, instead of them hiding that fact."
Every job has complications, Woods says.
"When things arose, we were able to talk through it and come to an understanding," he says. "In construction, it's not about whether there'll be problems, but what you do with them. Communication is key."
As the landscaping moved along, "Everything they put in was good quality," Woods says.
In fact, he said Martin took the initiative to install colorful annuals in planters by the front entrance. The hotel designer hadn't specified what to plant.
"It's the first thing the owner noticed," Woods says. "He said, 'We were wondering what to plant in those.' That attention to detail went miles."
A Lasting Partnership
"I'd absolutely work with Jordan again," Woods says. "He was great to communicate with, he was always professional. He was always looking toward solutions and options."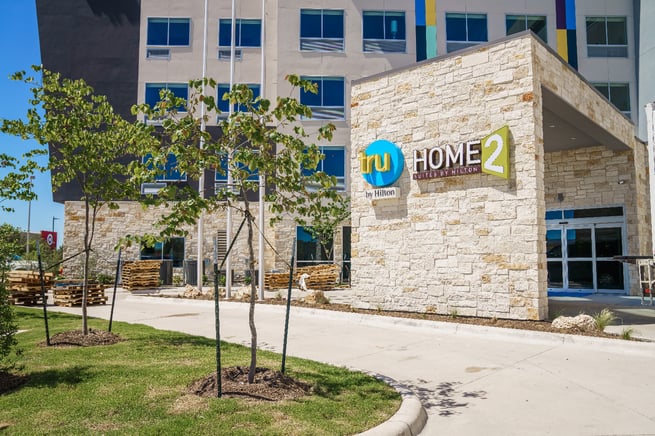 Bottom line: the hotel looks great.
"Good landscaping helps create that nice, warm, welcoming, comfortable feel," Woods says.
It looks good from the road, which makes the city happy, he says. And it looks great up close, which makes guests want to check-in.
"The landscaping matters 100 percent," Woods says. "When I look for a hotel I don't want a concrete jungle. I want nice sit-down areas and hang-out areas. I want it dressed up. And this one looks really nice."
Trust Your Commercial Landscaping to North by Northwest
A hotel landscaping job like this one involves a thousand details, from having the right tools for the job to extra touches like the perfect planter flowers.
Hire pros with experience at handling all the pieces — and the stress — so you can rest easy.
Our services include landscape maintenance, landscape design, commercial irrigation management, and landscape construction in Austin, Cedar Park, Leander, and Georgetown, Texas.
Are you ready for stress-free landscaping? Schedule a time to meet with one of our experts today. We'll gather the details, create a customized plan just for you, and you can stop stressing as we improve and beautify your Austin, TX property.