Add five letters to "fun" and you get "function".
Adding great landscaping features to Austin commercial real estate is fun. It's the finishing touch to make your property turn heads and get contracts signed.
But it should also work great while it looks great — solving problems and offering creative fixes in addition to offering wow-worthy curb appeal.
Commercial real estate developers in Austin, TX need landscaping features with function, not just fabulousness.
Here's how skilled and creative commercial landscape contractors can help you create landscaping that works as great as it looks.
Design to Attract Attention: Signage Solutions
Signage landscaping should work hard for your money, making signs appealing focal points while ensuring that customers find you — and know where they're going.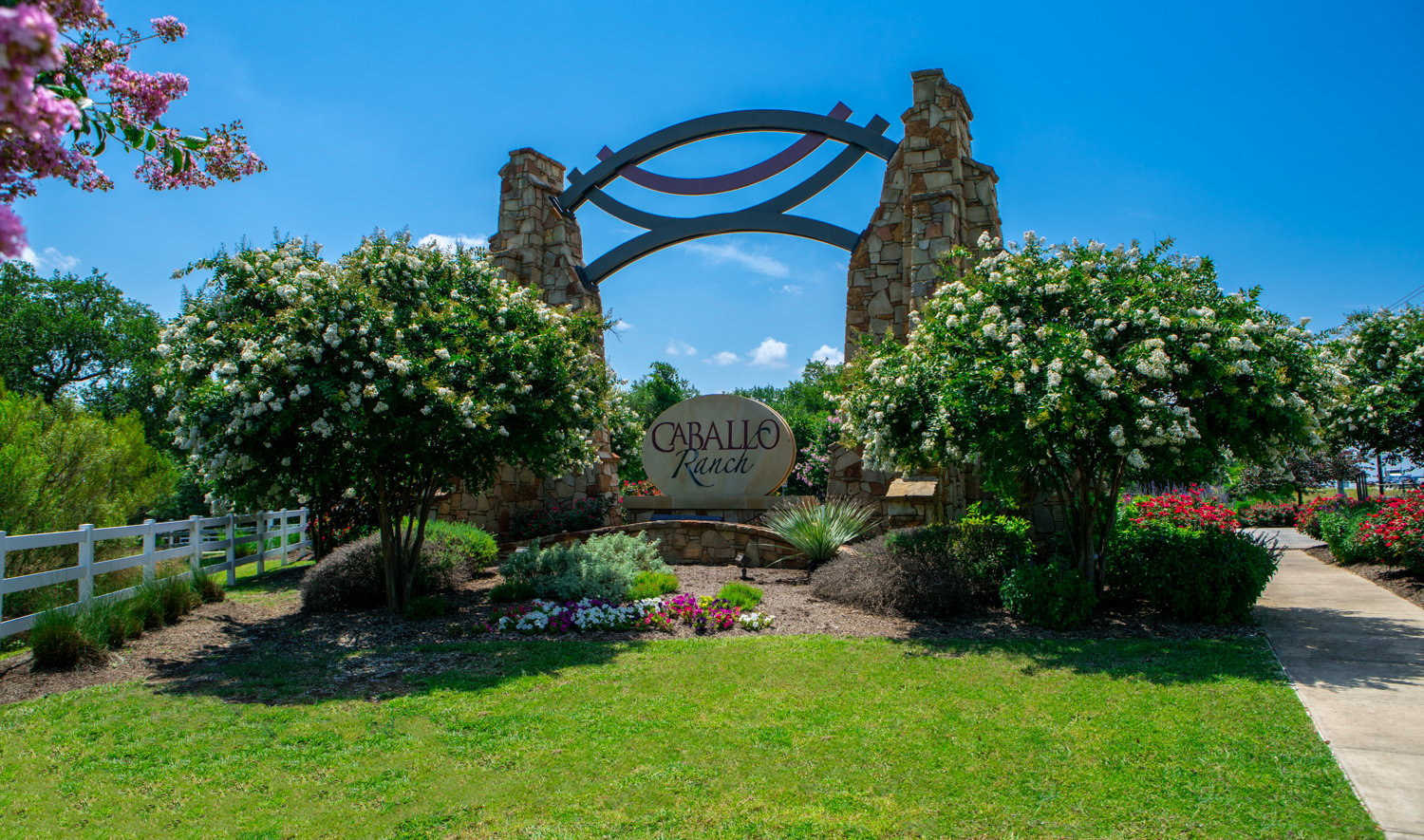 Here's how signage landscaping adds great function:
Make signage stand out with appealing plants and flowers, but make sure plants don't obscure the words or directional arrows.
Think four-season appeal. It's easy to make signage pop with bright spring and summer flowers, but flowers fade and need replacing. Include evergreens, short ornamental grasses, and shrubs that sport stand-out foliage.
Don't forget the lighting. Customers want to feel confident about where they're headed, especially at night. Even if your sign has lighted lettering, light the landscaping around it, too, for drama and impact.
Green Gathering Spots with Function
A big expanse of green grass at an HOA, apartment complex, or office park looks nice, but why waste all that Austin TX commercial real estate? Put it to work.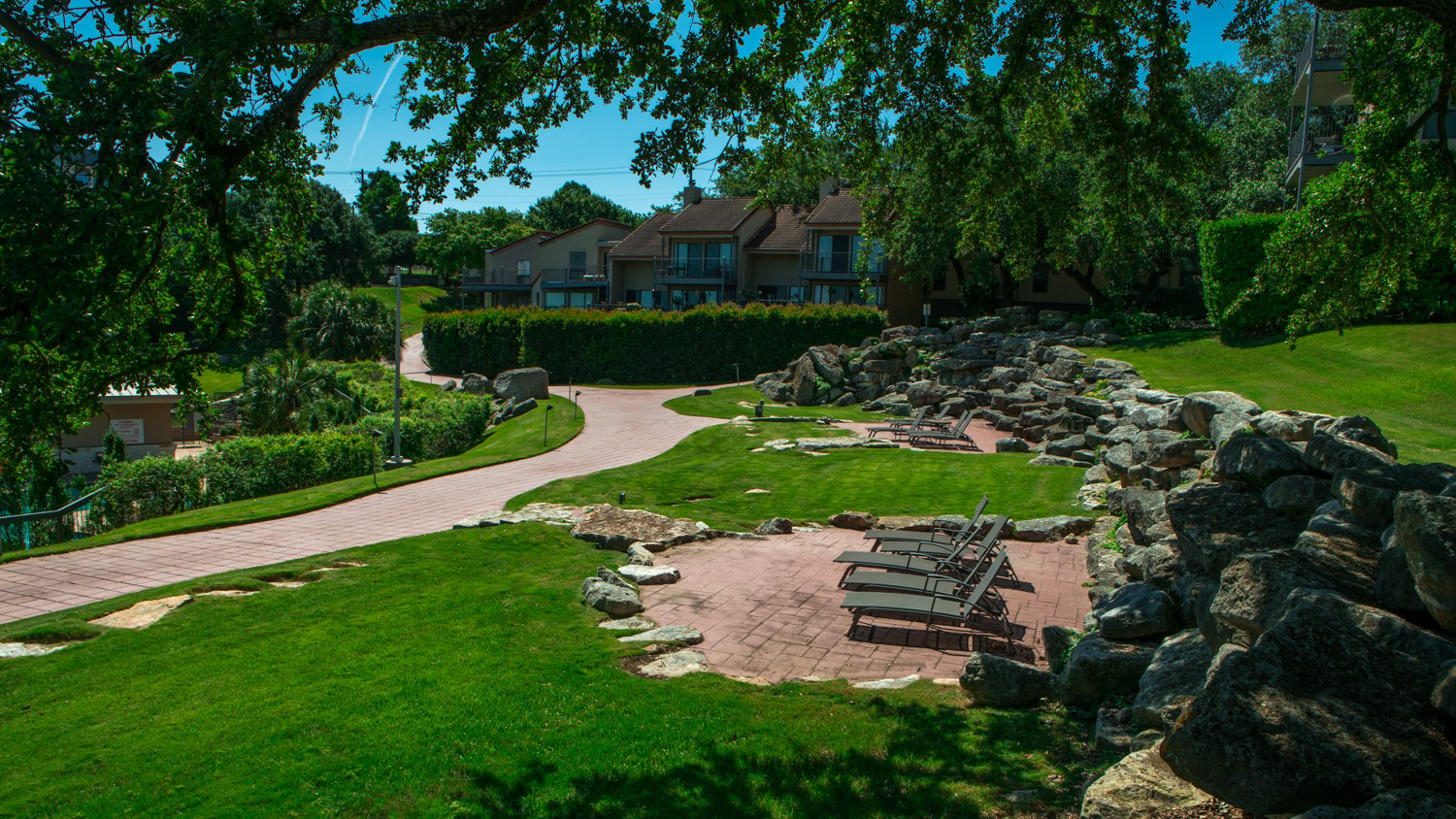 Create functional gathering spots people love, whether it's an appealing outdoor patio for office workers, a trendy grilling station for apartment dwellers, or an inviting common area or community garden for HOA homeowners.
Don't forget Fido. Dogs are part of the family, too, and a dedicated area for pooches to play will be a big draw for dog lovers.
Add tough artificial turf made specifically for dog runs and dog parks, and great drainage, so maintenance crews can easily hose it off.
Commercial Landscape Contractors' Best Stormwater Solutions
Commercial properties have a ton of potential for stormwater problems.
Construction projects are famous for creating large expanses of bare soil. Big spreads of pavement can't absorb rainwater, so it gushes right into the groundwater, taking pollutants with it. Hilly properties encourage water to drain and pool in low areas, which can cause flooding around entrances.
Experienced commercial landscape contractors can stop stormwater and drainage issues before they start.
Proper grading, installing French drains, redirecting water using a swale are all good solutions.
North by Northwest specializes in retention and detention ponds, too, to help manage stormwater issues for commercial real estate developers in Austin, TX.
Plants are great stormwater problem solvers, too. Strategically installed on steep slopes, they slow down water and soil. Ground covers spread quickly and help keep soil in place. Hydroseeding gets grass established quickly.
Walkways to Direct Foot Traffic
It's human nature. Pedestrians will trample your pretty landscaped beds and stomp all over your new lush lawn. Unless you direct them away from it.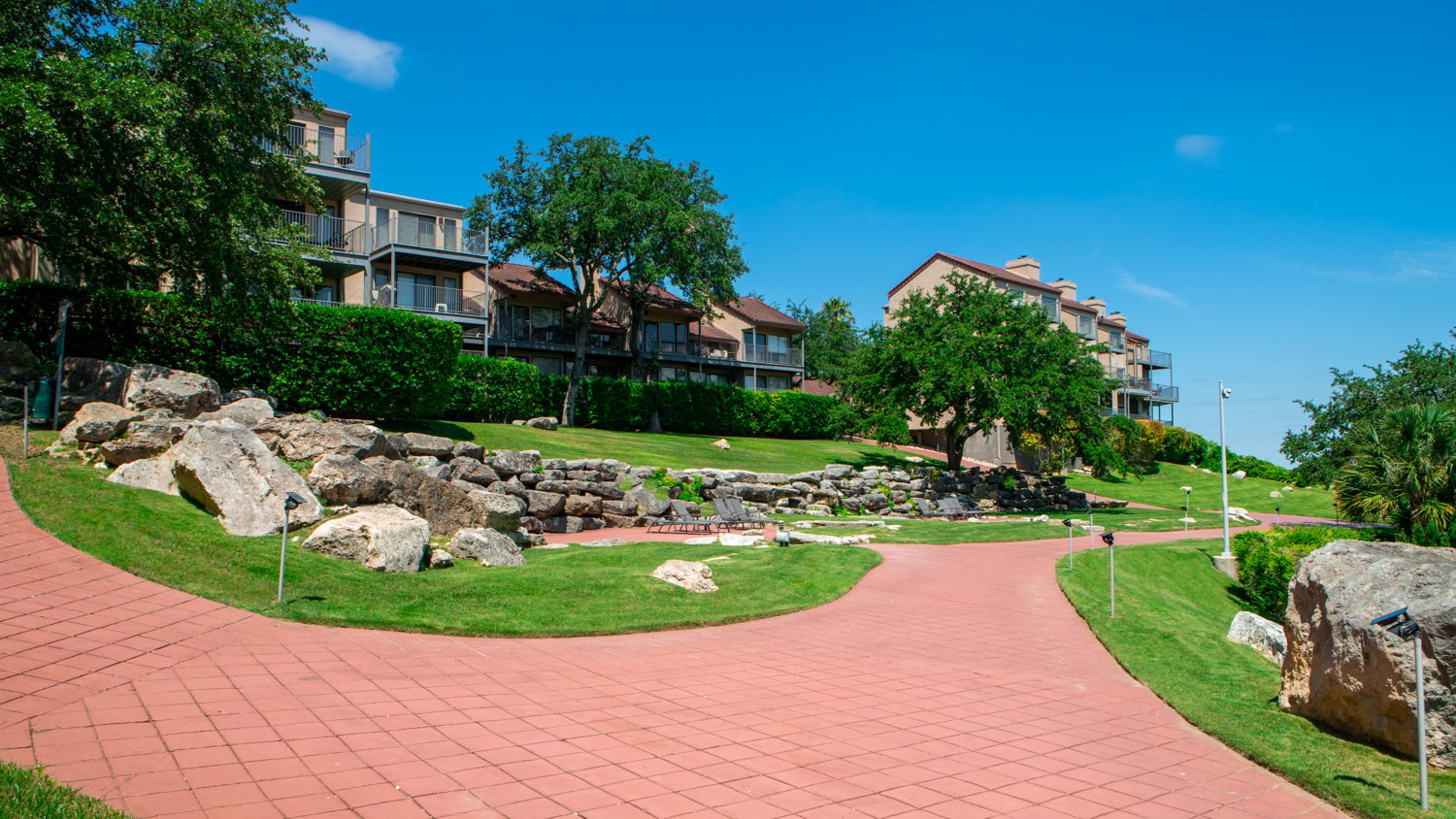 Permeable paver paths are great for directing foot traffic, and they handle water runoff issues while looking great.
Brick paths have classic appeal, too. But commercial real estate developers in Austin, TX often crave more creative solutions.
That's where skilled commercial landscape contractors come in.
How about sturdy, textural ground covers for a change of pace? These can also guide pedestrians where you'd like them to go, creating winding paths of interesting texture without worries of water runoff.
Think sturdy sedum or fragrant creeping thyme. Mix textures, heights, and colors for fun — and function.
Planting to Screen Areas
Experienced commercial landscape contractors know how to make plants work hard — not just look good.
North by Northwest division manager Cory Essman has a ready list of tall, sturdy Texas shrubs that not only look great, they're perfect for screening unsightly areas or creating privacy.
Quick-growing Wax Myrtle
Flowering Cotoneaster
Drought-tolerant Green Cloud Texas Sage
Pride of Barbados, with its stunning red and orange blooms
Red-berried Japanese Yew tree
Esperanza, with clusters of showy yellow flowers shaped like trumpets
Commercial real estate developers in Austin, TX can use these hard-working beauties to hide unsightly eyesores like air conditioning units or dumpsters. Line a few up as the perfect privacy screen on a restaurant patio or near an apartment complex pool.
Planting for Austin Commercial Real Estate Parking Areas
Parking areas are great examples of hard-working, functional landscaping — if done right. Poorly designed, they're wasted money.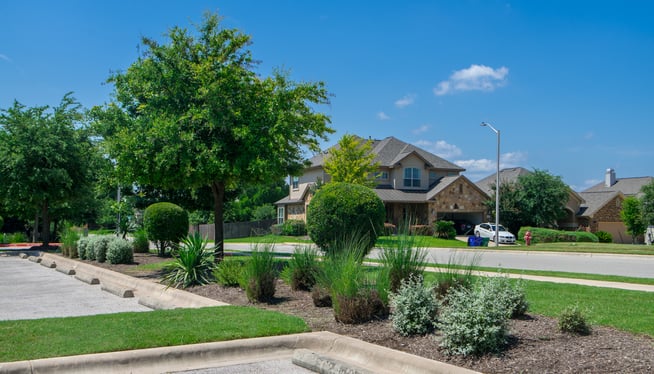 Trees, for instance, are function superstars for parking lot islands:
Their shade keeps customers' cars cool.
Trees help break up that big expanse of hot asphalt with cool, attractive greenery.
They help prevent soil erosion and reduce stormwater drainage problems.
They buffer wind and noise.
Pretty functional. But not any tree will do.
Have you hung out in a parking lot lately? They're hot, dry, and sunny. Car exhaust adds pollution. Irrigation? Not likely. Foot traffic is constant. Cramped parking lot islands leave little room for tree roots to stretch out.
Experienced commercial landscape contractors will know just what trees will thrive in baking hot Austin parking lots, offering valuable function without dropping debris or snagging pedestrians with low-hanging branches.
What about turf on parking lot islands? Functional, right? That's a big nope. Crews need to use weed trimmers on turf, and flying debris can damage cars.
Essman suggests low-maintenance materials like granite or gravel.
Another functional tip: choose prickly plants for parking lot islands, like agave and cacti, to deter pedestrians from walking on them.
Planting for Future Growth
It's easy to make the landscaping at Austin commercial real estate look great for the first year or so. Anybody can do it.
But plants grow, so they have to be planted with future growth in mind.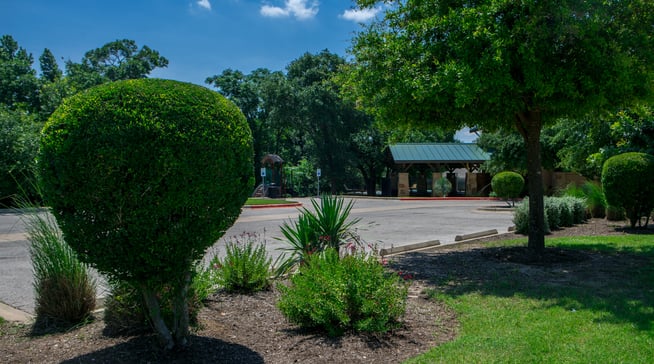 If plants, shrubs, and trees are stuffed in too close together, or planted too close to a building, you'll have to replace them a few years down the road, or constantly prune to wrangle them into their space.
Either way, that's an expensive hassle you don't need.
When plants and shrubs grow too big, they can cause all kinds of problems on Austin TX commercial real estate.
They block the sight lines for vehicles entering or leaving the property; interfere with pedestrian traffic; obscure security cameras; and provide perfect hiding spots for vandals and intruders.
Experienced commercial landscape contractors choose plant material that functions for the long haul. That will save you money down the road.
Need Hard-Working Landscaping for Commercial Real Estate in Austin, TX? Trust North by Northwest
Commercial real estate developers in Austin, TX have a lot to worry about in the stressful quest to sell and lease properties.
Skilled commercial landscape contractors can work with you to nip some problems in the bud, offer creative solutions, and show you how the best landscaping features aren't just beautiful — they're functional.
We'd love to partner with you to make your new construction projects impressive and your job hassle-free.
Are you ready for stress-free landscaping? Schedule a time to meet with one of our experts today. We'll gather the details, create a customized plan just for you, and you can stop stressing as we improve and beautify your Austin, TX commercial property.