When Jordan Martin says "We handle the whole shootin' match," he means it.
The services North by Northwest Commercial Landscaping and Grounds Management provides for Austin customer Chase Bank go way beyond lawn care.
Seasonal color? Check. Keeping branches trimmed for safety? Check. Suggesting ways to improve the property? Check.
A mess of a detention basin that needed everything from soil testing to contaminated sand hauling to pump replacement, all nestled between two bustling commercial properties?
It was a head-scratcher, for sure.
But, check.
First, What's a Detention Basin?
When it works properly, a detention basin collects, holds, and filters stormwater, slowly releasing it over time to storm sewers and streams so it doesn't flow too fast, causing flooding or erosion.
All the water runs out of the basin between storms, slowly draining out through sand and gravel to the outlet at the bottom, and the basin usually remains dry. Pumps at the bottom prevent overflow.
That's what happens when a detention basin is working properly.
The detention basin at this South Austin Chase Bank was definitely not.
"A Lake of Trash"
Every time it rained, the Chase Bank detention basin, 115 by 10 by 15 feet, would fill up, and the water would remain.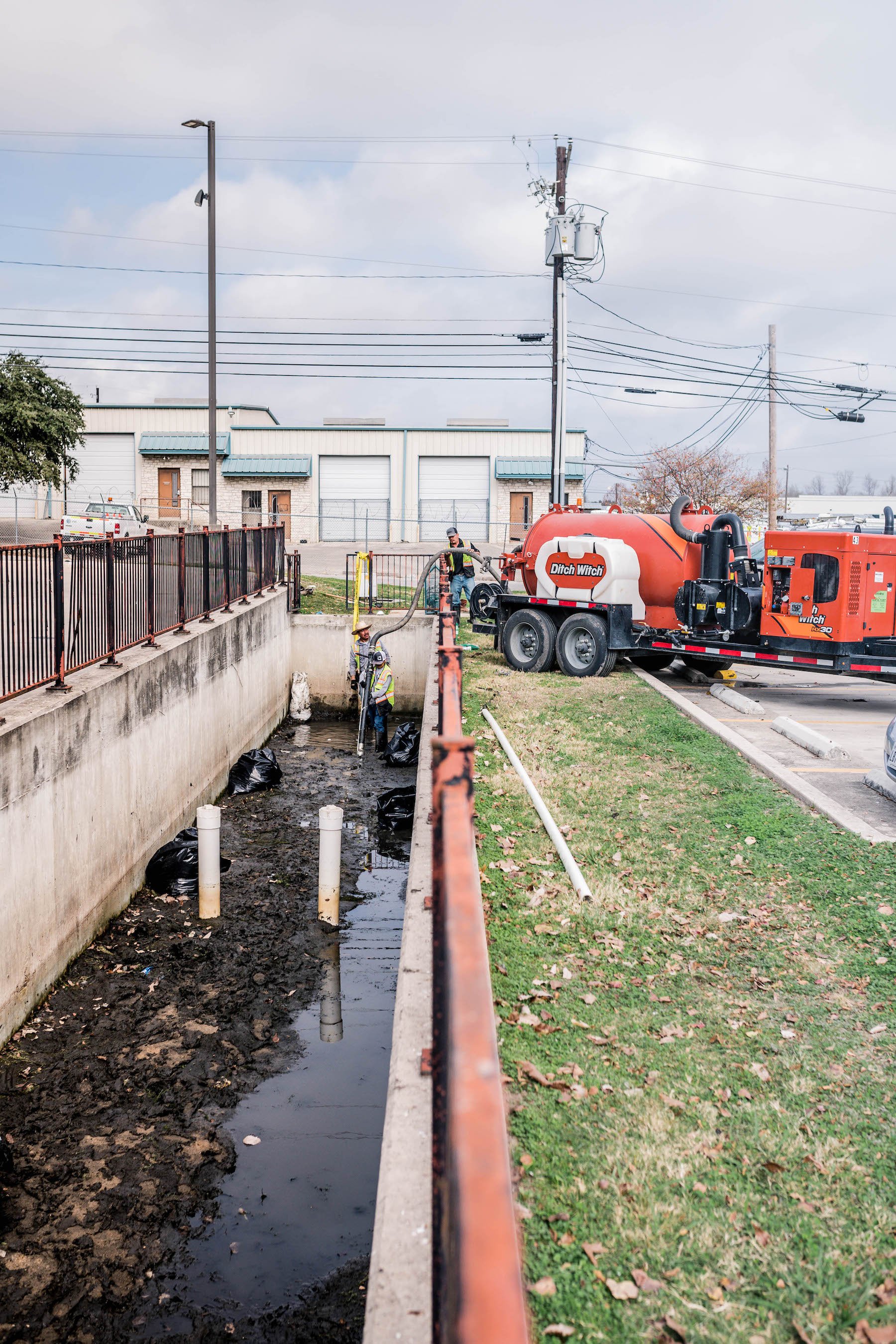 The bank would hire North by Northwest to come out with a sump pump and remove the water.
Meanwhile, trash accumulated in the full basin. Bottles, litter, and debris floated in the water — right between the bank's drive-through lanes and the drive-through lane of a barbecue restaurant next store.
It was definitely unappealing.
"Customers saw a lake of trash," says Martin, vice president of North by Northwest.
It was time for a permanent fix.
"A Heck of a Process"
Martin and the North by Northwest team started exhaustive research and planning.
"It was a heck of a process," Martin says.
First, the sand in the detention basin had to be tested to determine where all 65 yards of it could be hauled after it was removed.
Contaminated with petroleum products and other pollutants, it had to be disposed of at a special site in San Antonio.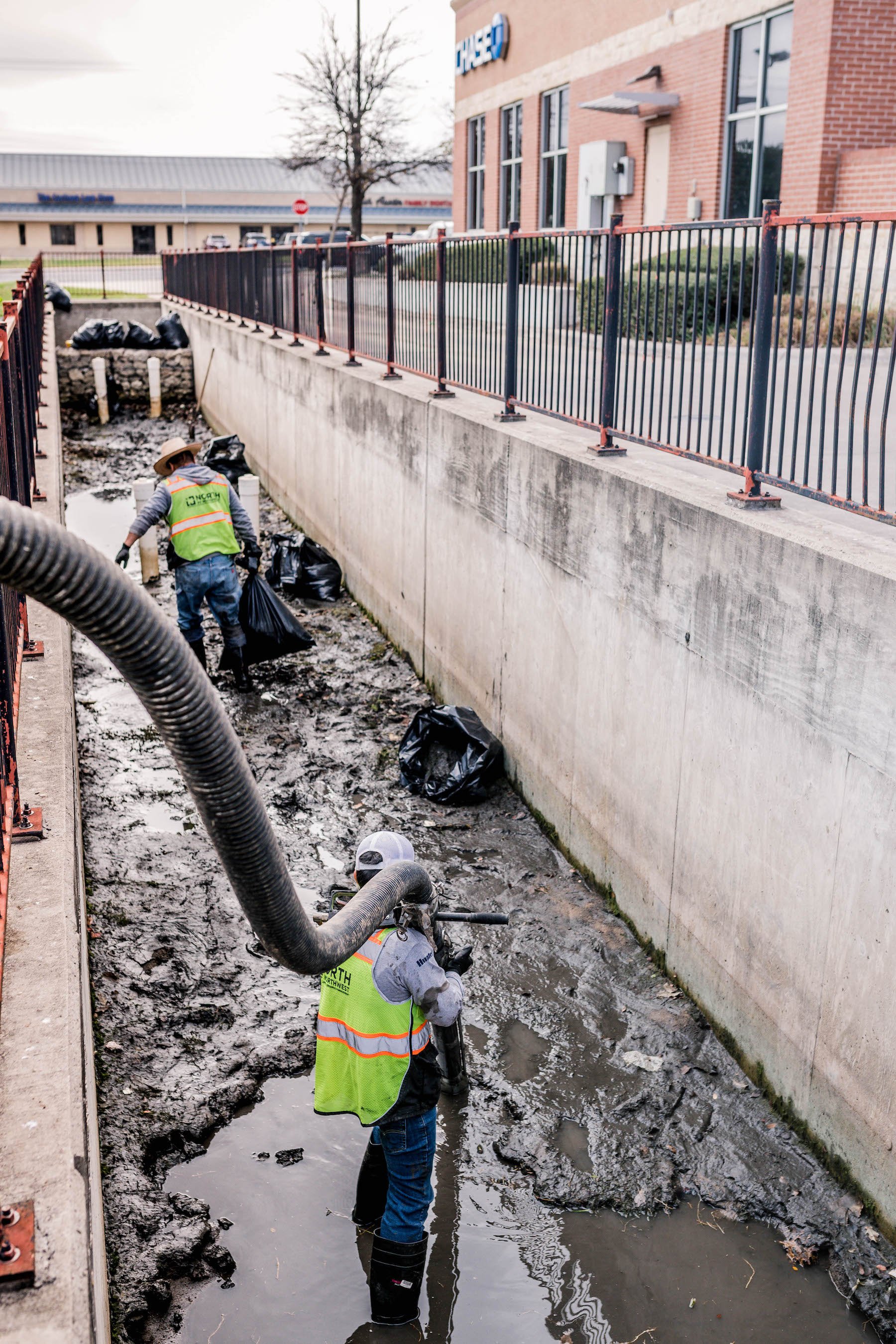 How to remove 65 yards of sand from a 15-foot deep basin?
Not with shovels.
"You're in a deep hole," Martin says.
And there wasn't enough access for a skid steer.
So, the Austin commercial landscapers rented a specialty vacuum truck with a six-inch diameter hose to painstakingly remove the sand over two days.
Once crews got to the two pumps, they discovered they weren't working. That's why the detention basin hadn't been draining.
Crews replaced the pumps, as well as added new gravel and sand for drainage.
Tricky Logistics
This entire scenario played out smack dab between the Chase Bank drive-through lanes and the busy drive-through lane of a popular barbecue restaurant.
Martin and his team didn't have the luxury of working in an open field or unused parking lot.
They had to accommodate the managers of two separate businesses wary of the complicated work disrupting their busy bank and restaurant.
"We had to make sure we didn't create a bottleneck at the drive-through lanes," Martin says.
And crews couldn't block valuable customer parking spaces for three days with their big equipment.
It involved a finely tuned plan of blocking only a few parking spots at a time, with a promise to the restaurant manager that they wouldn't block any parking spots during the busy lunch rush.
They had to control and direct traffic to accommodate customers while the work continued.
And One More Thing...
In addition to the detention basin project, North by Northwest crews had to repair a French drain system that straddled the two properties.
When the detention basin pumps turned on, water gushed into the barbecue restaurant's parking lot.
They re-routed the drain system, so water percolated out to the street curb instead.
You Bet, We Do Detention Basins
North by Northwest crews did the complicated Chase Bank job right the first time, Martin says, with no further work needed and no complaints.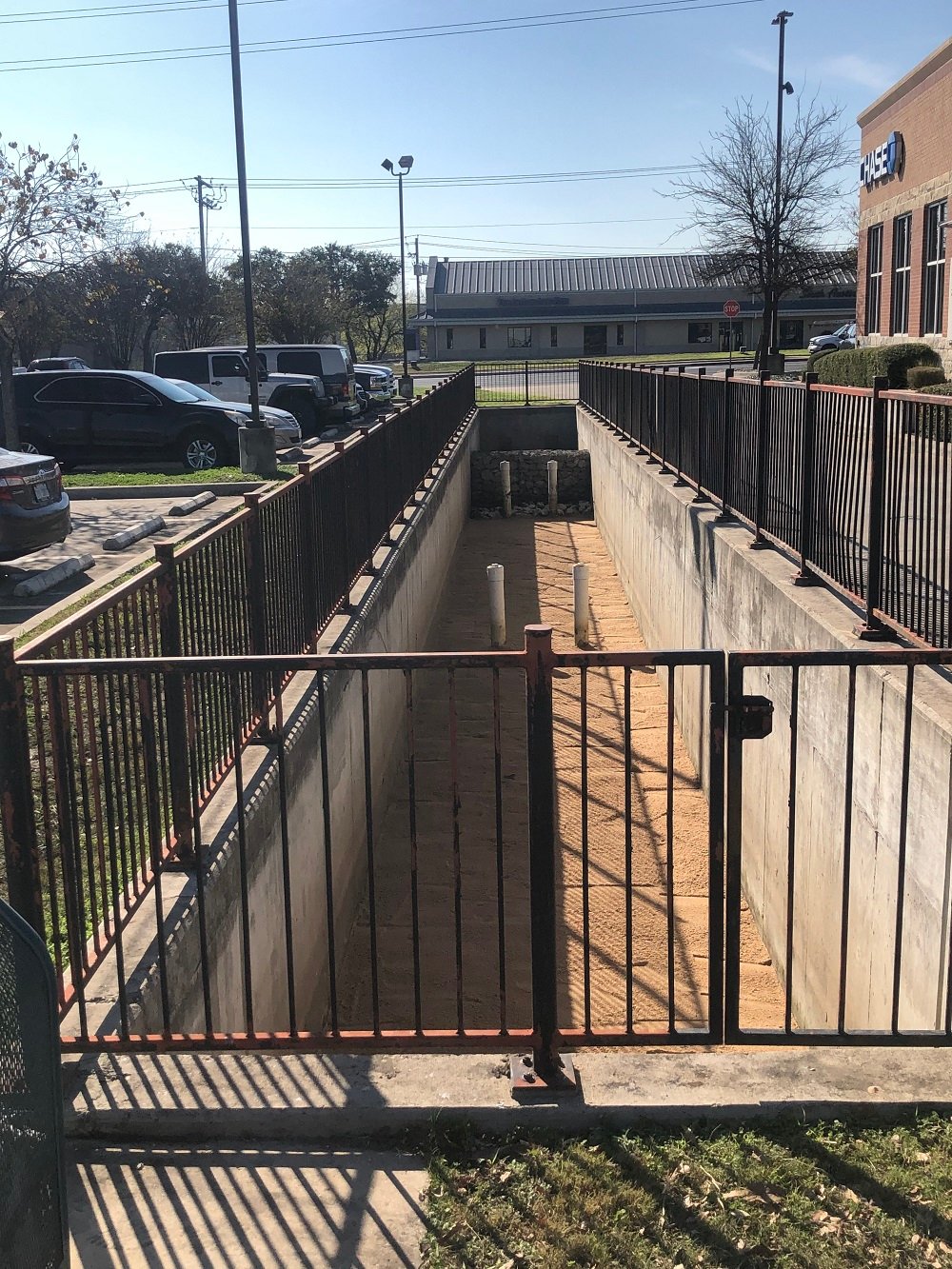 "The customers were happy, and the city of Austin was happy," he says.
He's pretty happy, too.
"This is the kind of specialty work we want to be known for," Martin says. "It's not something any landscaping company could do. I have a great support staff and a construction manager with a lot of experience who's not afraid of tackling any challenge, no matter how head scratching."
Other businesses have already called him, he says, inquiring about detention basin work.
"They say, 'Hey, do you guys do pond work?'" he says. "And I say, 'As a matter of fact, we do.'"
Need Austin Commercial Landscapers Who Know Detention Basins? Trust North by Northwest
Contaminated sand. Tricky logistics. Multiple managers to please.
Challenging jobs need experienced experts who are as good at planning as they are thinking on their feet.
Let the pros handle the stress so you can rest easy.
Are you ready for stress-free landscaping? Schedule a time to meet with one of our experts today. We'll gather the details, create a customized plan just for you, and you can stop stressing as we improve and beautify your Austin, TX property.