Tiffany Martin Peters spends a lot of time making the landscaping perfect at homes where nobody lives.
She handpicks all the plants herself. She plans fun backyard corn hole courts and pretty pergolas strung with festive twinkling lights.
Why so picky? Nobody lives there. Not yet. But these are model homes, so hundreds of people pull up to these homes to see if this is a neighborhood where they want to buy a house.
Peters, Operations Manager at North by Northwest Commercial, does her best to help convince them.
Landscaping to Help Sell
Several home builders in the Austin area hire North by Northwest to install landscaping and irrigation at these brand new model homes, then maintain it for two or three years until all the homes in the development are sold.
Then, they convert the model homes into real homes and sell them.
Peters has designed the landscaping at more than 20 model homes.
The builders give her a budget and the plot measurements of the house, and she takes it from there, designing planting beds, pondering the perfect plants, planning irrigation design, and following up with attentive maintenance.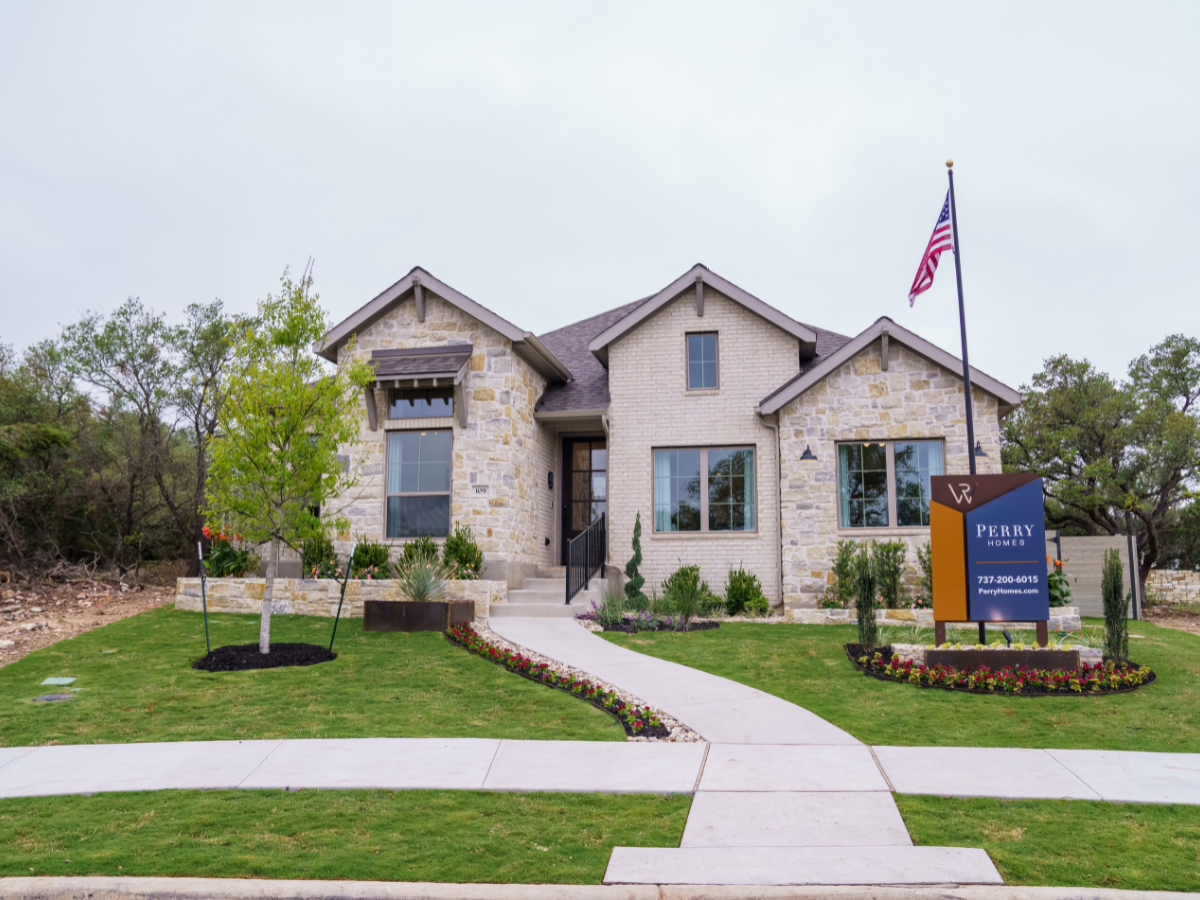 Peters walks us through what it takes.
First, Wow Them with Color
The landscaping at these homes has to look great all year, as potential buyers stream through.
That means seasonal color is key.
"The builders always want a ton of color," Peters says.
She loves these plants that pack a colorful punch:
Sweet Potato Vine
This vigorous grower offers a punch of bright lime green or deep purple, depending on the variety.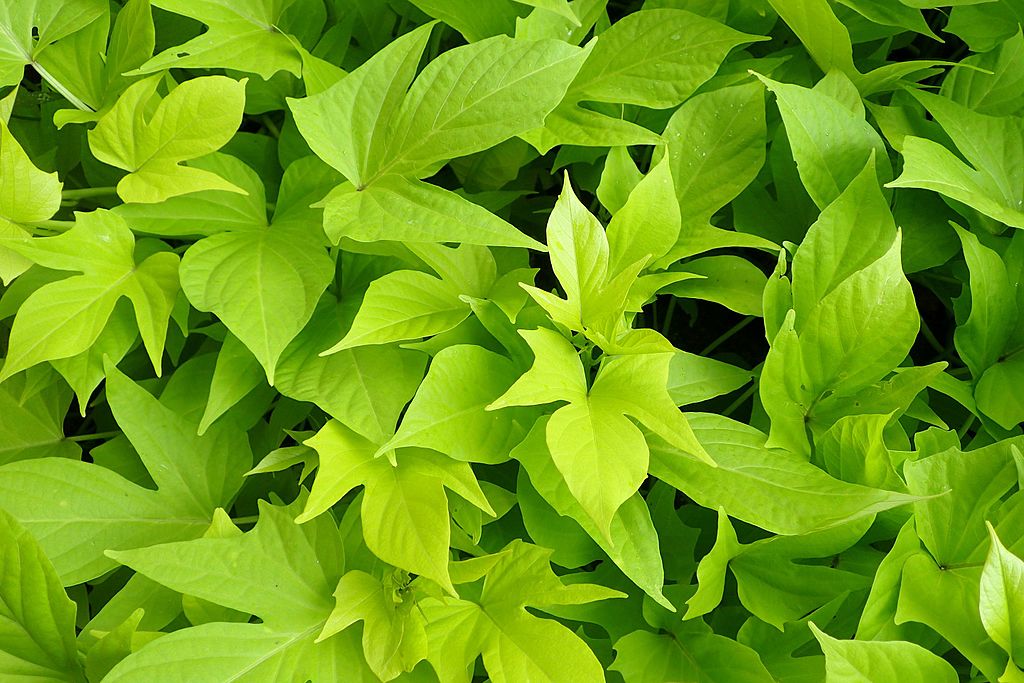 Coleus
This leafy standout comes in a host of colors and textures, offering dependable, vibrant color without a petal in sight.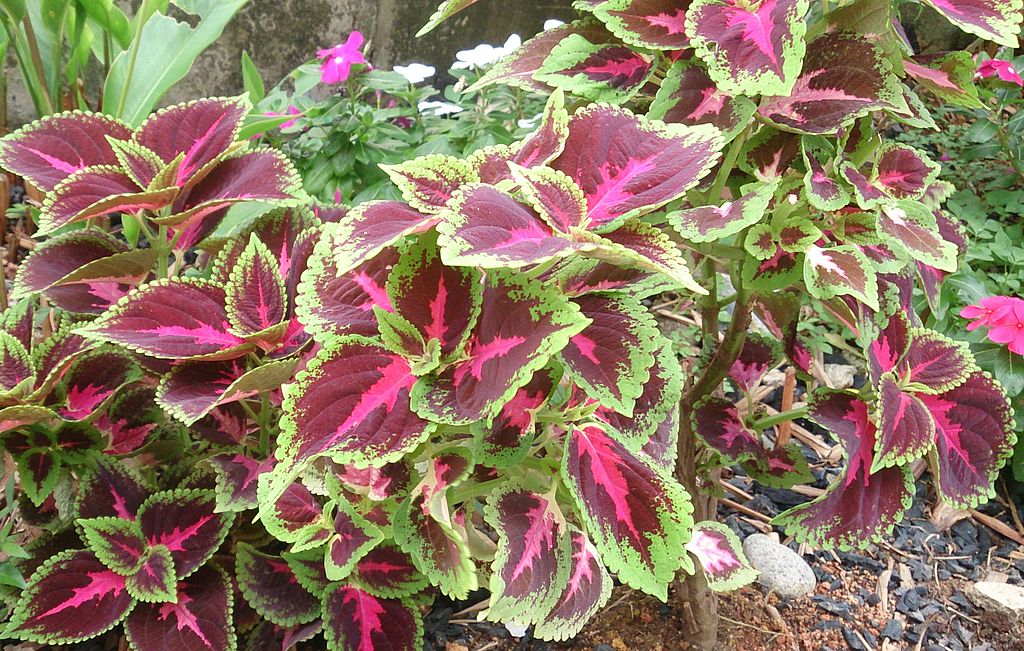 Pentas
Pretty star-shaped flowers go strong all summer long in bold hues of red, white, lavender, purple, or pink.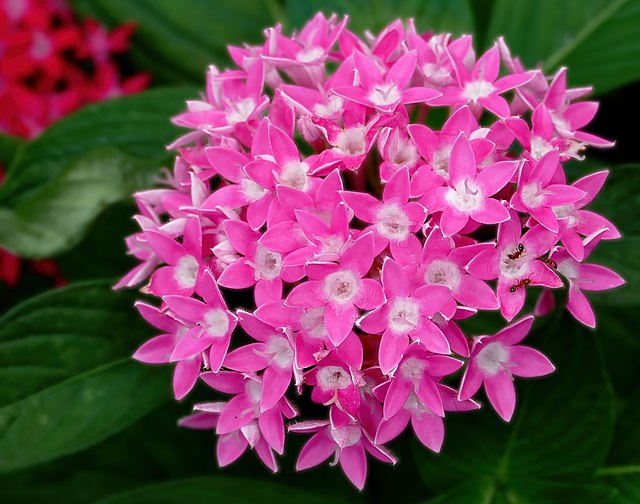 Dusty Miller
With its striking silver foliage and lacy texture, this plant looks good throughout the whole growing season. It's a Peters favorite.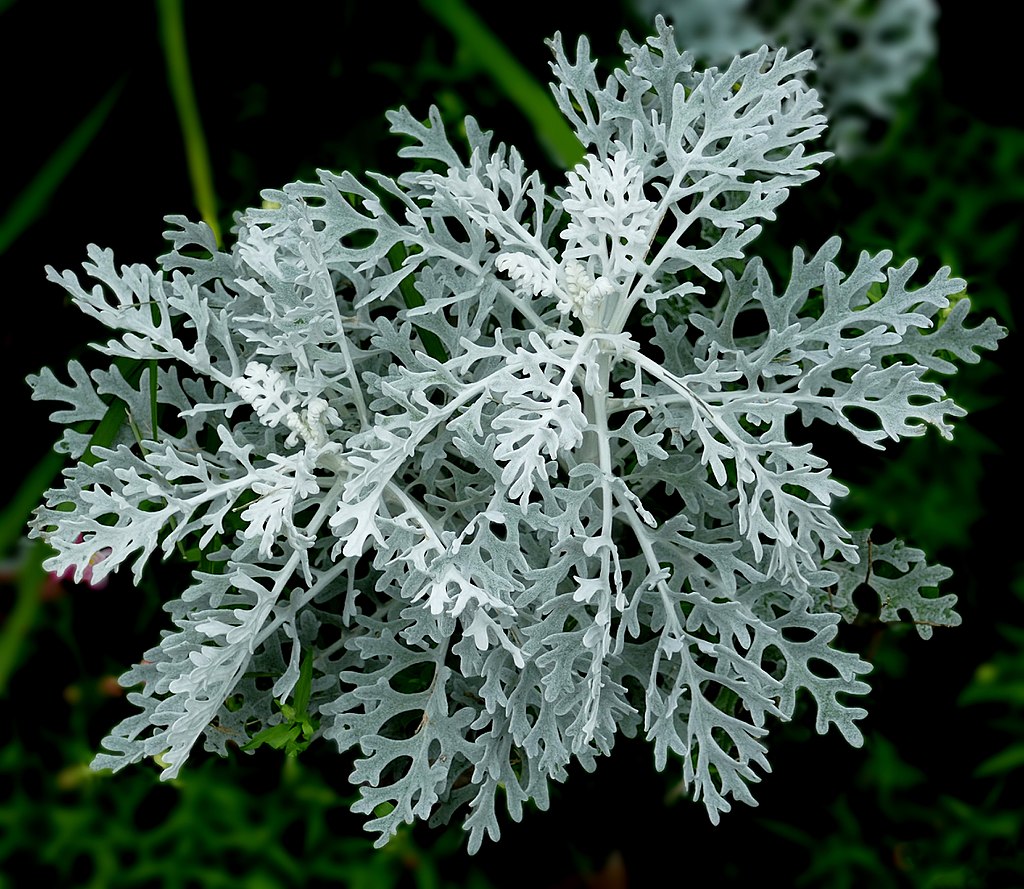 Red Double 'Knockout' Roses
These hardy, low-maintenance roses appear to have a secondary flower in the center, doubling the flower power.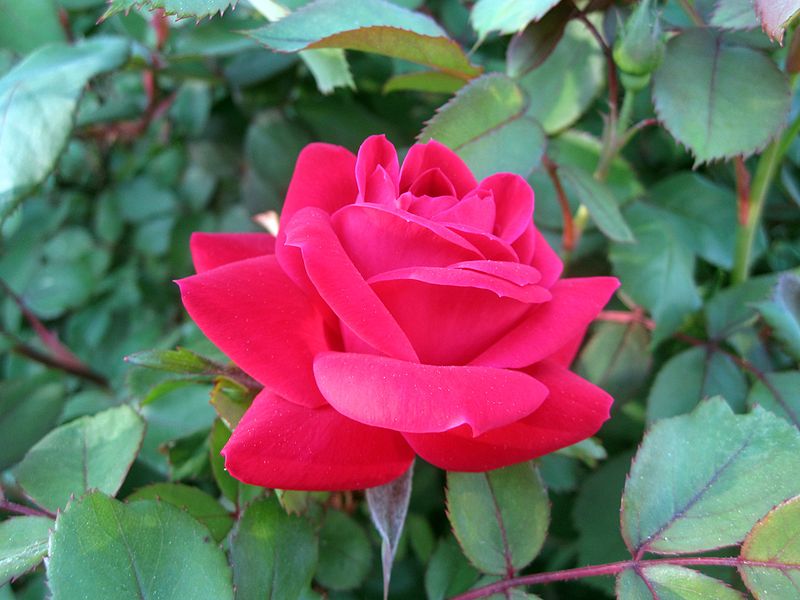 Lantana
Famous for their showy clusters of brightly colored flowers, lantana can be yellow, orange, white, red, or purple, and often colors are mixed within the same cluster. It's stunning.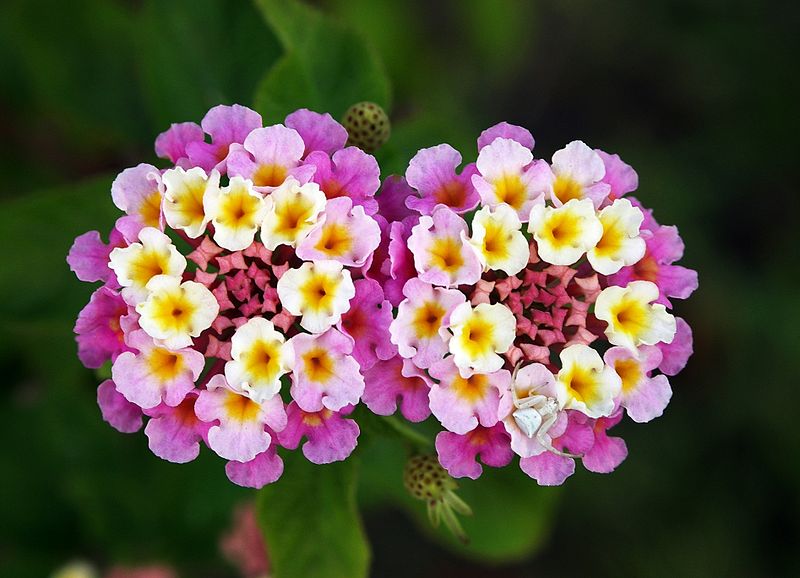 Variegated Liriope
Regular old liriope is fine, but not exactly a stunner. But the variegated type adds an appealing stripey splash of vivid yellow and green to the landscape.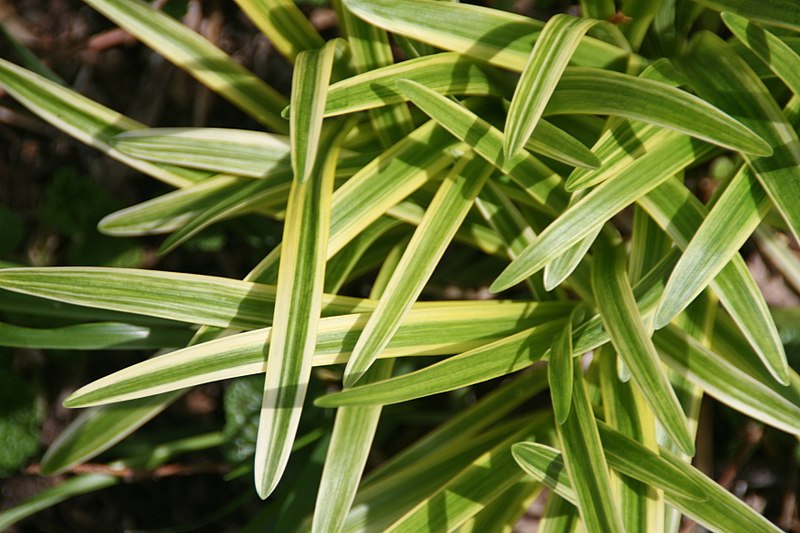 Keep It Modern
The trend these days is modern landscaping with clean lines.
Peters brings that look to life with sleek steel planters, black gravel called "blackstar" and large, sculptural plants.
A look she loves: Blue Star agave, with its impressive dark greenish-blue hue, against stark blackstar gravel.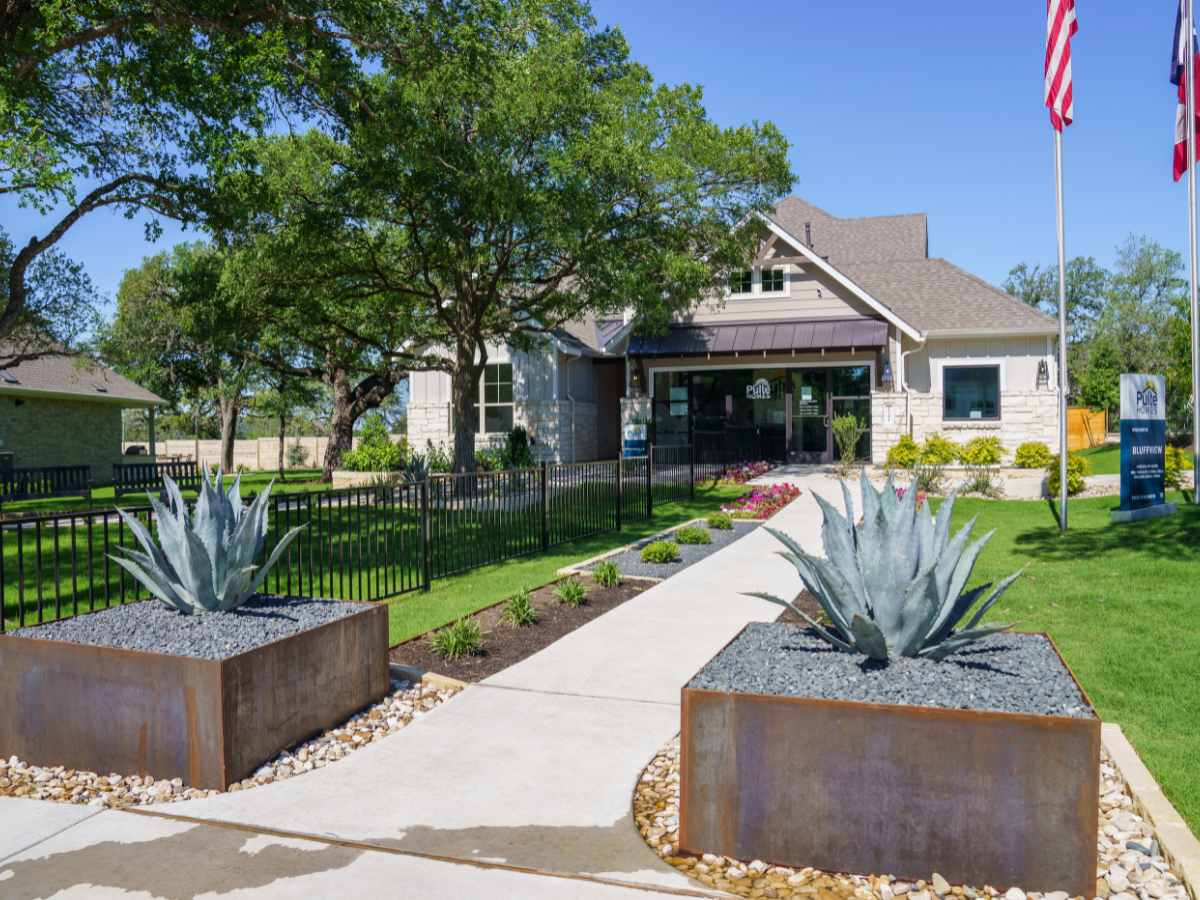 "Stick it in a steel planter and it's golden," she says. "It looks sleek and clean."
She loves 4x4-foot steel planters with large agave at the front of the home for impact and great curb appeal.
Peters tends to use landscaping rock more than bark mulch at these model homes. It stays put better and doesn't wash out with a hard rain.
While bark munch fades and needs changing twice a year, rock is there for the long haul.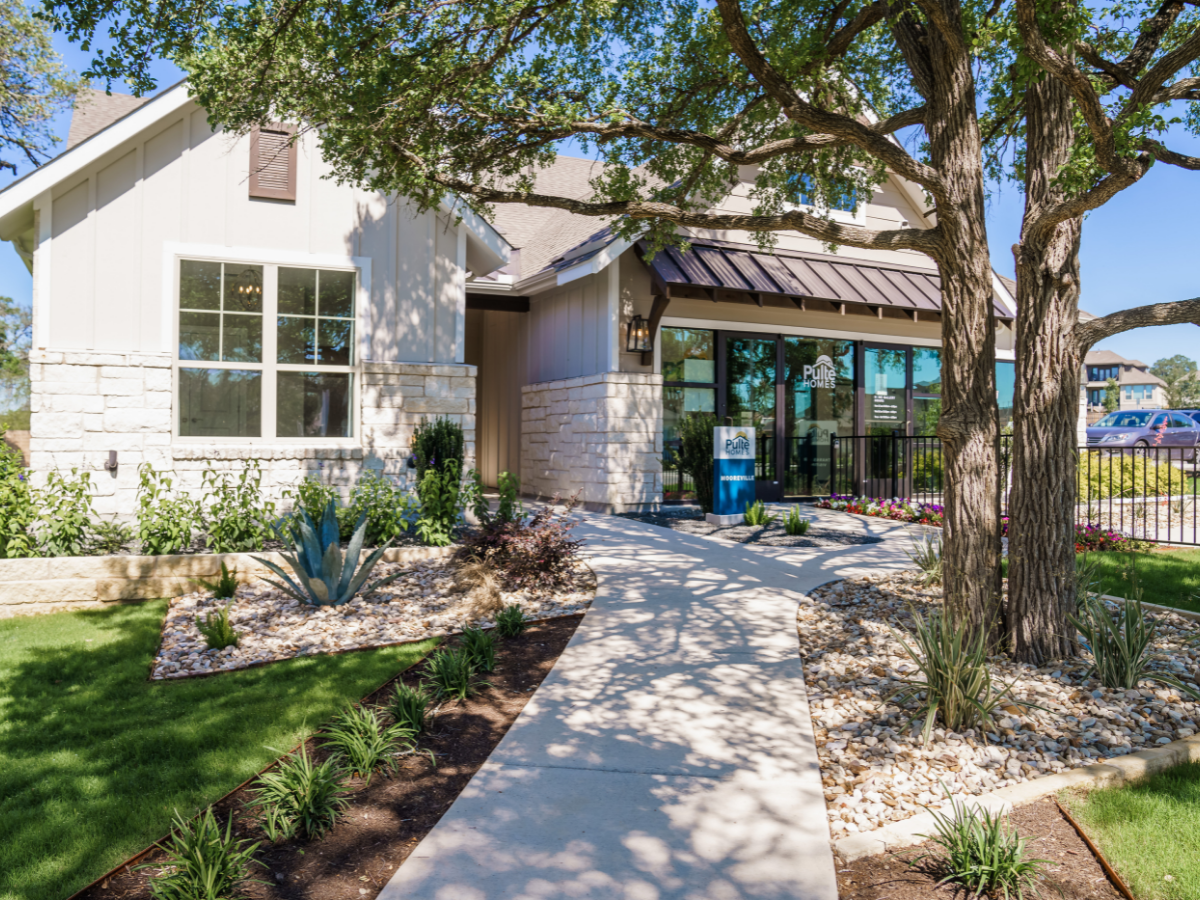 "Rock is about three times more expensive," she says, "but when you factor in all those mulch changes you get a return on investment in about three years.
"The challenge is always budget," she says. "Steel planters are expensive. So are the mature plants builders want. Large, mature plants are triple or quadruple the price, but they want instant gratification."
Backyard Fun
While the front yards have to offer tantalizing curb appeal, the back yards are important, too, Peters says.
"Some builders really want to appeal to families," she says.
So she brings the fun, often installing areas for rousing games of corn hole. The bean bag toss game is big in Texas.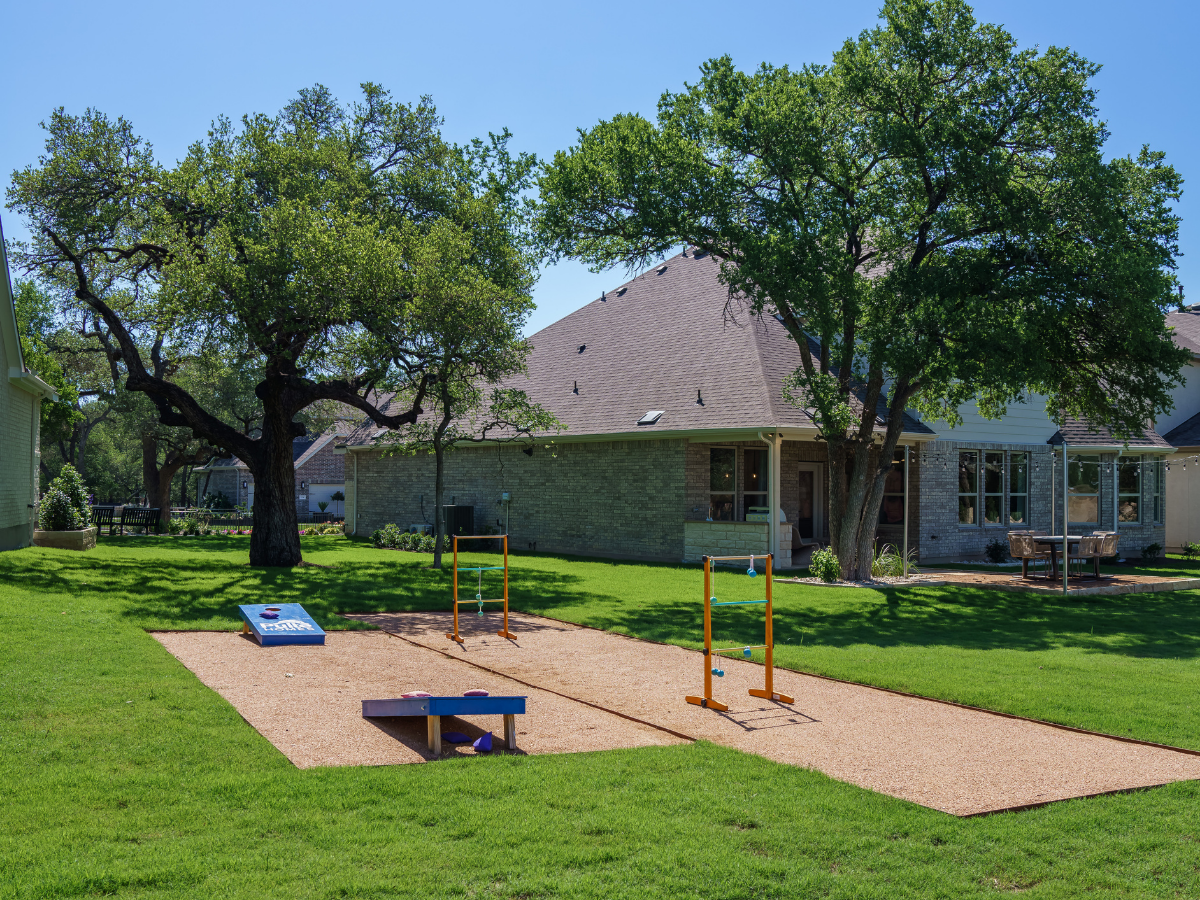 "If you designate an area for that, people think it's really cool," Peters says. "While everybody else is eating, you can have a corn hole tournament going on."
She gives each home her personal touch.
"I would never install something I wouldn't put at my own house," Peters says. "I think,
'What would I do? What would I like to see?'"
She installs backyard paver patios with plenty of room for comfy lounge chairs and dining sets.
Pergolas and fire pits encourage buyers to imagine leisurely backyard picnics and glowing evening parties capped off with irresistible s'mores.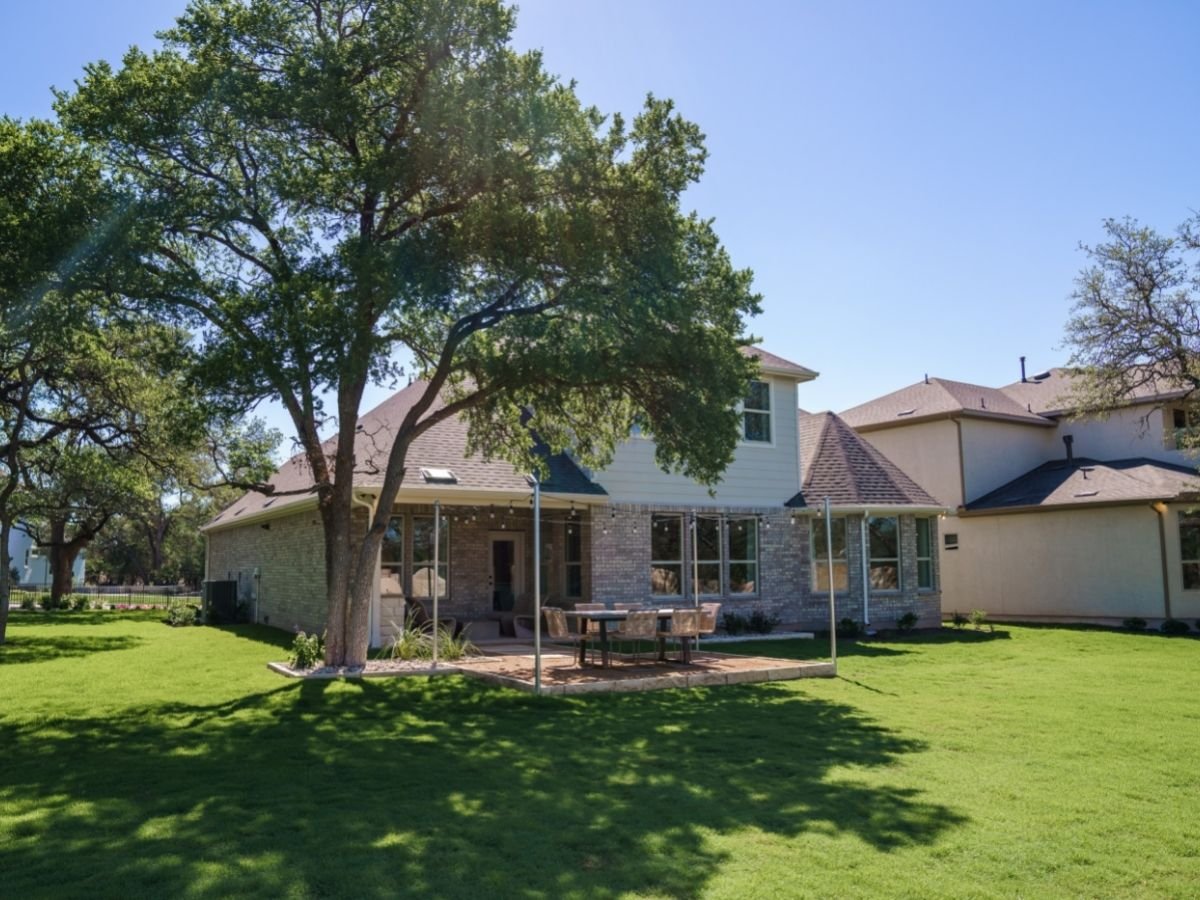 Her finishing touch: sparkling strings of bistro lights
that brighten any gathering, from romantic patio dinners to lively parties that last long into the night.
"It all gives people a sense that their yard can look like this, too," she says.
Irrigation Challenges
"I want the landscaping to thrive," Peters says, "so I beef up the irrigation."
She uses hydrozoning, positioning plants with similar water, soil, and sun needs together. This reduces water use and protects plants from being under or water watered.
"If the side yard is shady, I don't want it on the same zone as sunny areas," she says. "It will get too much water."
Strategic irrigation design is important at these model homes, she says.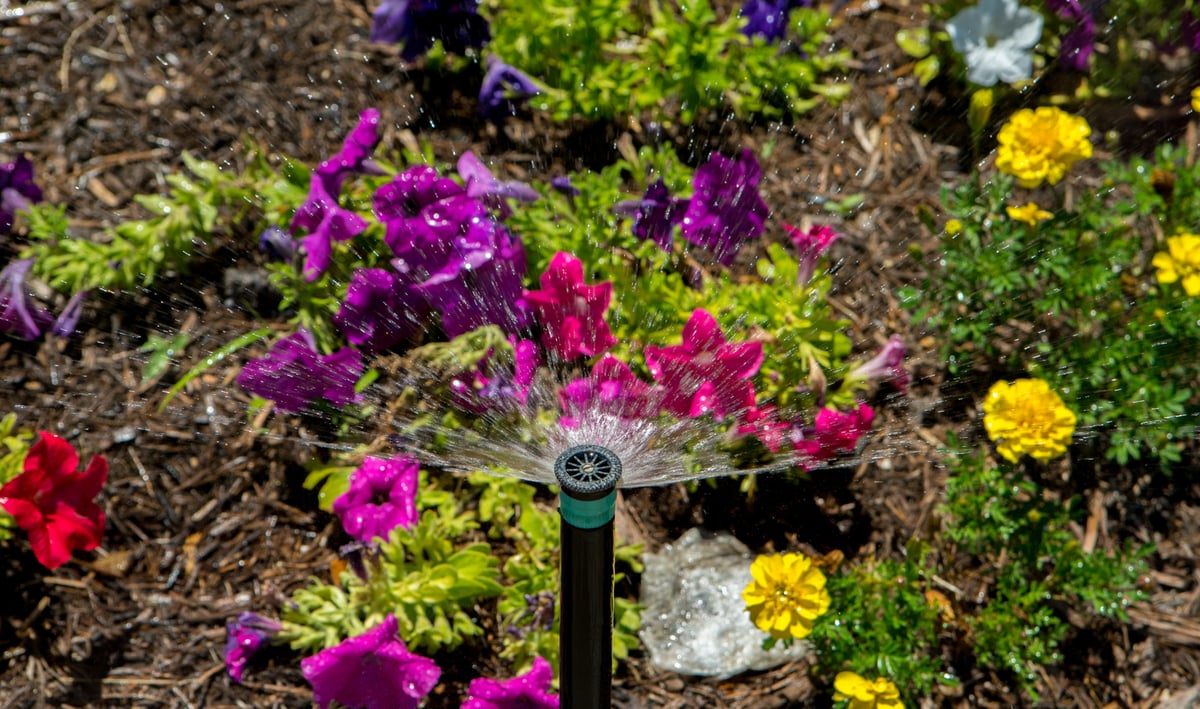 "I do a lot of drip irrigation, but not where the seasonal color goes," she says. "It gets changed so often the irrigation lines become a tangled mess. The annuals get their own zone, but it's a spray, not drip. Then, in the winter, it can run more often than the grass zones."
Go Ahead, Call Her Picky
"Nothing gets installed without me looking at it," Peters says. "I handpick all the plants, going to multiple nurseries."
She's on-site every morning throughout all phases of the landscape installation, from walking through the sites with the builders, her crew members, and irrigation installers to painting the lines for all the planting beds to inspecting each job as it's done.
She places each plant herself.
"Who can you trust more than yourself?"
Staying Nimble
This is construction, which means there are always changes along the way that keep Peters on her toes.
"Lots of times I have to make an on-the-spot decision," she says. Sometimes it seems like a small thing, but it makes a big impact.
Like gutter adapters. You hardly notice gutters, right? Until they don't work quite right.
"Sometimes I realize the gutter downspouts splash into a garden bed," Peters says.
"That can drown plants and wash out mulch."
So she calls for installation of gutter adapters that direct the water underground then up through the grass. Problem solved.
Another common issue: Where does the irrigation controller go?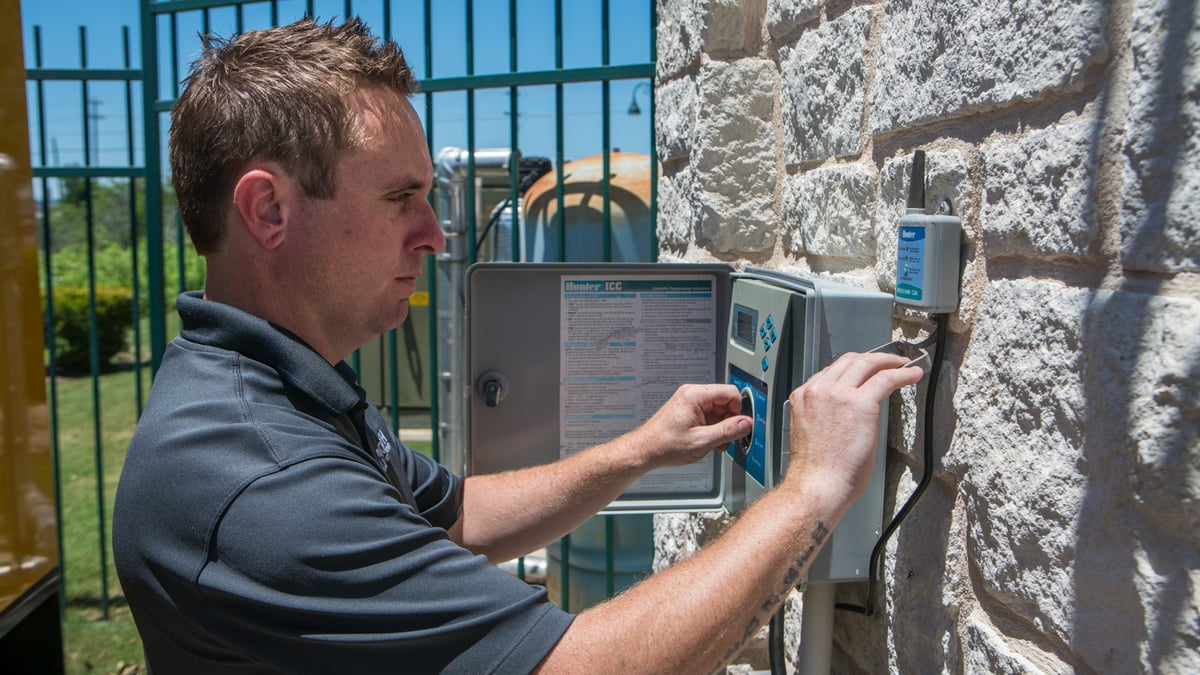 "Most times, in the garage," Peters says. "But model home garages are fake, typically housing the office. There might not be an outlet for the controller." Sometimes they need to install one.
Ongoing Maintenance
Once a model home's landscaping is installed, it's just as important to keep it healthy and looking great, week in, week out.
Top-notch maintenance is crucial for a model home, where first and impressions are so important.
"We do the maintenance on most of them, and I prefer it that way," Peters says. "That way, I know I can look at it in any season and it looks great. There's a sense of pride there."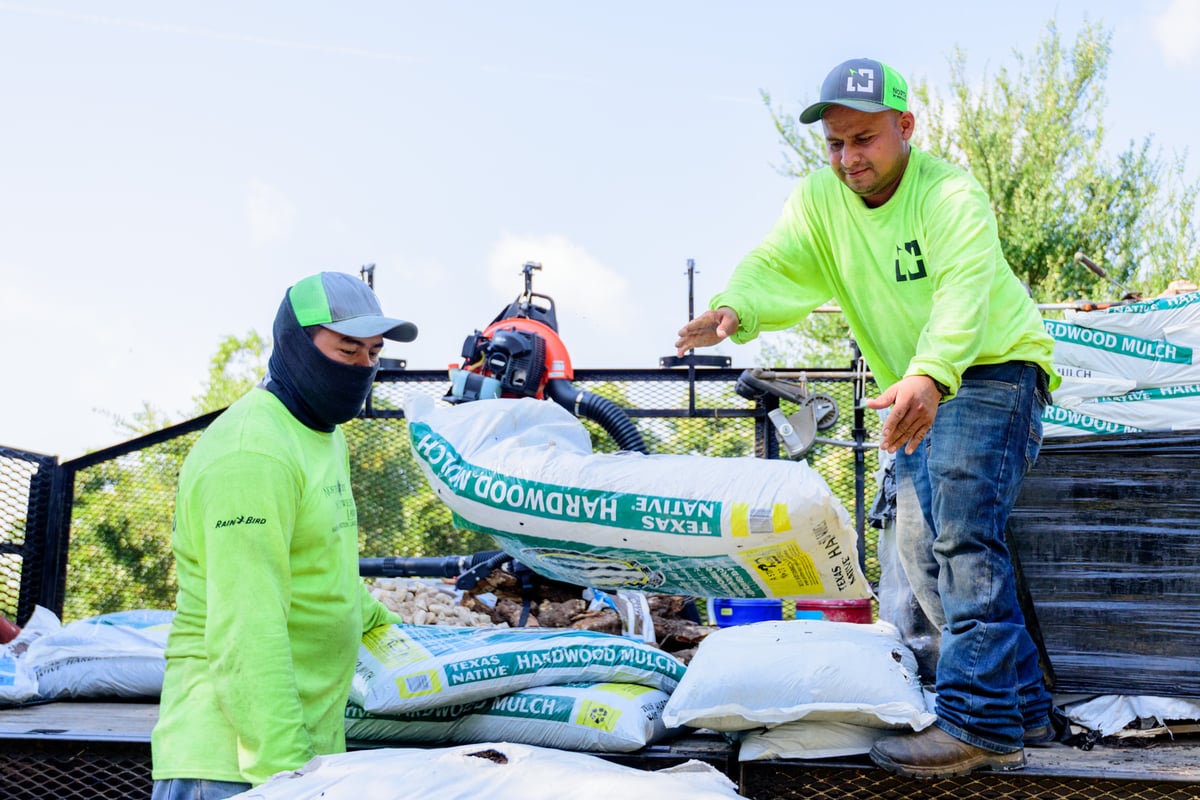 Regular maintenance includes changing seasonal color, refreshing mulch, keeping the landscaping fertilized and free of weeds.
"They want it to look good all the time," she says.
Irrigation Maintenance, Too
The maintenance contracts also include monthly irrigation inspections by technicians, crucial to keep the system running efficiently.
They check the system for small issues like broken spray heads and leaky nozzles before they turn into big, costly problems.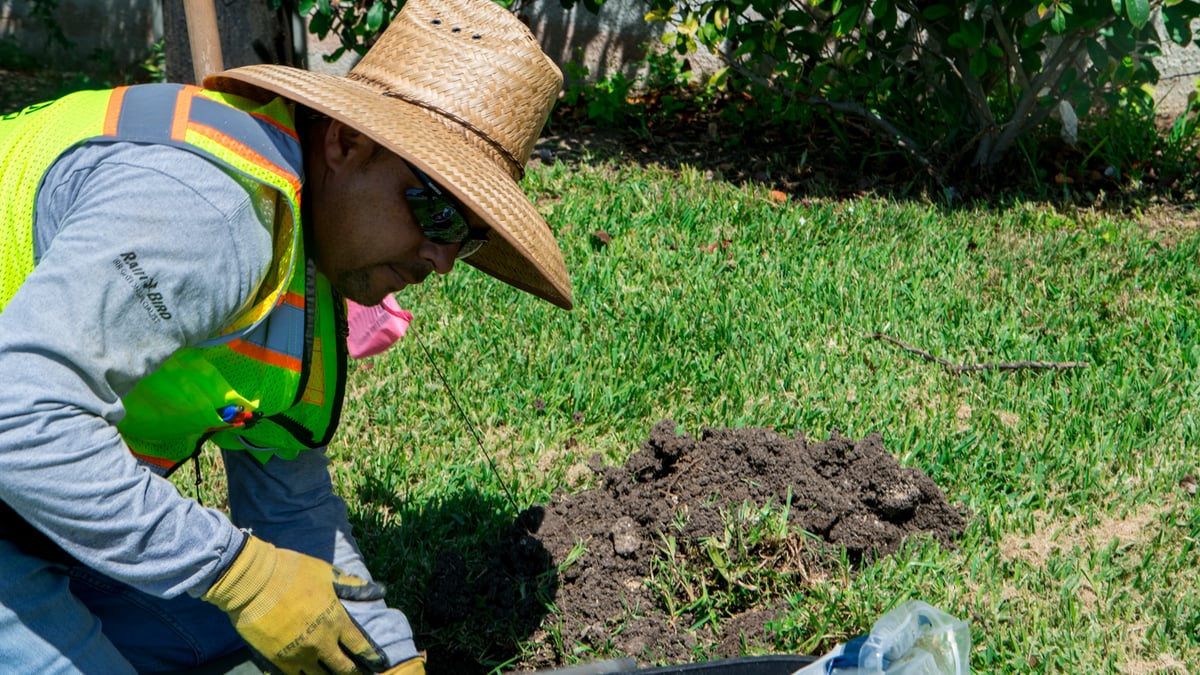 They'll run each of the zones for a couple of minutes to make sure heads are spraying where they should, no nozzles are clogged with debris.
They check all the system's run times to make sure it isn't watering the landscaping too much or too little.
Helping Homeowners Dream Big
Peters knows she's helping potential home buyers make a big life decision.
"You're going to look at this house to get an idea of what your own house could be like," Peters says.
"Whether you're a plant nerd like me or know nothing about plants but just want it to look nice, your first impression is everything," she says. "And when you drive up, landscaping is the first thing you see. A buyer might remember they really liked that house with the big steel planters in front."
Each new model home is a challenge, Peters says. She loves it.
"I love seeing them come to life from beginning to end," she says. "When I see my drawings come to life and everything looks just like I dreamed it should be, I'm a happy camper."
Trust Your Commercial Landscaping to North by Northwest
Creating wow-worthy landscaping at model homes involves a lot of details, from knowing current trends to painstaking irrigation installation to keep every plant thriving, year-round.
Hire pros with experience at handling all the pieces — and the stress — so you can rest easy.
Our services include landscape maintenance, landscape design, commercial irrigation management, and landscape construction in Austin, Cedar Park, Leander, and Georgetown, Texas.
Are you ready for stress-free landscaping? Schedule a time to meet with one of our experts today. We'll gather the details, create a customized plan just for you, and you can stop stressing as we improve and beautify your Austin, TX property.
Images: Sweet Potato Vine, Coleus, Pentas, Dusty Miller, Red Double Knockout Rose, Lantana, Lirirope